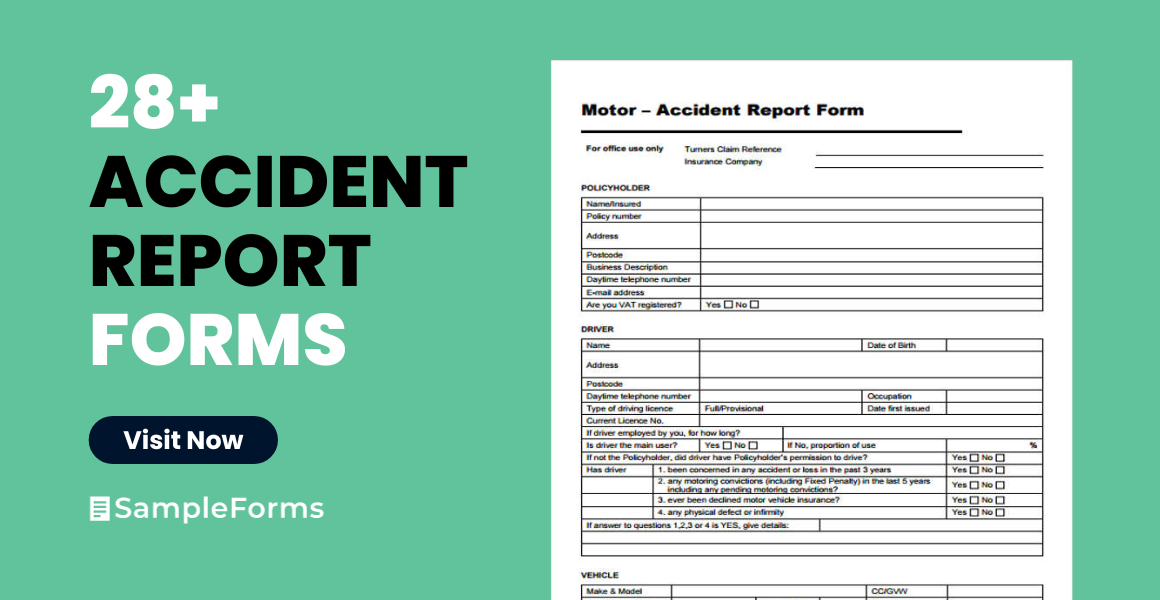 A Report Form is a form where specific pieces of evidence and issues are being stated. There are a lot of Uses of Report Forms and one of them is for those who witnessed an accident. The type of report form to be used for this case is an accident report form which will indicate the details of the occurrence.
One importance of an Accident Report is that the details written on it may serve as a strong basis for your attorney's representation to the court. The report will protect you from further legal issues and will help determine who is the person at fault.
Vehicle Accident Report Forms
Employee Vehicle Accident
Commercial Vehicle
Generic Vehicle Report
Construction Accident Report Forms
Construction Site
Construction Accident Investigation
What is an Incident Accident Report Form?
An Incident Accident Report Form is a documentation of what the witnesses saw, heard and knew about all the details of an incident. The form will be useful for court sessions in knowing who is liable for the act. Most incident accident report forms are used in health facilities like nursing homes, hospitals, and health care centers.
Unexpected patient injuries and falls are cases which needed these forms to account the health care institute for paying another operation procedure to the patient. Our sample accident report forms will help you speed up in filing a concise incident report to the authority.
How to Complete an Accident Report Form
Completing and making an accident report should be easy, that's why we have here our Sample Incident Report Forms for you to look at as your basis. And we also have listed below the vital information that you should never skip when completing your report:
Write the injured individual's full name and a few personal details.
Write the date, exact time and location of the incident. You may specify an estimated date if you happen to forget the exact day of the occurrence.
Describe what happened during the accident.
State the operations and treatments to be administered.
Car Accident Report Forms
Police Car Accident
Car Crash Accident
Workplace Accident Report Forms
Standard Workplace Investigation
Workplace Injury Report
Customer Accident Report Forms
Restaurant Customer Accident
Retail Customer Report
Tips on Writing an Incident Report Form
Keep these tips in mind to have a well-crafted incident report:
Know the type of form. There are institutes that will require you to use their incident report forms. To be sure about making your own or asking for a form, go to the help desk and inquire about reporting an accident.
Do it as soon as possible. Incident reports should be made within two days prior to the incident, but this does not mean that you should make your report whenever you like. You may tend to forget a few details if you decide on writing your report after twenty-four hours.
Be factual. Putting false information will only lead you to an unexpected lawsuit if the case is climbing up the court walls. Indicate only what you know and not what you think since this may lead to a personal point of view which is not acceptable when dealing with reports.
Add some details. In the event of an incident, you might have noticed a man's shadow from behind the injured person or an equipment smoking at a distance. State every bit of detail that you saw and you knew to give a more specific outline of what really happened and who are liable for the accident.
Be straightforward. Avoid using phrases that may cause misinterpretation. You should be clear and concise with what you aim to write in the report.
Know the company. If the incident happened at work, knowing the company's business would be handy. Also, being able to have a copy of the company's Safety Report Form will be a great help in knowing what the injured person may have violated.
Recheck. You may proofread your report and remember important elements. Look out for glitches and twisted parts of your report for these may make your report questionable.
Employee Accident Report Forms
Employee Auto Accident
Employee Driver Report
Motor Accident Report Forms
Motor Vehicle Report
Motor Carrier Crash Report
Auto Accident Report Forms
Blank Auto Report
Auto Insurance Accident Report
Business Accident Report Forms
Small Business Report
Business Customer Report
Company Accident Report Forms
Company Driver Accident
Insurance Company Report
Why is it important to fill out an accident report form?
Whenever the case will be considered to be handled for court sessions, the form will be a strong piece of evidence of what really happened during that day. The report form will help the authority know the sequence of events, why it happened and who are the possible people to be liable for the act.
The authority may consider taking a good look at the Construction Report Forms of the company if the incident happened in the workplace since this report states the daily conditions of the machines and equipment and to whom it is assigned on a certain day.
How to Create an Accident Report Form
Here are ways in drafting and editing a simple accident report form:
On the top-most part of your document sheet, make a box for the date and time of the incident.
Make two vacant lines for the location where the event happened.
Lastly, leave a huge space for the description and details of the accident.
Report forms have a variety of uses, ranging from accidents to scientific experiments. Another type of a report form is the Business Report Form which is used to state the daily updates of the company. This form may also serve as a basis for any future inquiries if there are unexpected incidents within the company premises.
Daycare Accident Report Form
Printable Daycare
Injury Accident Report Forms
Personal Injury Report
Work Related Injury Report
Online Accident Report Forms
Online Car Accident Report
Police Accident Report Form
School Accident Report Forms
Primary School Accident
High School Report
Nursery School Report
Accident Report Guidelines
Every institution and organization differ in the guidelines that they base in receiving accident reports, but here are some of the general and common guidelines you may find in the company's rule book:
An accident report will only be valid if the person injured is within the premises of the association.
Reporting the accident should be done within twenty-four to forty-eight hours after the incident happened.
The members of the company or the emergency group should have performed first aid on the wounded, unless the area contains hazardous chemicals or any broken machines which may explode at any time.
Near-miss accidents refer to an incident that did not cause any injury or death but almost have if the people involved were not aware. These should be stated, recorded and reported at all times.
Accidents may be caused by human fault and error especially if a member of the company went to work with the presence of alcohol in his system. Using an Employee Report Form will give an advantage to the management in knowing the status and the daily report of their employees. Risks and unexpected incidents will be avoided if every individual within the workplace is operating himself with a hundred percent efficiency.