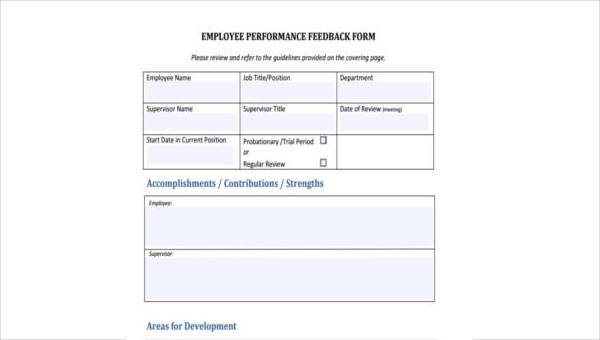 Employees are the lifeblood of any company or business. Without them, business operations become impossible. With great employees, business owners and management are assured to have great products and high revenues. But how do employers ensure the best performance from their employees?
Contrary to popular belief, employees crave for feedback as this is the core of one's professional growth and personal development. However, giving feedback is a complex matter as we can all be sensitive sometimes. Feedback Forms are made available for this purpose.
Free Employee Feedback Form Sample
Employee Performance Feedback Form
Sample Employee Satisfaction Feedback Form
Employee Training Feedback Form
Employee Exit Feedback Form Sample
The Necessity of an Employee Feedback
Job Satisfaction
Appreciated employees enjoy their workplace more, which results to fewer instances of absenteeism and higher productivity. Furthermore, negative but constructive criticism helps employees improve their performance and give them a lot of room to grow.
Improving Performance and Productivity
Another way to boost an employee's productivity is to make them feel that their performance is valued and their efforts matter. Employee feedback also reveals the cause of employee turnover and allows management to find solutions for such a costly endeavor.
Understanding Dynamics
Employee feedback allows employees to fully understand what the company needs from them and incorporate these realizations into their performances. Using Employee Feedback Forms provides them a way to reveal stress-inducing issues, which the management should be able to resolve.
Compliance Issues
Work unions and other state regulations must be followed as they exist to make sure that all working individuals are fairly compensated and treated well. An employee feedback will determine if information about these regulations is well disseminated by the management to its employees.
Employee Performance Evaluation Feedback Evaluation Form
Employee Feedback Form Example
New Employee Feedback Form
Monthly Employee Feedback Form
Manager Feedback Form
Agency Employee Feedback Form
When to Give Feedback
Feedback should be given to employees regularly to generate a beneficial result, which includes improved performance, higher productivity, and job satisfaction.
Aside from regular assessments, feedback from the management should be given when an immediate problem is at hand, such as when certain managerial behaviors prove detrimental to employee performance.
Feedback should be announced beforehand. People need to make themselves ready when they receive assessments, especially negative ones. Through this, they are able to keep an open mind and not take things personally, which may affect performance.
When Not to Give Feedback
Just like how feedback should be given with the awareness of the employee, there are also instances where managers have to wait before giving criticism and hopefully resolving issues.
Where a conflict is concerned and either the manager's or the employee's emotions are running high, feedback should wait for the perfect time to discuss the conflict calmly.
Feedback should also not be given when an external factor like the death of an immediate family affects a worker's performance as this is a natural human condition.
In cases where feedback is still impossible, Feedback Form Examples are available on this page, which can be given to employees not just to assess the employee's performance but also to impart lessons and allow things to advance.