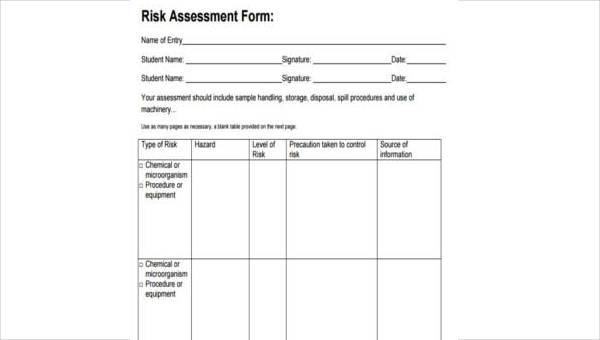 Conducting Risk Assessments aids in promoting awareness of the dangers and risks in the workplace, as well as identifying the target population of who might be at risk. It is an employer's duty to conduct Risk Assessments in order for the management to clearly define the types of things that are considered to be hazardous in the workplace, and the likelihood of these causing harm. Performing a Risk Evaluation enables employers to establish control measures to prevent the possibility of injury.
A Risk Assessment is the process of evaluating the amount of potential risks involved in the course of implementing a project, an activity, or an undertaking. Performing a Risk Assessment is crucial to the workplace because it leads to the development of a good occupational health and safety management plan.
Sample Health Risk Assessment Form
Sample Medical Risk Assessment Form
Generic Risk Assessment Form
Sample School Risk Assessment Form
Sample Workplace Risk Assessment Form
Risk Assessments are implemented by checking and conducting periodic inspections of the workplace for areas that pose a threat or danger, as well as asking staff or employees of any hazards they feel should be a concern to the company. Risk Assessment should be done within the presence of a safety representative – workers elected or selected for the role to represent the health and safety interests of workers within their work group. Below is a step-by-step procedure to help you determine the risk factors in your workplace.
Determining Potential Risks in the Workplace
Risk assessments and checks must always be done routinely to point out potential hazards that may affect an employee's physical or mental health, or may cause biological or chemical hazard.
Physical Hazards include but are not limited to areas in the workplace that are prone to tripping, falling, or slipping or the safety of machinery or computer equipment. Mental Hazards include staying in the office until the wee hours of the morning, bullying, excessive workload, suicidal thoughts. Chemical Hazards could be hazardous chemicals such as asbestos, cleaning fluids, or any other lethal building materials in old structures, while Biological Hazards could be medical conditions that may be infectious.
Figure Out the Employees Who Are Affected by the Risks
After determining the potential cause of harm in the area, the next concern would be to find out who is affected by it. In a construction business, for example, the target of risk would be the construction area itself and the construction workers.
Determine the Level of Risk and Provide Preventive Measures
The risks that every establishment has must be seen to at some point, but the prioritization of these risks differs from one another. Owners of these establishments must take high priority preventive measures on those risks that could bring physical harm upon their employees, or to those that have the potential to destroy important company property. Once the one's with high priority are settled, then all other forms of risk must be seen to immediately.
Risk Assessment Form Sample in PDF
Blank Risk Assessment Form in Word Format
Project Risk Assessment Form
Free Risk Assessment Form Example
Blank Risk Assessment Form in Word Format
Simple Fire Risk Assessment Form
Provide Documentation
Risk Assessments should be handled by a team responsible for taking down pertinent details about the results of the Risk Assessment.
The Use of Risk Assessment Forms
Risk Assessment Forms should be taken full advantage of by just about every establishment so as to ensure that everything possible is done to prevent any possible dangers. This is why there are forms such as Health Risk Assessment Forms and Suicide Risk Assessment Forms that are made for the sole purpose of seeing as to what might cause this problems, and preventing them.
Review the Results of the Assessment
The reason as to why the results of these Risk Assessments have to be properly documented is because it allows management to view and assess all the types of risks that's involved with their establishment. Knowing that, they're able to do everything they can to ensure that these risks will not become a problem and to prevent them from causing future issues.