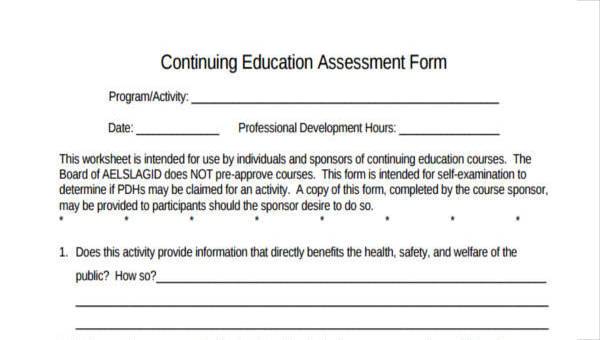 Education is important for every single person. It's what allows people opportunities for various fields. It's also for those who wish to have better career paths in the future. Every person should have some sort of education if they want to make it in life.
However, how does one assess if he or she managed to gain the necessary education he or she deserves? Education Assessment Forms can help with that. These are to assess if a person has been able to get the necessary education in order to apply for positions in certain companies, or if their education is what certain franchises need to consider for employment. These also show how well certain students are doing and if they're maintaining a good grade point average.
Education Needs Assessment Form
Education Risk Assessment Form Sample
Physical Education Assessment Form
Education Assessment Form Example
The Various Types of Education Assessment Forms
There are different forms for assessing the kind of education certain people have. Here are some of those examples:
Preschool Education Assessment Forms are used to check on the kind of preschool education certain people have had or the education of a current preschooler.
Education Needs Assessment Forms are for those students who have specific conditions that hinder their learning.
Education Risk Assessment Forms are forms used to check the risks, physical or mental, that a student might experience.
Special Education Assessment Forms are used for those people with special needs and therefore require special education.
Physical Education Assessment Forms are used to check the physical education background of certain students.
Patient Education Assessment Forms are used to check on the patient's education. An example would be if the patient is literate or not.
Student Education Assessment Forms are to check on the status of the education of current students.
Continuing Education Assessment Forms are used for those who wish to continue their studies after having dropped out for whatever reason.
Special Education Assessment Form
Patient Education Assessment Form
General Education Assessment Form
Continuing Education Assessment Form
Diabetes Self Management Education Assessment
The Importance of Assessing a Person's Education
Assessing one's education is important because of all the decisions you will make about children when teaching and caring for them. Gathering accurate information from students, or even company employees, can certainly be difficult and potentially stressful, but in the end it's always worth it. It makes sure that the student is attaining a level wherein he or she may be able to advance and arrive at a career that will ensure his or her success.
All of these purposes are important. If schools or companies use assessment procedures appropriately and do them as accurately as possible, then they'll be helping every student and employee live out their best potential in the real world.