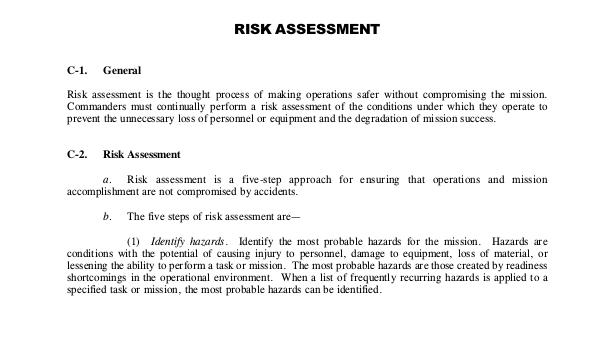 Being a part of the army is no joke. Soldiers undergo rigorous training every single day as they have to be prepared to be called to arms at any given point in time. They have to make sure they are alert and they have to know exactly what to do in any given situation. The life of a soldier is rough, and being in the army can toughen up even the softest of all people.
However, these people need to know that joining the military doesn't come without its risks. There are lots of different factors that can endanger the lives of any soldier during battle or even during the training process.
Recruits need to know the different kinds of risks being in the army entails, and it's their commanding officer's job to inform them. The best way to inform them is through the use of Army Risk Assessment Forms.
Army Composite Risk Assessment Form
Army New Risk Assessment Form Sample
Army Travel Risk Assessment Form in PDF
The Various Types of Army Risk Assessment Forms
There are many different types of Army Risk Assessment Forms that all military establishments should utilize so that all their soldiers and recruits realize what they're getting into and the dangers they'll be facing. Here are some examples of these types of forms:
Army Travel Risk Assessment Forms are the kind of forms that are used by military establishments when they need to send one of their men out to a certain destination. This helps them guarantee that the soldier fully understands the risks of traveling to that area.
Army Training Risk Assessment Forms are for recruits to understand just what kind of training they'll be undergoing. It lets them know ahead that the training might be too rigorous for them and that there will be certain dangerous factors during the training.
Army Vehicle Risk Assessment Forms are used mainly to assess the dangers of a soldier operating certain military vehicles. It could be that the danger lies within the vehicle itself, or the danger lies in the act of driving the vehicle.
Army Training Risk Assessment Form
Army Vehicle Risk Assessment Form Example
Army Individual Risk Assessment Form
The Importance of Having Army Risk Assessment Forms
The reason for having forms such as Army Health Risk Assessment Forms is simple: it lets recruits know the type of dangers they'll be getting into the moment they start joining the military. It also lets them assess if being in the army is indeed good for them or not and if they made the right move in joining.
These forms are also really important for the military establishments. These help them make sure that the possible risks that could happen to their soldiers could be minimized or could be outright prevented, assuming they know what these risks are. So if you're planning on joining the military, you're going to have to know just what kind of dangers await you.