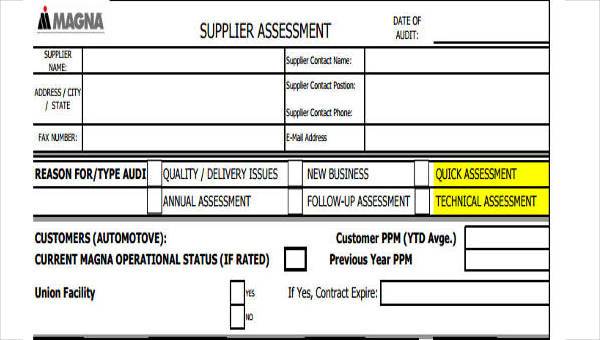 Suppliers are sort of like the lifeblood of any type of business. They're the reason why a business is able to provide the services and products they have to offer to the public. Suppliers basically give companies the resources they need so that they'll be able to operate as a business. Without a supplier, a business is like a house without a foundation.
However, companies need to make sure that their suppliers are the right ones for them. They need to make sure that these suppliers are able to give them top-quality resources so that they'll be able to shell out top-quality services and products of their own.
How would they go about this? They'll need to properly evaluate them by using Supplier Assessment Forms, plenty of which are available below for quick and easy download.
New Supplier Assessment Form
Supplier/Vendor Assessment Form
Supplier Self-Assessment Form
Supplier Assessment Form in PDF
Supplier Risk Assessment Form
The Different Types of Supplier Assessment Forms
There are various types of Supplier Assessment Forms that major companies or small businesses can use to check if they have the suppliers they want or the suppliers they need. Here are some examples of these types of forms:
Supplier Generic Risk Assessment Forms are used by those companies that want to make sure that they understand the types of risk a certain supplier may bring to their business. It could be a risk with either the products or the establishment that the supplier is expected to provide.
Supplier Performance Assessment Forms are the kinds of forms used to assess the performance of a specific supplier. Companies usually use these to make sure that the performance of the supplier and the products supplied are up to or surpass industry standards.
Supplier Self Assessment Forms are forms for the suppliers themselves. This is for them to measure their own worth in terms of how they perform, their services, their products, and much more.
Supplier Performance Assessment Form
Supplier Assessment Form Example
Supplier Capability Assessment Form
Supplier Assessment Questionnaire Form
The Importance of Assessing a Supplier
Every company that has a supplier, or is planning on hiring one, has to make sure to properly assess them. There are forms such as Supplier Work Assessment Forms that ensure companies they will find the right supplier for their business.
The quality of a business could also be directly related to how the supplier provides whatever he may be able to bring to the business. In fact, the quality of the supplier might even be able to improve the standing of the business.
This is also good for the suppliers themselves. It helps them figure out how companies see them, and it also helps in pointing out their problems and how they should work to address these.
So these assessments are beneficial to both sides, and it's up to both to make sure that the quality of the products is always top-notch, for the benefit of the eventual consumer.