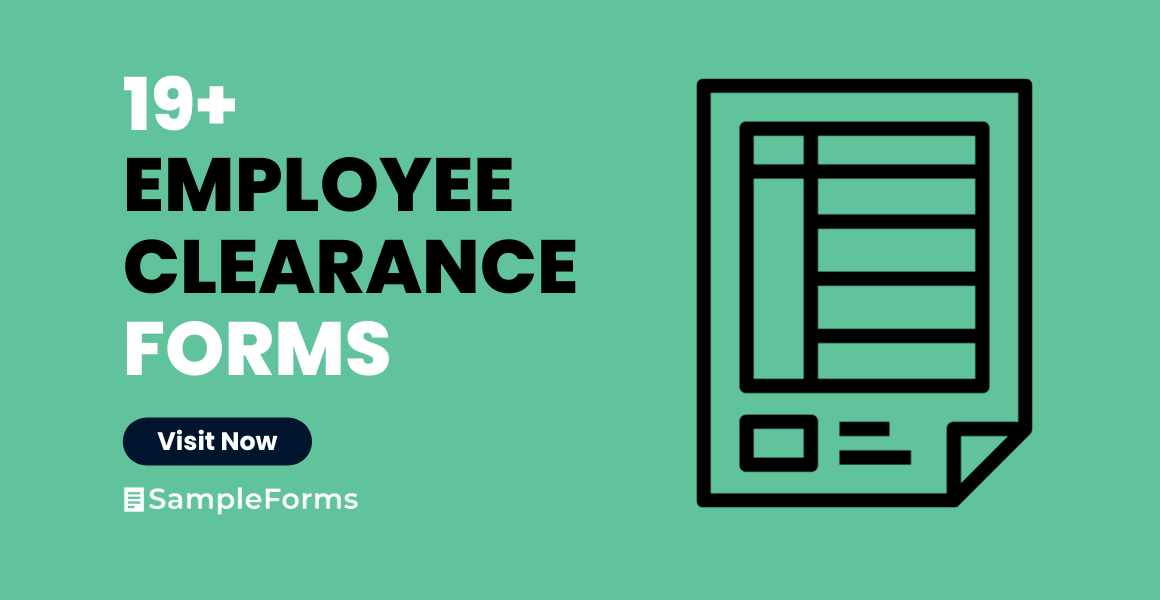 Being part of an organization is something that you should be proud of, just as when you are employed in a company. Regardless of what job you have or what you do, as long as you made it to be part of it, it is considered as a great privilege. Another reason why you should be proud is because other people are working hard in order to be part of what you are in.
But when you decided to leave for whatever reason, it is better to do it in a formal way as a respect to the company. One way to do so is by filing an employee clearance form.
Employee Exit Clearance Form Samples
Employee Exit Clearance Form
Employee Exit Clearance Checklist Form
Employee Interview Exit Clearance Form
Blank Employee Exit Clearance Form
Employee Loan Clearance Forms
Blank Employee Loan Clearance Form
Employee Loan Clearance Form Sample
Employee Clearance Certificate Forms
Employee Separation Clearance Certificate Form
Employee Staff Clearance Certificate Form
What is an Employee Clearance Form?
Requirements given by the company for an employee to accomplish are not just the ones that are submitted when they get in for employment. There are also few requirements that are needed to be submitted before they get out (or leave permanently). One of these few requirements is an Employee Clearance Form.
An employee clearance form of a resigning employee is not given unless a resignation letter is submitted. Submitting a resignation letter is also a formal way in bidding a company goodbye, unlike those employees who suddenly disappear without proper notice or information given to the company.
A great example for this is the "Absence Without Leave" or AWOL. Besides the resignation letter, an employee feedback form is also one of the ways for the company to be aware why their employees are leaving.
An employee clearance form is not only provided for those employees who are resigning, but also for those who were terminated or transferred to a different department. This is the last requirement that the employee should comply before leaving permanently. An employee clearance form is mainly composed of the following:
the employee's personal information such as the name, contact details, address, email account
the employment details such as the employee number, position/title, department, employment period (date started and date ended)
the specification of the company's properties (such as materials, equipment, tools, supplies that were handed to the employee during his/her period of employment) that are needed to be returned or turned over
the signatures that are required from different heads from different departments
the date signed from the different department should be indicated as well
the affixed signature together with the name of the employee as a consent that all provided information is/are true
the date signed of the employee as  a reference for human resource manager to when the clearance form is filed
In this article you will find examples of how an employee clearance form is written and how it is being formatted. Refer to these and take time in browsing each to have more understanding on how to make or fill out the form.
Filling Out an Employee Clearance Form
The employee clearance form does not require much time in filling it out. In fact, all you need to do is to fill in the space provided with the appropriate information that is/are asked. Do this and you are free to go, not unless the human resource manager says so. Here are the following that you need in accomplishing a clearance form:
your personal information
your employment details
signatures and date signed from each department as a confirmation that you are cleared and have returned everything
the GO signal from human resource department that you are free to go
Processing your clearance form is easy, as long as you comply with everything that you are required to do such as returning the properties of the company in a good condition (the same way you got them). But if it is proven or found out that damages of the properties are on you, then expect for your clearance form to be held for few more days. It depends on the company on what consequences they will give, but most companies would require the employee for a replacement.
Importance of Employee Clearance Forms
A clearance form for employees does not just benefit the company or the employer, but also the employees. Here are few of the reasons why:
Filling out and submitting the form is a formal way or a sign of respect of the employee towards his/her employer.
The form can be used as a references that the employee has a clean record from the company.
 The form somehow tells that the employee is confident enough to admit that he/she is responsible or liable for the damages that found caused to the properties (in case that there are any).
The form symbolizes that the employee have nothing against the managers/heads and co-workers, leaving the company with no hard feelings.
When the form is submitted and is approved by the company, the employee are no longer part of the organization. But his/her records are documented for future references. If the employee has an outstanding performance in the company, the employer could use his/her records to recommend him/her to other employers.
But of course a consent from the employee must be guaranteed. Another reason why the employee benefits form the clearance form is for the employee to be confident to use the company or any manager head as his/her character reference/s when applying for other job.
Moreover, clearance forms that employees are required to submit are not just clearance forms for exit, but also medical clearance forms which will be briefly discussed with other different kinds of clearance forms as you go further this article.
Employee No Dues Clearance Forms
Employee No Dues Clearance Form
Employee No Dues Clearance Certificate Form
Employee Separation Clearance Forms
Blank Employee Separation Clearance Form
Employee Separation and Property Clearance Form
Employee Final Clearance Forms
College Employee Final Clearance Form
Staff Employee Final Clearance Form
Employee Termination Clearance Form
College Employee Termination Clearance Form
Employee Departure Clearance Form
Blank Employee Departure Clearance Form
Employee Medical Clearance Form
Employee Medical Health Clearance Form
Hospital Employee Medical Clearance Form
Employee Campus Clearance Form
Professional Employee Clearance Form
Different Kinds of Employee Clearance Forms
Here are the other kinds of clearance forms (with brief definition of each) that the employees are also required to secure for their employment:
Exit Clearance Form – this form is also used as a permit or consent of an employee to leave the company after accomplishing what he is required to comply for the last time/day of his/her employment
Medical Clearance Form – this form indicates the medical records or findings of the employee to see if he/she is physically fit enough to do the required job/work given
NBI or Police Clearance Form or Certificate –  this is used as a proof that the employee has not committed any immoral acts against the law and has not convicted to any crime, which simply means that he/she has no criminal records