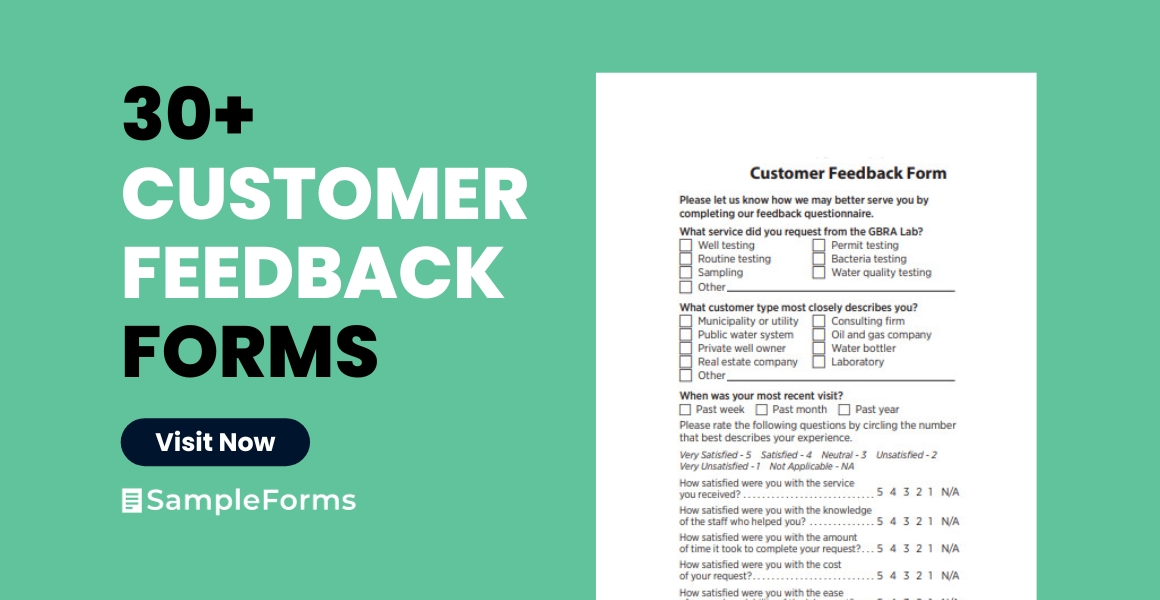 Any kind of business will get concerned about what their clients think of them. Customer satisfaction is even a major concern because failing to satisfy these people may lead to lower sales in the long run. Instead of just guessing what caused certain causes and effects relating to the business and clients, a feedback form will be useful. That way, customers have a chance to speak up about the products and services and at the same time, businesses learn about their strengths and weaknesses.
FREE 30+ Customer Feedback Forms in PDF | Ms Word | Excel
1. Customer Feedback Form
2. Customer Service Feedback Form
3. Customer Feedback Form Template
4. Sample Customer Feedback Form
5. Customer Feed Back Form
6. Customer Feed Back Form in PDF
7. Formal Customer Feed Back Form
8. Basic Customer Feed Back Form
9. Customer Service Feed Back Form in PDF
10. Service Feed Back Form Sample
11. Simple Customer Feedback Form
12. Customer Service Feedback Form Template
13. Tenant and Customer Feedback Form
14. General Customer Feedback Form
15. Sample Customer Feedback Form Template
16. Customer Service Accessibility Feedback Form
17. Standard Customer Feedback Form
18. Insurance Company Customer Feedback Form
19. Simple Customer Feedback Form in PDF
20. General Customer Feedback Form in PDF
21. Printable Customer Feedback Form
22. Blank Customer Feedback Form
23. Customer Feedback Form Accessible Format
24. Customer Feedback Form Format
25. Formal Customer Feedback Form Template
26. Customer Community Feedback Form
27. Customer Feedback Service Form Sample
28. Blank Customer Feedback Form Template
29. Customer Feedback Form in Ms Word
30. Customer Service Complaint and Feedback Form
31. Customer Feedback Form in Excel
How Is a Customer Feedback Form Defined?
The customer feedback forms are documents that the customers can write down about any comment which they observed about particular companies. Besides writing information in long or detailed reports, it can also come quickly by only having clients to encircle or underline choices for more natural feedback. Without that form, it will be hard to determine what impressions most clients have about the business. Some criticisms may be hard to swallow, especially if the majority of the comments received were negative. However, companies can come up with a solution afterward regarding how to avoid negative feedback later.
A feedback form is not merely a blank document where clients have to determine themselves at what to jot down. It will be more natural to have categories and labels placed on the sheets so anyone who takes the form will be guided at every comment to create in each group. For example, a cafe may need feedback that will be up for evaluation later, and the form can divide comments according to customer service, location, ambiance, price, and more. If planned thoroughly, then there is high assurance for the document to be helpful after gathering the results.
What Are the Perks of Having Customer Feedback Forms?
Indeed, customer feedback is helpful, and identifying each advantage involved from it will be necessary. If a business ends up stopping the need to gather feedback, then that would mean certain benefits will get missed, and that cannot be right. Some beneficial factors expected in preparing customer feedback forms are the following:
Leslie Jones Reacts to Jessica Alba's The Honest Company
People make reactions in different ways, and some would take it to social media like how the actress or comedian Leslie Jones used to complain about The Honest Company, which was founded by the actress Jessica Alba. The company is known for selling home essentials like baby wipes, diapers, beauty products, or bath essentials. Jones reacted to Alba's Honest Company around July 2018 because of how orders went delayed for quite some time. According to Jones, she had been a loyal client to Honest Company for a few years until the diaper cakes she ordered got delayed for too long. The Honest Compay had the option for next-day delivery, with an additional fee, but delay occurred to Jones's order. This experience led Jones to post her frustration via Twitter.
The Honest Company responded that the diaper cakes might reach until three days to prepare, which contradicts the option that allows getting delivered on the next day. Alba herself even responded to Jones about how sorry she was for such frustration and also mentioned that she's a fan of Jones as well. There were already issues faced by Alba's company from the past. Those were regarding their products' ingredients, so the complaint made quite a headline again. In avoiding that heated attention, it would have been more professional to mention everything through the customer feedback form because no one else has to get involved. Posting to social media usually is what people do to call out and spark attention, but issues can get handled and solved in private too. The Honest Company would not have gained a more negative reputation if they welcomed client feedback and addressed their concerns.
What Are the Factors to Expect among Customer Feedback Forms?
Client feedback sheets may look different upon viewing forms for a clothing business, gym, salon, and more. However, there are also similar factors seen from those sheets which must get recognized so those parts will be present on the forms. The popular aspects involved are:
Name and Contact Details

To identify who will fill in the blanks among forms is crucial because anyone can make up lies through such documents. Maybe not real customers made many negative comments like haters. At least it is easy to tell if an actual customer made the feedback by recognizing through their names and contact information. Maybe there is a need to communicate with a particular client, and it will be simple to track based on the details provided.

Rating Sheets

The sheets can have categories and choices provided for clients to rate accordingly. For example, there could be a product mentioned, and customers get asked to rate from 1 to 5 regarding how satisfying that is. Other categories to rate may refer to the product's design, quantity, and more. There would be room for rating for a practical assessment in the long run if customers were delighted with the products or services.

Question and Answer Portion

Besides choosing, the feedback documents also have a series of questions for customers to answer. This part is where longer answers may get required, like in sentence forms. Selecting what's preferred isn't always enough because there could be different comments not stated on the choices that customers want to open up. There are even blanks provided for additional explanations for other feedback not asked from the queries.
How to Come Up with Standard Customer Feedback Forms
Creating the customer feedback form that is suitable for business standards will be crucial, but it does not mean that the sheet has to look standard only. Making it more professional and creative at the same time can make a better impression too. Less difficulty will take place by identifying the steps in forming the sheets. The useful steps consist of the following:
Step 1. Explore Different Templates and Compare
Many available customer feedback templates can get checked, and exploring such examples is essential. Exploring cannot be useless since anyone who creates the form will eventually realize which model gives the best output and experience. Comparisons enable one to find which seems to be more advantageous than the rest. Thus, such an option will be worth choosing. Most importantly, the template used must be relevant to client feedback.
Step 2. Identify the Expected Categories for Feedback
Some clients who take the form might not turn prepared on what to write, which is why adding categories will help them gain knowledge about what aspects to give feedback. In a hotel service, groups can get labeled according to the atmosphere, hospitality, cleanliness, and the like. The key is to really know what the business is about until it turns simple to adjust to recognize every category.
Step 3. Organize the Format
Formatting is nothing to underestimate because maybe a product feedback form looked confusing. Adjusting the measurements may help if some fonts do not have a uniform size or that some parts do not appear justified. Organizing can create a difference like in ensuring that anyone taking the form no longer experiences any hassle at completing it. Working on the arrangements leads to a pleasant outcome soon.
Step 4. Provide Easy Instructions
Just by viewing the form, customers possibly need help on what to establish. The first instruction is to put the label that the sheet is a customer feedback document, so it sends a message immediately at what the entire sheet is. On how to rate or write some comments, putting instructions at the top can help a lot to lessen mistakes. It would be a waste if some writings on that document will be considered null for not following instructions anyway.
Step 5. Maintain an Impressive Presentation
Besides the content, the overall design also leaves an impression. Therefore, it should at least look pleasant to the eye and that the necessary models are present. Such models include the company name, logo, and other creative aspects. Just avoid beautifying the sheet for too much because it is not an art contest. Professionalism is still a must so that all customers can take the forms seriously instead of just a joke.
Even if results are positive or negative, all businesses have to keep in mind that not everything is one-sided. However, there is always room for enhancements that even a struggling business can rise back again after recognizing comments and feedback coming from clients. With the customer feedback sheets used as a basis for evaluation, better chances of delivering more exceptional services can happen in the end.