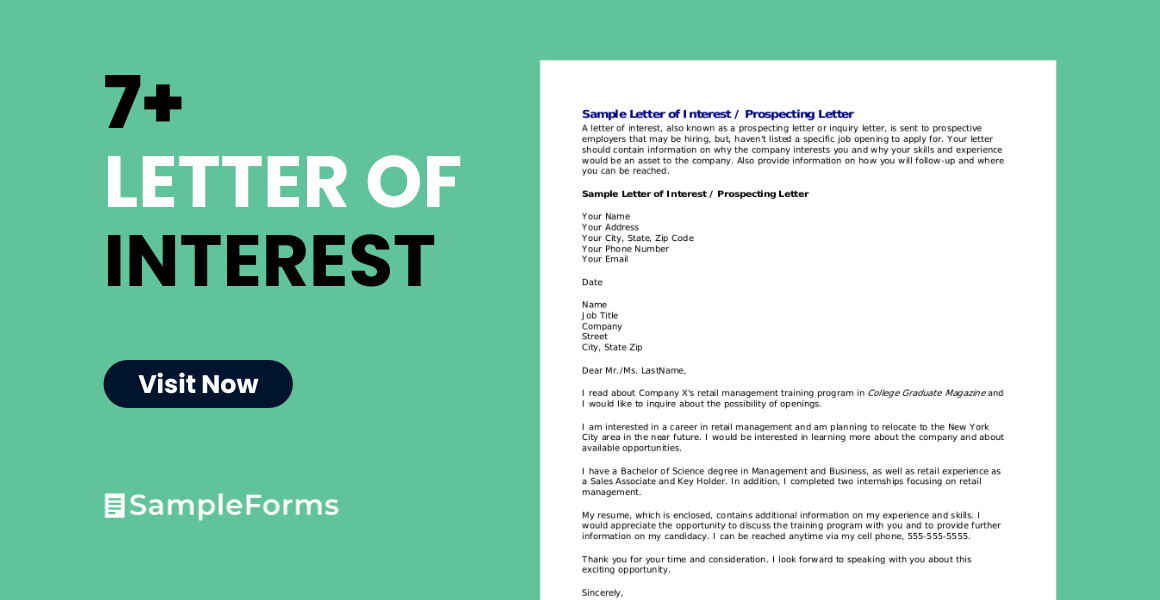 A letter of interest, as the very name suggests, is an official document that basically expresses your interest in something. For instance, if you are interested in a particular job, you can show it with the help of such a letter of interest. To design a letter of interest for yourself, you can take the help of the Sample Letters templates that are found here. These templates are sure to come in handy.
What is Letter of Interest?
A Letter of Interest is a document used to express an individual's interest in a job, project, or opportunity, even when there are no current openings. It's not a response to a specific job posting but rather a proactive way to indicate your interest in potential future opportunities with a company or organization. The typically includes personal contact information, a brief introduction, a summary of relevant skills and experiences, reasons for the interest in the organization, and a statement of what the individual can bring to the table. It's a tool for networking and opening doors to future employment or collaboration opportunities. You should also take a look at our blank forms.
What is the best Sample Letter of Interest?
Here's a sample template for a Letter of Interest:
[Your Name]
[Your Address]
[City, State, Zip]
[Email Address]
[Phone Number]
[Date]
[Recipient's Name]
[Recipient's Title]
[Company/Organization Name]
[Company Address]
[City, State, Zip]
Dear [Recipient's Name],
Subject: Expression of Interest in [Company/Organization Name]
I am writing to express my strong interest in any future opportunities that may arise within [Company/Organization Name]. As a [Your Current Role/Position] with extensive experience in [Your Field/Industry], I am enthusiastic about the prospect of contributing my skills and expertise to your esteemed organization.
[In this paragraph, provide a brief overview of your professional background, highlighting any specific skills, achievements, or experiences that align with the company's values, mission, or projects.]
What particularly attracts me to [Company/Organization Name] is [mention specific aspects of the company, such as its culture, projects, reputation, etc.]. I am impressed by [mention any specific projects, initiatives, or values of the company], and I am eager to bring my [mention specific skills or experiences] to your team.
Enclosed is my resume, which provides further details about my professional journey. I am very interested in scheduling a meeting to discuss how my background, skills, and enthusiasm could align with the future needs of [Company/Organization Name]. I am flexible and available for a conversation at your earliest convenience.
Thank you for considering my interest in your organization. I look forward to the possibility of discussing exciting opportunities with [Company/Organization Name].
Sincerely,
[Your Name]
This template can be customized to fit your specific background and the particular aspects of the company or organization that appeal to you. The key is to make it personal, professional, and aligned with the values and needs of the organization you are interested in. In addition, you should review our Best Forms.
7+ Sample Letter of Interest in PDF | MS Word
Sample Letter of Interest For a Job
This is one of the most useful and simple examples of letter of interest. It comes in a pdf format and would serve as the perfect sample which you can follow while you design your own letter.
Expression of Interest Sample Letter
This letter of interest comes in a word document. That means it comes with easy customization options as well. You can download the template and then make changes to it as well.
Sample Letter of Interest For Teaching Position
If you feel that the job of a teacher would be perfect for you, then you can take the help of this sample letter of interest which has been designed specifically for the purpose. you may also see Teacher Cover Letters.
Internship Letter of Interest Sample
Has a particular internship caught your eye? Then you can express your interest in the internship position by using this letter of interest which is very specific and to the point as well.
Sample Letter of Interest For Employment
If you want to apply for a particular job or a particular post, then you can do that with the help of this sample letter of interest as found in this template. This is a professional template with the accurate format. You can also see Letter of Intent Samples.
Email Letter of Interest Sample in Doc
You can express your interest for the particular job or position with the help of an email letter of interest as well. To get an idea of what that looks like, you can use this letter template here. You may also see Job Application Cover Letters.
Example Letter of Interest
This template here is the perfect example of what a formal letter of interest should look like. It is precise, to the point and expresses your interest in the subject perfectly.
Simple Job Interest Letter in PDF
If you come across a job opening that seems interesting enough, why don't you make some enquiries to know more about it? You can do so with the help of the job interest letter template here.
How Can You Use The Letters of Interest Templates?
If you have seen letters of interest before, you would know that they usually have a similar pattern. Except for minute obvious details, most of the contents in letters of interest remain the same. The templates that you see here are extremely easy to use. They come in simple formats that you use on a regular basis. All you really have to do is go through the collection of templates found here and then download the ones you like. Also, the templates here may be used as samples and you can follow their example while creating the letter. You may also see Letter of Intent Samples.
Tips for Using Letters of Interest Templates
If you are planning to create a letter of interest for yourself, then there are a few things you need to keep in mind. Some of them are:
Choose templates based on your needs and requirements. In this section, you will find several templates – each serving a different purpose. You need to download only the templates you feel are useful and handy.
Go for a letter of interest templates that are easy to use and follow. At the end of the day, you will be using these templates as samples on which you can model your final letters of interest.
Here, you will find a wide range of formal letter templates which can come in handy. Irrespective of what you need the letter of interest for, these templates here will serve your purpose. Also, the templates here have been designed by professionals who know just what you need. You can also see Letter of Application Forms.
How do you write an Expression of Interest Letter?
| Aspect | Letter of Interest | Cover Letter |
| --- | --- | --- |
| Purpose | Expresses interest in a company or organization for potential future opportunities, not tied to a specific job opening. | Tailored to a specific job opening, highlighting suitability for that particular role. |
| Recipient | Often addressed to a hiring manager or department head, but not for a specific job role. | Addressed to the hiring manager or recruiter for a specific job listing. |
| Content Focus | Focuses on the individual's overall interest in the company, their skills, and how they align with the company's values and goals. | Concentrates on specific qualifications and experiences that make the candidate suitable for the particular job they are applying for. |
| Usage | Used as a networking tool or when seeking unadvertised job opportunities. | Used when applying for advertised job vacancies. |
| Call to Action | Generally suggests a general desire for a meeting or discussion about potential opportunities. | Often requests an interview for the specific job opening. |
| Tone | More exploratory and open-ended, showcasing a broad range of skills and interests. | More targeted and specific to the job requirements and company needs. |
Both letters serve as tools for job seekers but are used in different contexts and with different goals in mind.
How important is a Letter of Interest?