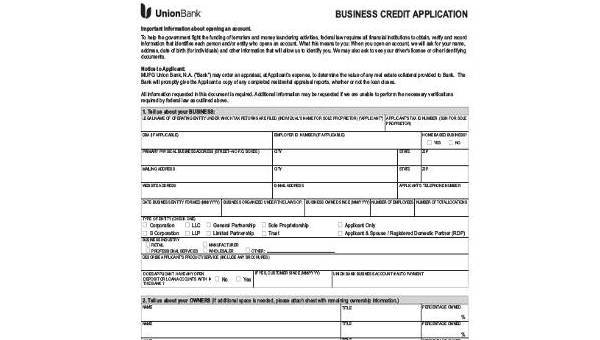 When looking for new business capital, a Business Credit Application form is a type of Business Form that can help you gather and organize information. This form is used when an individual or a business is seeking to apply for credit with a lending institution. The Business Credit Application Form usually contains the information of a borrower's credit history, employment status, and his or her ability to repay the amount of the loan.
Shown below are examples of Business Credit Application Forms that we have provided for you to download and use for free for personal purposes, either at present or for the future.
Business Credit Account Application Form
Free Business Credit Application Form
Blank Business Credit Application Form
Standard Business Credit Application Form
Printable Business Credit Application Form
When requesting for a continuation of credit, a written form is must be drafted, in particular a Credit Application Form. The procedures of a lender's extension request must be followed in order for the request to be valid.
Tips to Strengthen Your Business Credit Application
In order to get the best chance of acquiring the financing you need, here are a few tips we have listed down for you to take note:
Check your business and personal credit history – You should always take note of your business and personal credit scores. Lenders usually evaluate your credit scores when you apply for a business credit.
Pay off outstanding debts if necessary – A substantial factor to be considered here is your payment history, whether or not you have paid your bills on time frequently.
Apply during the best time of the year – Make sure you apply for a loan during or after your best season. This usually depends on the peak time of the year your business is boosting.
Be conservative in your estimates – Show your lender that you have a healthy cash flow but don't think too highly of yourself. Convince them that you consistently review your budget to make sure you are reducing costs whenever possible.
Boost your savings account – The more money you have in your business bank account, the better. You should have a desire to have at least 3 months of functioning expenses; this way your lender is persuaded that you can make your payments even when you're going downhill.
Business Credit Card Application Form
Business Credit Application Form in PDF
Business Lease Credit Application Form
Business Custom Credit Application Form
Small Business Credit Application Form
When registering your business with different organizations providing insurance, loans, and many more, it is important to have outlined your Business Application Form. Using a Business Application Form when engaging your business to different organizations makes it easier and efficient when going through the process.
Business Plan When Applying for a Business Credit
Business planning is also an important aspect when drawing up your Business Credit Application. This would also help in achieving the finances that you need. We advise for you to separate your plans into three main categories, namely:
The Historic Category – This category will talk about your past and your present business finances. This includes your sales volume, product lines, prices, revenues, as well as information about your employees.
The Competitive Category – This category will analyze and clear up the rest of your market and your industry. Are other companies doing the same thing in your zone? What makes your services different?
The Projected Business Plan Category – This category will deal with the future like what you would do with the money from the loan, or how it will affect your sales, your product margin, and or your payroll expenses.