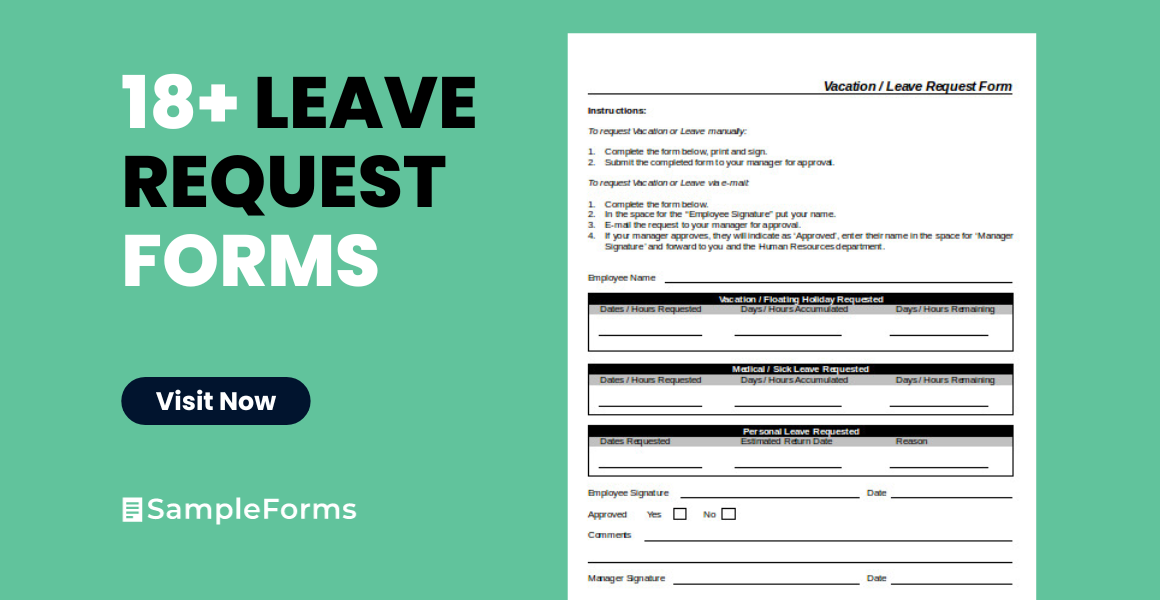 Everyone needs their own time to relax from a day's work. Lucky for employees who are in a well-organized company, they can file a leave, then go on a vacation, and still get paid. And whenever the employee has to move the date of his leave, he can simply submit a Change Request Form for the management to inform them of his decision.
A Leave Request Form is similar to an Information Request, wherein before taking another step or before deciding to leave the office, the request form needs to be approved by the higher officers and the management of the company.
Employee Leave Request Form
Staff Leave Request
Annual Leave Request
Leave Notification Request
Shared Leave Request
Medical Leave Request
Leave Request Approval
Leave of Absence Request
Vacation Leave Request
What Is a Leave Request?
A Leave Request is a process which is used by companies for their employees in requesting for a day to leave and be away from work. An employee needs to complete a Leave Request Form which will include the reason for why he is going to be absent on a particular day. Normally, companies require their employees to submit the request form two weeks prior to the date of leave to properly designate the employee's task and duties into another employee who is available on that day.
How to Write a Leave Request Letter
Step 1: State your full name and your position.
Step 2: Indicate the date.
Step 3: Write the name of the addressee.
Step 4: Add a subject to your letter.
Step 5: Start the letter with the title of your addressee: Dear Mr./Ms./Dr.
Step 6: Create an introduction which will indicate your purpose of making the letter.
Step 7: Assign your duty to a trusted co-worker on the second paragraph.
Step 8: Thank the addressee and end the letter with your signature.
For a more specific document, you can also use a Vacation Request Form. This form is only used for those employees who aim to request a leave for the purpose of going to a vacation.
Voluntary Shared Leave Request
Non Medical Leave
Parental Leave Request
Previously Called Leave
Professional Leave Request
Weekly Leave Pay Request
Adoption Leave Request
Associate Leave Request
Printable Leave Request Form
Staff Leave Request Form
Leave Request Guidelines
When filing a leave, consider using our Request Form Samples as your basis for a format, and keep these guidelines in mind before zooming out of the company's premises:
An individual must have authorized signatures on his leave request form from the immediate supervisor and the management before heading out for a leave.
A notification from the higher officials or the management whether the request was declined or approved must be received by the individual who filed the leave.
A request for a vacation leave of more than two working days should be stated in an Employee Vacation Request Form a month before the date of the vacation.
Changing of leave schedules will only be approved as soon as the management has received and signed a Change Request Form from the individual who filed the leave.
An individual who filed an emergency leave should have accompanying documents as proof that the information he sent out as an emergency to his supervisor is real and exact.
The workload should be clear before the individual will proceed to his vacation leave.
A co-worker may be chosen by the individual who filed the leave as his substitute for the number of days that he will not be around.