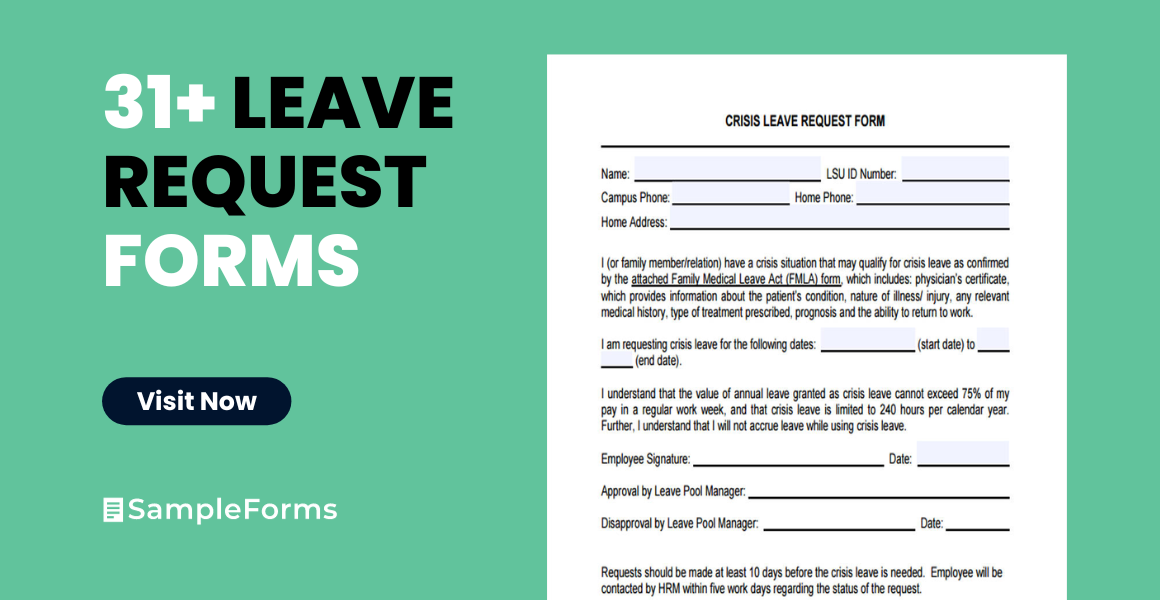 MS When an individual is in need of something or wants to obtain something important for their activity, he or she makes a request. A request is known to be a polite or formal manner of asking. It may be done verbally, but in other cases written versions such as Payment Request Form are used.
The verbal request is considered to be acceptable for some, but a written request form seems to be more formal and reliable. The practice of using a Request Form is helpful to companies that have a big inventory since these forms can help them sort out what has been requested and what remains in stock.
Employee Leave Request Form Samples
Free Employee Leave Request
Employee Leave Request for Family Medical Leave
Employee Leave of Absence Request
Annual Leave Request Form Sample
Sample Annual Leave Request
What Is a Leave Request Form?
Any type of request form, regardless of its specificity, is a polite and formal way of asking something from people. In the case of Donation Request Forms being used, the content of this request form politely asks for any amount to be donated to the designated organization stated in the form.
In the industrial setting, request forms can be used for a number of tasks. One way it is utilized is through the employees' attendance. Employees may file a leave request form in order to inform the company of their upcoming absence. It is a systematic method of tracking attendance throughout the company.
How to Write an Email for Leave Request
Request may be submitted to the proper officials in two ways. The first method that is preferred by some is the old fashioned method of manually writing the request on a piece of paper. Some institutions still practice this method such as religious institutions when church goers submit Prayer Request Forms.
The other way of submitting a request is through electronic means one can submit an email regarding the specific request. Leave requests form may be sent to company officials. This email should be encoded in a polite manner, have a formal tone and content, necessary attached documents.
Other details to consider in the letter is who it is addressed to, the date the email was written, and the duration of one's requested absence along with the reason for absence.
Medical Leave Request Form Samples
Sample Medical Leave Request
Family Medical Leave Request
Shared Leave Request Forms
Voluntary Shared Leave Request
Shared Leave Donation Request
Shared Sick Leave Request
Leave of Absence Request Form Samples
Family Medical Leave of Absence Request
Leave Notification and Request
When to Request Maternity Leave
Request form of any kind has their own designated period of when it is appropriate to submit a form or not. When Donation Request Forms are used by organizers, they should be aware of when is the right time to hand them out and the appropriate places the organizers can have them distributed.
Request forms utilized in the industrial setting can tackle a number of subjects. One of these are Employment Verification Request Forms . This form is used when administrative or company officials request references from an incoming employee in order to search and verify their previous employment work and overall employment history.
Another subject that a request form is used in a company is with maternity leave. Maternity leave is a type of leave of absence in which a female employee takes time off because she is about to give birth to her child or has recently adopted a child. The nature of maternity leave differs depending on the regulations of the company regarding that subject as well as any national level regulations regarding the conditions of maternity leave.
Regardless of the regulations surrounding it, it is important for a pregnant employee to file for maternity leave in order to have time to give birth and adequately care for the child.
Companies may have their own regulations regarding the appropriate time to file for maternity leave, how long the maternity leave is, any corresponding payment to be given if the company provides a paid maternity leave. There are federal guidelines that state that a pregnant employee files for maternity leave at least thirty days before the employee plans on taking the leave.
However, it is encouraged to inform the supervisor in a more advanced period of time. For those planning to inform their supervisor or employer, it is best to inform about the upcoming maternity leave after the first trimester has passed.
Vacation Leave Request Form
Vacation Sick Leave Request
Staff Leave Request
Staff Leave Request in PDF
Free Staff Leave Request
Staff Annual Leave Request
Leave Request Application Forms
Annual Leave Request Application
Parental Leave Application Form
Leave Request Approval Forms
Sample Leave Request Approval
Vacation Leave Request Approval
Study Leave Request Approval
Adoption Leave Request Forms
Sample Adoption Leave Request
Staff Parental/Adoption Leave Request
How to Write a Annual Leave Request Letter
The convenience of sending a formal request letter through email is typically used nowadays because it has been proven to be a way of saving time, saving paper and ink, and can be used to systematically store any electronic forms such as Time Off Request Forms within the software programs used by the company.
Despite that, it is not a bad choice to stick with the traditional method of manually writing a letter. In order to make an annual leave request letter, one must keep in mind to include the valid reason for the leave, contact details and thanking the concerned person for considering request form.
How to Send Leave Request Mail to Manager
It is the responsibility of the employee to inform their employer of any upcoming leave of absences, or Leave Request Forms they plan on filing. This is an important task to do because an employee's attendance can affect their performance and result in deductions in their salary.
The overall impression of a leave request letter can make a supervisor accept or reject it. When the letter has been completed and contains attached documents, an employee may submit it to the manager himself or herself, to the office of the manager or may leave it with manager's secretary if protocol calls for it.
Sick Leave Request Form Samples
Advanced Sick Leave Request
Illness Sick Leave Request
Sick Leave Bank Request
Weekly Leave Request Forms
Weekly Leave Pay Request
Parental Leave Request Forms
Sample Parental Leave Request
Request for Parental Leave
Unpaid Parental Leave Request Form
Crisis Leave Request Form
Basic Leave Request Form
Formal Leave Request Form
How to Complete a Leave of Absence Form
The format of request forms differ according to overall format, the content it asks from the applicant of the request, and the additional documents that should be attached to the request form. In that sense, Check Request Forms and Event Request Forms are different from each other since they are directed to different kinds of requests.
For one to encounter a Leave of Absence Form, they must remember and prepare a few thing in order to complete the entire form. The employee legibly indicates their name, their assigned department, the type of leave, the duration of the leave, and the date the employee intends to go back to work.
The total numbers of days during the leave are taken into account since a company has regulations regarding the number of days an employee can be on leave. The number of days are also put into consideration in terms of the employees' salary and their overall performance in the company.
The next section requires the employee in question to affix his or her signature and the day it was signed. This action verifies that the information in the request form is valid. The last part of the form lets the supervisor sign if the request has been approved or not.