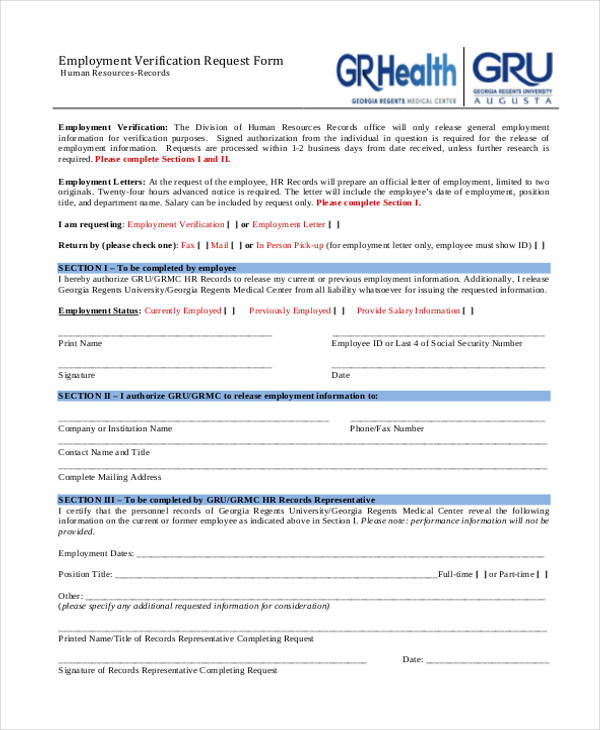 When uncertainty emerges from particular subject or matter, it requires verification. A person may verify a statement's accuracy and authenticity with the help of legal documents and pieces of evidence. Companies, agencies, and organizations verify their employees' identities to assure that no one is stating false information under their authority.
The document needed for verifying is a Verification Form. Validating and verifying a membership are the two main purposes of using this type of form. For landlords and tenants, a verification form is essential to know the history of both parties, whether the landlord is complying with the State's Law or if the tenant is a well-mannered person who pays his rent on time.
Employment Verification Form Templates
Employment Verification Request Form
Child Care Employment Verification
Employment Verification Return Form
Income Verification Forms
Self Employment Income Verification
HUD Income Verification
Rental Verification Forms
Free Rental Verification
Blank Rental Verification
Rental History Verification
Insurance Verification Form Templates
Patient Insurance Verification
Health Insurance Verification
Insurance Verification Request Form
Importance of Verification Forms
Verification Forms play an important role in every sector of the industry. Data entry specialists are using technology-based systems to secure accurate and quality data. In the case of accounting sectors, they are required to verify an individual's status, from the civil state of a person to his financial stability.
One main significance of having the verification form is for reference and documentation purposes. The company should keep all records of verified data to know the percentage of false documents that they received throughout a specific month or year. The form is also important to know an individual's identity, especially when dealing with job applicants in a company. The management may use verification forms as the basis for reaching out to the character references of an applicant. Government agencies and banks also use a system or a software to verify a person through his signature.
Variety of Verification
Employment Verification – This form of verification is usually found in business industries and companies, especially within the Human Resources Department. Employers use a Job Reference Verification Form to know the background of their applicants and to assure that they will be hiring qualified people. A landlord may also use an employment verification, but for a different purpose. The landlord may request a Tenant Employment Verification from his prospective renter. This is to ensure that the tenant will have no excuses when paying the rent on a monthly basis.
Income Verification – The US Department of Housing and Urban Development requires their applicants to submit a HUD Income Verification Form in buying and renting property. The verification form allows the agency to see if their applicants meet the range of income eligibility before granting their housing request.
Rental and Residency Verification – This form of verification includes the Rental History Verification, Temporary Residency Verification, and Annual Tenancy Verification. Mostly, landlords are the ones who use a verification form on this subject. The landlord may know the tenant's characteristics and records with the help of his rental history records. The terms and conditions between the tenant and the landlord may also be disclosed using a Tenant Residency Verification Disclosure Form.
Insurance Verification – This requires the use of a Health Insurance Verification Form and a Patient Insurance Verification Form. These forms provide assistance to healthcare providers to guarantee that registered members are receiving their benefits.
Education Verification – This form of verification runs in between an institute and a student. A Driver Education Verification Form is an example under this category wherein the document will state the details of the student and his status in a university. The form will also state if the student has passed the driving course and if he is eligible to use a vehicle within the school campus.
Signature Verification – The Contractor Authorized Signature Verification Form and Bank Signature Verification Form falls under this category. These forms focus on having multiple parties to sign in allowing a legitimate verification process.
Landlord Verification Forms
Landlord Employment Verification
Landlord Tenant Verification
Landlord Rental Verification Request
Residency Verification Form Templates
Temporary Residency Verification
Tenant Residency Verification Disclosure
Apartment Residency Verification
Tenant Verification Forms
Official Tenant Verification
Tenant Employment Verification
Annual Tenancy Verification
Education Verification Forms
Education Verification Consent Request Form
Driver Education Verification
Education Verification Template
Parts of a Verification Form
Verification forms vary in the arrangements per section depending on the type of form you are to use. Here are the common parts you will find in every verification form:
Section I:
Filer's Details. This could include the name of the employee, tenant, landlord, or anyone who needs the verification. His signature should also be indicated after his full legal name.
Date. The date when the form was submitted can be found beside or above the filer's details.
Section II:
Verification Purpose. This section will indicate the reason for verifying the background of an individual, whether for employment or for tenancy purposes.
Verification Details. The specific details to be verified should be stated by the employer or the user of the form. This may include the list of previous employers, area of residence, and an institute. For Income Verification Forms, a table will be provided for the applicant to fill in with information regarding his received income per month and the associated company he is currently working for.
Section III:
Questionnaire. The employer may include a list of questions for the applicant.
Comments. The landlord, employer or the agency may state comments regarding the information provided by the applicant.
Section IV:
Signatures and Contact Details. The employer or the representative of an agency should sign with the applicant and ask for the applicant's contact numbers.
Ways of Checking a Landlord Reference
Landlords always check their prospective tenants before granting them a space in their residence. But there are some tenants who also do the same with their prospective landlords to make sure that they can move freely within their new home. Here are ways to check your landlord references:
Communicate with your future neighbors. The neighbors are most likely to tell you everything or just the information you will need. You may about previous problems that occurred in the apartment you are to rent. Ask about the probability of floods and muddy roads, or about the characteristics of the landlord.
Ask the tenants and the local police. If it is an apartment you are going to rent, there should be at least one visible tenant in the area. Greet him and inquire about the condition of the room, the water source and the landlord's ability to effectively communicate with a tenant. The local police will serve a great help in providing information about related crimes along the address of your apartment.
Conduct research online. Social media is a good place to start. As long as you have the full name of your landlord and the address, you can search through the websites to find out more about how your landlord handles his tenants and the satisfaction ratings from previous tenants.
Enrollment Verification Forms
Enrollment Verification Request
Student Enrollment Verification
School Enrollment Verification
Job Verification Forms
Job Reference Verification Form
Job Verification Form Template
Police Verification Forms
Police Verification Template
Police Check Verification
Address Verification Forms
Postal Address Verification
Address Verification Template
Signature Verification Forms
Contractor Authorized Signature Verification
Bank Signature Verification
Rental Verification in Doc
Basic Job Verification Form
Verifying Health Insurance
There are different steps to take when verifying a health insurance which significantly depends on who is verifying it, whether it is a healthcare provider, or a member of an insurance company. Listed below are the steps that a member will have to keep in mind when he verifies his own health insurance:
Gather the Healthcare and Insurance Records. This should include all the actions taken regarding your physical health. This may also include details about your doctor's visits, the surgeries and preventive care you took, the payments you made, and specified dates of each record. If you appear to be missing some information, ask your personal physician to complete the information.
Inform your healthcare provider. Being married, getting pregnant and having a baby are important life events that your healthcare provider needs to know. These events can affect the coverage of the insurance and the benefits that you may attain as a member. Accidents may also happen at any time of the day, but before any type of procedure will be administered to you, make sure that you are able to call them to inform them about future transactions. Not relaying the information to your provider may cause you additional fees and penalties as soon as they know that you have added beneficiaries in your membership plan.
Read again the terms and conditions. The healthcare provider may have given you a rule book when you became a member of their association. If you have clarifications, scan through the book and call a healthcare representative to attend to your inquiries. You may also arrange a meeting or an appointment with the representative so you will be able to fully understand and find the answers to your questions.
Why Use our Verification Forms?
Our website contains tremendous varieties of form documents which make you wonder why should you use our forms rather than drafting your own? Here are the reasons why:
It's free. Most of our forms are free to download in whatever format you prefer.
The forms are flexible. You can edit it to combine with what information you already have and update it however you wish.
Speaks universally. You don't have to have a medical degree to understand the content of our forms, all you need to know is how to read. Our forms use layman's terminology, which means that no matter your level of education, you can easily understand and manipulate the forms that you need.
Lesser work-time. Since our forms are ready to use, your work time will be lessened instead of having the need to draft the document from scratch which may cost you a lot of time and resources.
Professionally designed. The designs we have on our forms are created by trusted and professional sources which means that you can use comfortably use these for any legal precedings with the help of an attorney.
Variety. All sorts of forms are available on our website, from Affidavit Forms to Transfer Forms and Review Forms. Just search through our site and view what we can offer for you.