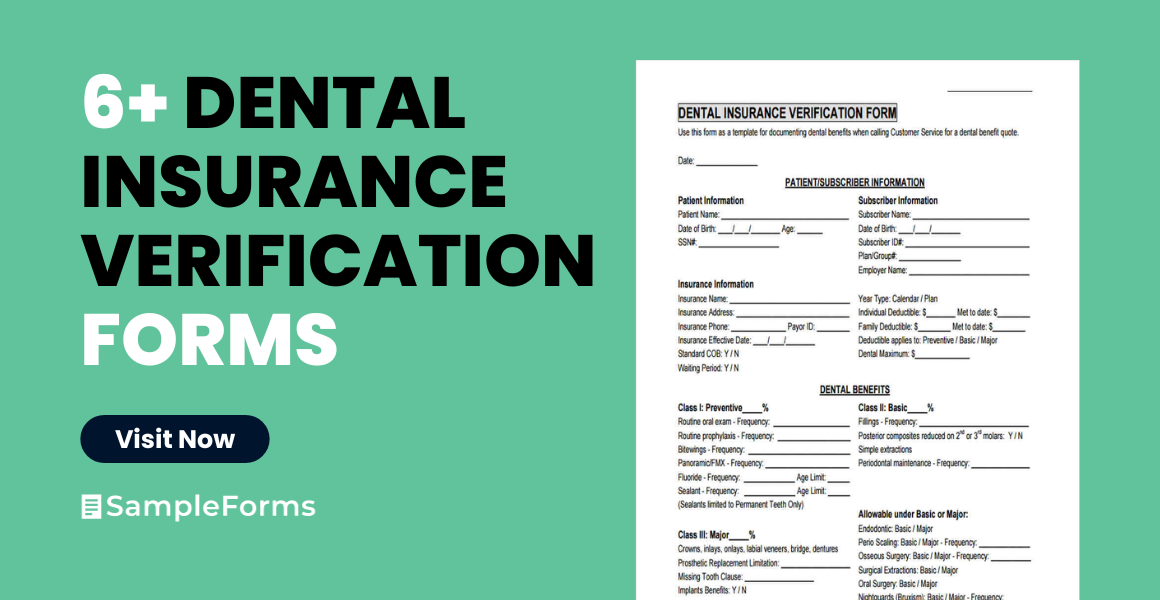 Dental insurance coverage is a customary part of employee benefits packages that employees need to be aware of various steps taken (either by them or by the health care establishment providing the dental services) before they may avail of their insurance benefits. An example of this step is signature verification.
Even though fewer people take advantage of this employment perk, knowing the insurance verification process will help set proper expectations when they visit a dentist's office. Verification and Sample Policy data packs are often given by your Health Maintenance Organization (HMO) when an employee is first registered for insurance coverage.
Dental Health Insurance Verification Form
Other Insurance
Dental Insurance Verification
Student Dental Insurance
What is Insurance Verification?
Insurance verification is the process of authenticating a person's identity and insurance benefit coverage through the an insurer's database. This is usually done using a card verification system where insurance health cards (together with a picture ID) are scanned, and the client's medical and benefit information are then confirmed.
Other ways used by companies for insurance verification may also involve calling toll free company hotlines, by using computerized signature verification systems, or by using a insurance verification form. In all these methods of insurance verification, it is the insurer's database is used to authenticate the client's identify and corresponding benefit plan.
How to Perform Medical Insurance Verification
The medical insurance verification processes will generally vary depending on the health maintenance organization that your health care provider belongs to. Some companies use computerized verification systems while others still use medical verification forms.
Whether using physical forms or not, the medical insurance verification process is mostly similar. Here is how it goes:
Client (Policy Holder) either fills up an insurance verification form, presents a health card, or signs a electronic tablet to verify identity and coverage.
Receptionist confirms by calling the insurance company's toll free hotline or waiting for the result of the electronic signature verification system.
Insurance company either through the phone call or through the database computers found in the dentist's office will confirm the patient's identity and coverage.
Dentist/Doctor/Receptionist will explain the patient's benefits and commence treatment.
Patient Insurance Coverage Verification
Periodontal Insurance
Sample Insurance Verification
10 Tips to Understanding Dental Benefits
Upon visiting your dental care providers, you may be asked to sign insurance verification forms that will look like employment verification forms, or even resemble verification form samples in template. This is a normal part of the process.
It is also helpful to read the ten tips below if you want to fully take advantage of your dental care plan benefits.
Know your maximum benefit limit.
Dental insurance only covers a predetermined cost for dental treatments per year. Plan your dental treatments around this limit.
Know your dental network.
Dentists belong to different dental networks so you should seek for the services who belong to the same dental network that you health provider has an agreement with.
Know what benefits are included in our dental plan.
Maximize dental insurance co-payment schemes by utilizing the services before their yearly expiration.
Keep track of your monthly insurance deductibles.
Remember that most dental plans do not cover cosmetic dental work like braces etc. Read your plan's fine print carefully and plan treatments accordingly.
Ask your dentist for estimated costs so that you can allocate funds for any additional costs not covered by your insurance company.
Work with your dentist when planning your dental treatment to help lower the additional costs that you may incur.
There are different levels of dental benefits – from diagnostic to basic preventive treatments (like fillings) to major treatments like denture installation. Different insurance providers will have different coverage plans for each level.
Monitor your monthly benefit deductions to verify the amount of treatment deductions that you have received versus the actual amount that you were told to pay for.