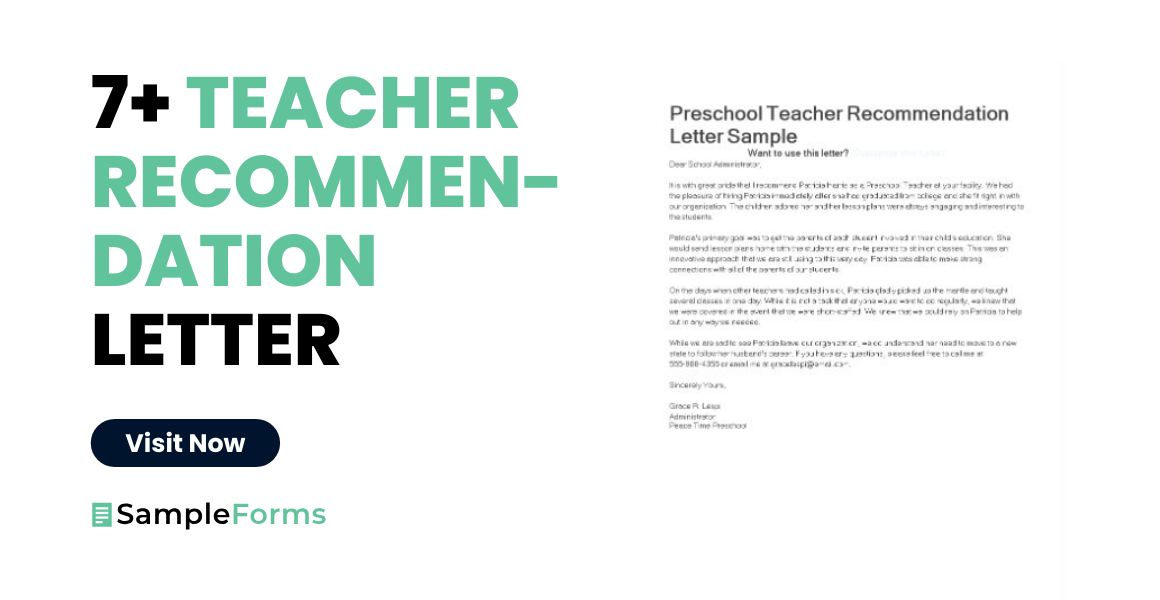 At any given time, a school can be looking for an extra hand in their staff and you could be asked in lending some hand finding the right candidate. Let's say that you actually do know someone that you can recommend who is more than qualified. So what do you do? You make a recommendation letter to help the searching process shorter. By handing the letter in, you can help both parties and receive some credit (and maybe even a lucrative referral fee).
What Is a Teacher Recommendation Letter?
A recommendation letter is a written document that an employer, member of an organization, or even a student can use to recommend a person who has the skills and abilities that the company, academic institution, or organization is looking for. In that sense, a teacher recommendation is written when you know a particular person who has the qualities that a school or university is searching for to join their staff.
Why Is the Teacher Recommendation Letter Important?
Every year, teachers, both veterans and individuals whose decision to turn to new pastures, retire and leave a gap to be filled. It is then that the institution must conduct a recruitment program. One way to speed the process is by giving a teacher recommendation letter if you know someone who shares the skills, abilities, personality, and quality that the establishment is looking for.
What Do You Need to Include In Your Teacher Recommendation Letter?
When it comes to making your letter of recommendation, you will need to include some essential information to further strengthen your backing of the person you're recommending. You will need to establish your connection with the applicant and emphasize the duration of your relationship to allow the head of the recruitment team to make an appropriate evaluation. You will also need to promote your candidate and emphasize their strengths and notable achievements.
What Are the Types of Teacher Recommendation Letters?
Teacher recommendation letters will vary depending on the type of institution that is recruiting. While most of the format remains largely the same, it is the content that changes. Here will be looking at some sample letters used for teacher recommendation letters.
Preschool Teacher Recommendation Letter
A preschool recommendation letter can be written for someone who carries a high level of skill and training for managing small children in a school environment. You will need to include some information about the recommended persons past as a teacher or employee as well as their interaction with preschool children.
Kindergarten Teacher Recommendation Letter
Similar to a preschool teacher recommendation letter, the kindergarten teacher letter of recommendation should express the qualities that the teacher carries. Namely, the teacher's abilities to communicate to both the student and the parents as well as their character in making the children feel welcome and appreciated.
Elementary Teacher Recommendation Letter
Due to the higher difficulty in elementary, this recommendation letter would have to emphasize less on the character of the teacher (although it should still be included) and focus more on the teaching skills. You will need to mention the relationship your candidate has with her students and how they engage with the parents.
Middle School Teacher Recommendation Letter
In the middle school teacher recommendation letter, you will have to include the same information like their teaching abilities and personality traits. You also need to give some examples on why you believe they are an effective asset to the faculty.
High School Teacher Recommendation Letter
The high school teacher recommendation letter should be written with more emphasis on praising how the candidate conducts their lectures and making themselves available for the students to approach them for help. It would be good to also mention the standards that the teacher places in the class.
University Teacher Recommendation Letter
For the university recommendation letter, you will need to list down the notable achievements that your candidate has reached in their specific field of studies as well as the awards they received during their tenure in their previous institution.
How to Make a Teacher Recommendation Letter?
How to Make a Teacher Recommendation Letter?
Although there are templates that can easily be edited, it wouldn't hurt to try to make your own recommendation letters. Below are some tips that you can apply.
Step 1: Use the Right Program
It's important to use a program that you're comfortable with when you're either making a sample letter or any written document. Gmail offers an application once you log in that you can use for making documents. Google Docs can be easily accessed so long as you have a Gmail account. Microsoft Word can be used either online or through installation.
Step 2: Reference Letter Comparison
Reference letters are often categorized as being recommendation letters, however, there are a few notable differences. One of them being that the reference letter is more general. They are also used to endorse the candidate's knowledge, skills, and personality. Whereas the recommendation letter is more specific in its content and displays the sender's support for the candidate.
Step 3: Consistency with Your Format
Most recommendation letters are written in the format of a formal letter or a business letter. You begin with the name of the receiver and the address of their institution. Next, you put the body where you begin with a greeting and proceed to add your content.
Step 4: The Content of Your Recommendation Letter
This applies to all recommendation letters that you might have to make. To begin with, you first need to explain the relationship you have with your candidate and how long you have known them. Then you evaluate their skills. It's best to mention their strengths last in your paragraph. When you do, give examples that illustrate their strengths. To conclude your letter, summarize why you recommended the candidate.