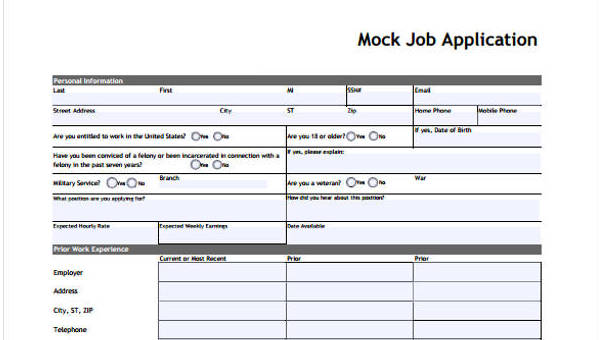 Applying a job requires your utmost effort and confidence. You need to prove to the human resource manager (HR) that you are deserving of the position you are applying. You can never go wrong with preparation. Everything should go smoothly on the day of your interview.
All your requirements must be present, especially your Application Forms. Your job application form will be the first step in achieving your coveted career. The HR will be very keen in evaluating your application form, that's why you must acquire the best form, which you can easily find in our website. Have your own copy now!
Blank Job Application Form
Generic Job Application
Sample Employee Job Application
Teaching Job Application
Bank Job Application
How to Apply for a Job
Most fresh graduates, as well those who have been unemployed for a long time, encounter this dilemma. Applying for a job may seem easy when you think about it, but in reality, it's different and unpredictable. You can never know what will happen on the day of your interview, but you can avoid a disastrous job application experience with the following steps.
Assess yourself: Contemplate deeply on what career you want to pursue. Evaluate your interests and skills. These two must be your priority in choosing your job, if you want to really enjoy and love what you're doing. However, there are some who focus on the salary, which is not a bad thing, since you also want to consider the practical side. In the end, it's all up to what your priorities are. Just remember to know yourself and the career you would like to venture on. Be wise in your decisions.
Prepare Job Application Forms: Your job application form is a reflection of yourself. This is where you state all your personal details, background and achievements. The Human Resource Manager will carefully examine your application forms, which is why you need Printable Job Application Forms to have your own on hand copy. Make sure to sell yourself in the application form. Specify all your skills, awards and achievements to give out a strong impression.
Free Job Application
Dental Job Application
Job Application Form
Civil Service Job Application
Sample Job Application
Job Application Form Sample
Research about the Company: The environment of your workplace is a factor in your working conditions. Knowing about the company you're going to work for will help you identify the company's ideals and missions. You want to align your views with the company because this is where you're going to put all your dedication and service. You don't want to be working in a company that runs contrary to your ideals.
Gather Necessary Requirements: Make sure to have all the necessary requirements for the interview such as
Generic Employment Application Forms. The HR will ask you for your application forms and other documents needed. When you have all these documents, the HR will know that you're prepared and ready to take on any task. The documents must all be authentic and legal. Don't cheat your way because you will suffer the consequences. On the occasion that the HR requests for more requirements, do your best to provide them all.
Be confident in the interview: Make your interview day an exciting one. Don't stress out yourself. Be calm and converse naturally. When asked questions, answer politely. Remember to practice days prior to the interview so you may feel on what it's like to be interviewed. Be yourself.