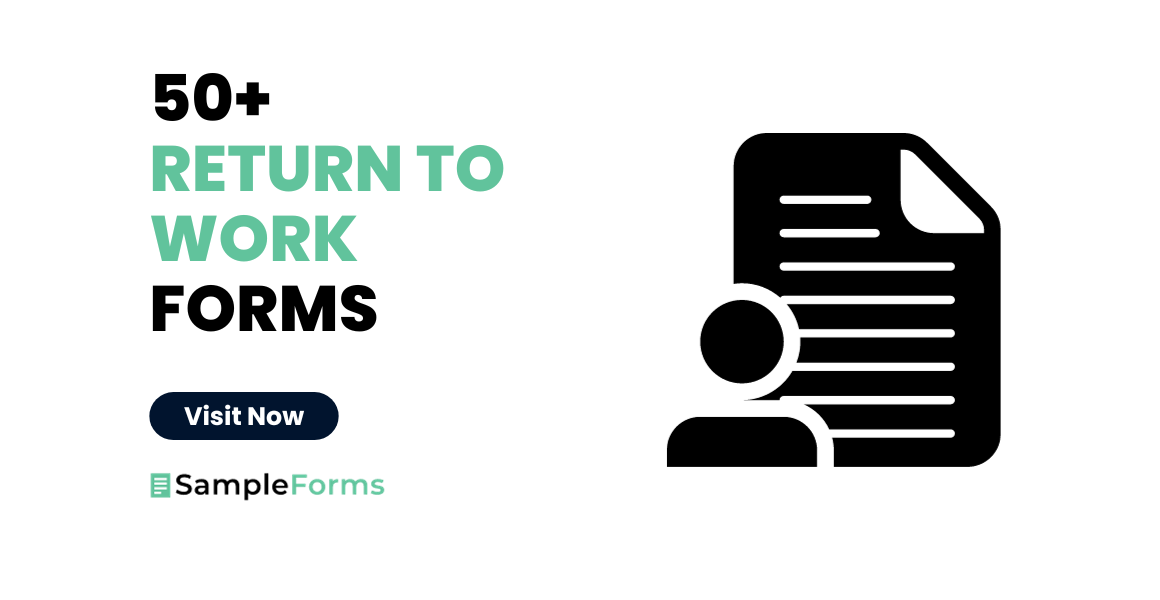 Labor or any other type of work is described as the innate human tendency to create and modify objects from his surroundings for his benefit and use. Such natural tendency allowed mankind to achieve amazing feats such as agriculture, domestication of animals, and engineering. It enables man to dominate the natural world and, eventually, shaped it on its own image. But, as labor or work began to be defined separately and translated in many ways, so did began the further division in the social and structural hierarchy in the workplace, and the deterioration of the working conditions of those who are slung in the lowest rung?—the distinction between wage and salary.
FREE 50+ Return to Work Forms in PDF | MS Word
1. Employee Return to Work Form
2. Manager Return to Work Form
3. Physician Release Return to Work Form
4. Return to Work Capacity Form
5. Return to Work Form in PDF
6. Patient Return to Work Form
7. Return to Work Status Form
8. Return to Work Certificate Form
9. Return to Work Fitness Form
10. Return to Work Release Form
11. Medical Leave Return to Work Form
12. Medical Release Return to Work Form
13. Individual Return to Work Plan Form
14. Medical Verification Return to Work Form
15. Return to Work Plan Form
16. Return to Work Form Sample
17. Return to Work Audit Form
18. Return to Work Medical Evaluation Form
19. Physician Speciality Return to Work Form
20. Return to Work Certification for Family Form
21. Medical Authorization Return to Work Form
22. Return to Work Release Form
23. Return to Work Mental Health Form
24. Return to Work Report Form
25. Return to Work Form Template
26. Sample Medical Return to Work Form
27. Return to Work Certification Form
28. Notice of Return to Work Form
29. Return to Work Association Form
30. Return to Work Confidential Form
31. Return to Work Interview Form
32. Request to Return from Medical Leave
33. HR Return to Work Release Form
34. Return to Work form Leave
35. Return to Work Interview Process Form
36. Return to Work Sickness Absence Form
37. Return to Work Employee Details Form
38. Return to Work Administration Form
39. Return to Work Discussion Form
40. Return to Work Duty Form
41. Return to Work for Staff Form
42. Return to Work Medical Information Form
43. Workers Compensation Return to Work Form
44. Return to Work Limitation Form
45. Return to Work Assessment Form
46. Return to Work Policy Form
47. Return to Work Professional Form
48. Phased Return to Work Form
49. Injury Management Return to Work Form
50. Self Certificated Return to Work Form
51. Return to Work Application Form
Why Do You Need a Return to Work Program?
Worker's welfare was largely ignored during the industrial revolution that swept across 19th century Europe. To illustrate how horrible it is to be a wage earner during that era, imagine working straight for twelve to nineteen hours, in an environment with a total disregard for safety and health, six days a week, without the benefit of holidays, day-offs or even breaks. That is what the average 19th-century working man has to endure on a daily basis.
Due to public pressure and the battle for changing the prevailing working conditions in that era, we now are enjoying the benefits of breaks, day-offs, and leaves—medical and vacation—that workers of the past didn't enjoy in their lifetime. The battle and its victories for the workers of the world are best commemorated today, globally, like the International Labor Day, celebrated on the first of May, each year. On top of that, workers who've been absent from work for a long time, especially for medical reasons, are allowed to resume the work that they left, thanks to the Return to Work Program adopted by businesses worldwide.
Return to work program allows a worker to resume the job he left on his absence without the fear of being sanctioned or terminated. Aside from that, it also allows businesses to retain a talented and skilled worker, therefore, saving a lot of time and money from recruitment and training. And also harmonize relations between those in the rank and file and the senior managers.
Return to Work Policy: Giving Your Business a Human Face
Workers are a vital asset that any business could have. In fact, being humans as they are, their power to create and innovate can dramatically change a business's fate for the better and propel it up to greater heights even—a power that neither machines nor technology can emulate. Yet, being humans that they are, their natural trait of imperfection and fallibility leads them to tire down from time to time or, worse, get sick or ill. When they become absent from work for a long time or deemed physically useless, they are usually terminated immediately in the past. Today, however, present labor policies and laws forbid such unfair and inhumane practices.
Return to work policies gives workers and employees a chance to resume their post after their long absence. It is not only fair for the workers and employees but also gives a number of benefits to business owners, as well. Among the benefits include saving a lot of time and money from the loss of talent. If you want to know more, here's why:
Reduces cost from training neophytes: A lot of businesses today would rather hire experienced professionals or outsource labor from third parties, thinking it would save them time and money. They've grown lazy to train, nurture, and retain talent upon the misconception that the cost for these is nothing but an absolute waste. However, few have realized that it actually does the total opposite, and the results are often disastrous. Cost-cutting is a double-edged sword. There's one edge to serve your purpose and one to do you harm, on the other end.
Avoid loss in productivity and work time: Repetition leads to perfection. That is how a business maintains the reputation of perfection that their brand is known for. But if you keep on kicking out talented individuals—who've intimately known the production process like the back of their hands—then it will be more likely that your business will suffer numerous product defects and recalls. What's more, delays in productivity will be a common occurrence if you keep on hiring neophytes who need to familiarize the whole manufacturing process first to be effective in their jobs. Now, you don't want these things to happen repeatedly, now do you?
Reduces the loss of vital assets: Return to work policies or programs avert your business from losing its most valuable asset, which is its employees and workers. Truth be told, humans like you and your workforce build and drive businesses to its success. It is something that no amount of technological breakthrough can achieve without human intervention, the intervention that consequently built civilizations.
Increases employee engagement: Human interaction is done in many ways. One of them is building rapport or trust among your fellow humans. But, building rapport is a two-way stream wherein choosing either one of them would defeat the purpose of the deed in the first place. With this being said, building rapport with your clients and customers should go side by side with your staff and employees, as well. This way, you can show your customers and workers alike that you truly care and being human matters, first and foremost.
How can You Protect Yourself From Wrongful Dismissal?
Despite the advent of technology and the accessibility of information nowadays, businesses continued to be ignorant and uninformed about the labor laws. And because of that, unfair labor and employment practices continue to thrive up to this day. Among the most unfair of those practices is the wrongful dismissal of employees, even if they're on a valid leave of absence. Leave of absence is a benefit guaranteed and protected by federal law, namely The Family and Medical Leave Act of 1993. The act aims to protect employees from unlawful and wrongful dismissal, and also to secure the employment of someone who was absent due to emergencies and medical reasons. However, if you are one of those who are recently terminated under the conditions protected by the FMLA, you can hire the services of a labor lawyer to assist you and forward your case to the authorities.
How do You Create a Return to Work Policy?
Return to work policies, leaves, day-offs, and 8-hour workday are among the benefits that the workers of the past fought so hard to give a better workplace for the workers of the future. Because of that, workplaces around the globe continue to be more conducive space for human health, safety, and personal growth, as well. More importantly, benefits such as these are guaranteed, recognized, and protected by governments internationally, with each country having its own policies about them.
Aside from the health and safety benefits that return to work policies provide to its main beneficiaries, which are the workers, it also gives businesses a way to close the gap between the management and the workforce. Plus, it allows for more effective cost-cutting by nurturing and retaining in-house talent, which reduces the need to orient or train new employees of the company's process. If you're looking to implement the benefit for your employees as well as your business, here are the steps o how you can create one for them:
Step 1. Know your State's Labor Laws and Policies
The Return to Work programs is a labor reform program that is protected by the law of the land and the state itself. But, since most of its implementing rules will vary from state to state, it is imperative to be well acquainted with your state's labor policies prior to creating one for your company. You can consult a lawyer whose specialization is in the field of labor-related matters for this purpose.
Step 2. Conduct a Survey
Aside from getting professional advice from a labor lawyer, it is also essential to hear your employees' and workers' voices as well. It is important that they, as the policy's main stakeholder, have a say to the new human resources policy that you will be implementing to the company as they'll be the receiving end of this after all. You can either ask for suggestions or present survey questions for your employees and workers to answer. Or, you can think of some colorful ways to show your workers that you highly value their opinions and suggestions, that their voices matter.
Step 3. Draft a Terms and Conditions Statement
After hearing getting professional and legal advice and hearing the opinions from the program's stakeholders, now is the time to begin formulating the whole program starting by drafting its terms and conditions statement. The terms and conditions should include the items that establish the eligibility of availing for the benefits that one can enjoy through this policy—the chance to resume the work they left during their absence. These items may include medical conditions that would render people to stay at home or at the hospital for a long time. Aside from those mentioned earlier, you should also draft its implementing rules and guidelines as well as penalties and sanctions for those found violating the terms and policies specified in the policy's stipulations.
Step 4. Finalize the Policy
Finalize the program after its initial draft is formulated. This is the phase where you can add or omit some parts of the policy's initial draft. Make sure to tailor fit the policy further according to the company's working environment and to your employee's and staff's needs. It is also during this phase that the policy's implementing rules be further polished as well as the forms or documents needed to enforce and avail for the benefits it offered. You can also opt to seek legal advice for its implementation, the second time, just in case some of its stipulations don't comply with the law, and correct them as soon as possible.
Step 5. Implement through a Variety of Documents
Policies in whatever form are always implemented through a variety of documents and forms, especially if they offer something that the stakeholders can avail of and use. These documents are used for a variety of functions such as announcements, which are written and distributed via memos. Aside from that, policies that extend benefits to employees like a return to work are also implemented through the use of forms that collect an employee's information. Also, policies are hardly enforceable without the use of the written document, especially when someone violated the policy's terms of use and call their attention by posting a notice.
The security of employment is as important for an average wage earner, just like how the assurance of profitability is important for a business owner. To both sides, it means only one thing, which is survival. However, the difference lies in the means of capitalization that both workers and business owners invest. To business owners, the money by which they invest as capital can always be withdrawn and invested somewhere else. While for the average wage earner, they can only invest their talents and skills in order to be employed, which, once lost, will be hard to find another.