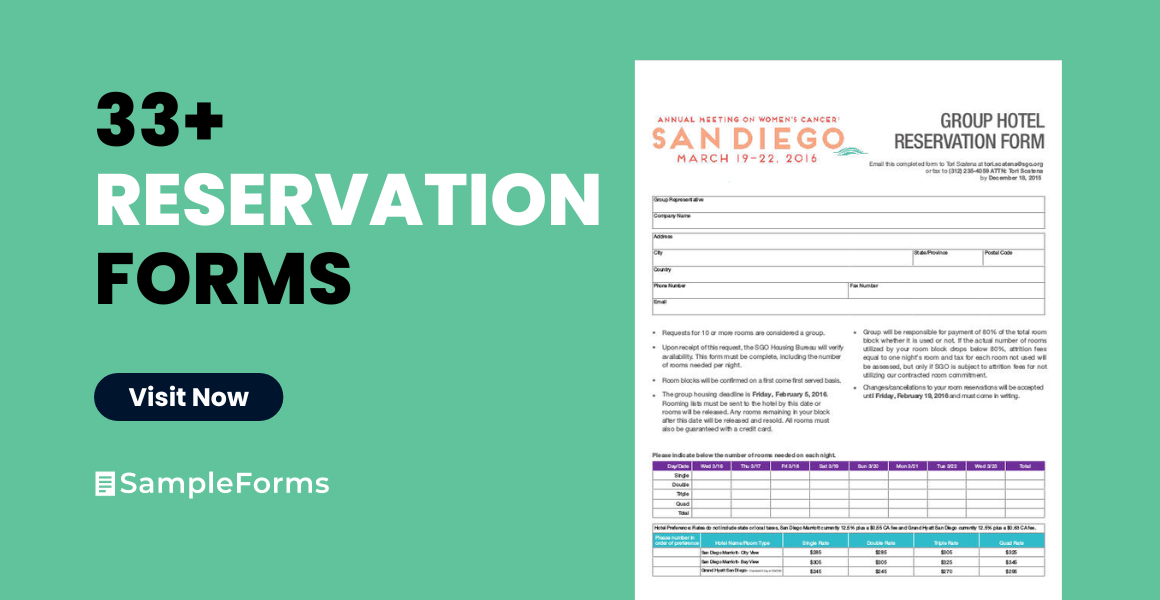 In making any special occasion memorable, preparation is always the key. It's nice to see things going smoothly according to plan from the lights, decoration, music, food, and the place. The environment of the place can make or break the occasion you plan.
Importantly, the celebration cannot happen without the proper venue, which is why it's essential to have the place reserved first using Reservation Forms. Obtaining the perfect place on the designated date is a requirement to having a blast with friends and family. Spending the day with people you love in the place you want will surely be a moment to remember.
Restaurant Reservation Forms
Private Event Deposit Form
Restaurant Reservation Confirmation Form
Restaurant Booking Form
Restaurant Group Reservation
Hotel Reservation Forms
Hotel Reservation Confirmation
Hotel Reservation Application
Group Hotel Reservation
What is a Reservation Form?
A reservation form is a document that is used to specify details for an arrangement of products, services or venues. It contains all the necessary information of the reservation. This is useful to keep record of the essential details needed to be followed for the reservation. Without this form, it will be hard for personnel to remember and follow the instructions of the customer regarding the reservation.
Components of a Reservation Form
A reservation can be applicable to many things from restaurants, hotels, rooms, and properties to name a few. In order for you to have your reservation, details must be filled in first in the reservation form for the transaction to be confirmed. You need to comply the following information:
Complete Name
Address
Phone Number
Email Address
Arrival Date
Departure Date
Check-In Date
Check-Out Date
Room Type and Rate
Location Request
Special Request
Number of Person
Method of Payment
These components are general details present in a reservation form. The details may vary depending on the type of reservation you acquire. In filling in the information, it is a must to be attentive so you'll not make any mistake in your reservation. Better to be safe than sorry.
Room Reservation Forms
Hotel Room Reservation
Meeting Room Reservation
Community Room Reservation
Function Room Reservation
Property Reservation Forms
Sample Property Reservation
Textiles Property Reservation
Council Property Reservation
What are the Types of Reservation?
Guaranteed Reservation: this reservation assures the customer that the specific room shall be vacated and reserved to the intended date of use. If the management cannot comply accordingly, penalties can be issued by the customer. However, if the customer cancels the reservation or does not arrive, the customer will still be charged for the reservation. The customer can pay through advanced deposit, credit card, pre-payment, travel agents or direct billing.
Non-Guaranteed Reservation: this reservation does not involve confirmation or advanced payment from the customer. The management allows occupancy on the assigned date and time. If the customer does not show up before the cancellation hour, the management will allow the room to be occupied by another guest.
Kinds of Reservation Forms
There are varied kinds of reservation forms used depending on your needs.
Restaurant Reservation Form: Whenever you want to reserve a table at a restaurant, this form will surely help you out. It requires your choice of menu, booking date, number of guests, location request (outdoor/indoor) and special request.
Hotel Reservation Form: Traveling is more fun when you already have a place to stay. In searching for hotels, this form will assist you in having that perfect hotel room experience. It requires your flight details such as arrival date and departure date. Hotel check-in, hotel check-out, room type, room rate, number of rooms, and room preference are also needed.
Meeting Room Reservation Form: Ideas and decisions can be clearly conceived in a meeting when the venue is quiet and spacious. In finding that meeting place, this form is of used. It requires the purpose of the meeting, date and time of the meeting, members and head of the meeting and equipment needed for the meeting.
Property Reservation Form: If you want to rent a property for the meantime, this form will come in handy. It requires the rental period, occupation date, and adults per property.
Travel Reservation Forms
Travel Agency Reservation Transfer Form
Travel Reservation Request Form
Convention Travel Reservation
Party Reservation Forms
Birthday Party Reservation Form
Restaurant Party Reservation Form
Private Party Reservation
Pool Party Reservation
Travel Agency Reservation Form: When traveling, preparation means more places to go. The transportation must be ready beforehand for your trip to go smoothly. This form requires your departure city, departure date, return date, seating preference, and special request.
Party Reservation Form: If you want to throw a birthday bash for your loved one, this form will be your savior. It requires the party date and time, type of party, theme choice, number of guests, and special accommodations of the party.
Who Can Use Reservation Forms?
Reservation forms can be used by anyone who would like to transact a reservation. Reservation comes in different forms. It's not limited to hotel rooms or restaurants. It can be for an equipment or car. It all depends on your needs and if a reservation process is available for your desired product or service.
The important thing in a reservation form is you clearly specified the necessary details in it. You don't want to ruin a reservation because of your carelessness. Always read the statements in the form and answer what is being asked.
Reservation Request Forms
Name Reservation Request
Passenger Reservation Request
Room Reservation Request
Reservation Booking Forms
Free Reservation Booking Form
Conference Room Booking Form
Hotel Accommodation Booking Form
Reservation Confirmation Forms
Party Reservation Confirmation Form
Travel Reservation Confirmation
Family Reunion Registration Forms
Annual Family Reunion Registration
Sample Family Reunion Registration Form
Simple Party Reservation Form
Sample Hotel Reservation Form
Importance of Reservation Forms
Reservation Forms have offered great service not only to customers but also to many business establishments and companies. The forms are used in business transactions to keep record of varying arrangements and requests by customers.
Should there be any problem with the reservation, the forms are also intended as proof of the customer's willingness to share one's information and clear requests of the reservation. If in regards to the customer's negligence, the management will not be liable for any inconvenience from the reservation. This is how essential reservation forms are in one's business transactions.
Reservation Form Templates are available in our website if you are interested in obtaining one. Our reservation forms come in varying types which are suitable for your dealings. The forms are perfect for any reservation you want to make from hotel room, function room, restaurants, travel agency and the like. All the vital information are already contained in the form.
What you only need to do is fill in these necessary details to confirm your reservation. Businessmen can also benefit from our forms by utilizing them in their reservation business. The forms will truly help both the customers and entrepreneurs. Browse for more forms on our website.