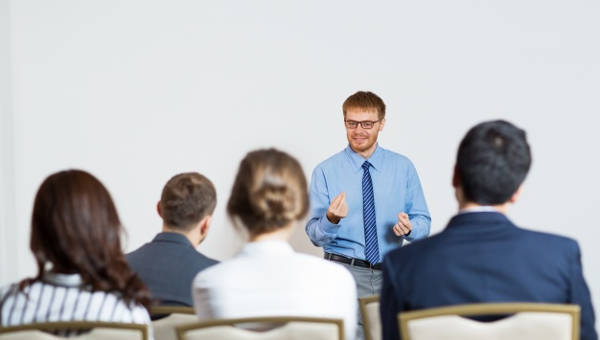 If one were to perform an evaluation, then doing so can help in determining the value of certain products, services, or even people. After one performs an evaluation, it is best to make use of evaluation forms to record the results. This way, people will have an easier time in assessing just about anything.
Evaluations can also help people understand their own level of self worth. A good example would be through the use of self-evaluation forms wherein employees from any business can make good use of. It is forms such as that which help people understand the level of performance they bring, as well as assessing each quality that they possess.
Oral Presentation Forms
Persuasive Oral Presentation Evaluation
Chemistry Oral Presentation Evaluation
Student Oral Presentation
Oral Team Presentation Evaluation
What Is a Presentation Evaluation?
A presentation evaluation is something that is conducted by instructors or supervisors in which they meticulously assess each aspect of any presentation done by certain people.
People who evaluate a presentation need to see if the point of the subject matter was properly expressed, and to see the quality of the method in which it was done.
So those who evaluate presentations must look into every factor that determines the success or failure of any presentation. Which is also why these evaluators utilize Sample Presentation Evaluation Forms to aid them in doing so.
How to Create a Presentation Evaluation Form
If one were to create a presentation evaluation, then it is important that the following information must be indicated:
Name of the presenter/s
Title of the presentation
Date of the evaluation
Name of the evaluator
Proper criteria on what must be rated
Score and grade of each criteria
Comments on each aspect of the presentation
So should you create forms such as Sample Oral Presentation Evaluation Forms in which you evaluate how one orally explains a certain topic, then be sure that the information above is included in your form.
Technical Presentation Evaluation Forms
Free Scientific Presentation
Oral Technical Presentation Sample
Project Presentation Forms
Senior Project Presentation Form
Final Project Presentation Evaluation Form
Group Project Presentation Evaluation
Graduation Project Evaluation
Student Presentation Evaluation Forms
Student Paper Presentation Form
Student Written Presentation Evaluation
Master of Arts Student Presentation Evaluation
The Different Types and Purposes of Presentation Evaluation Form
If you are going to use any sort of presentation evaluation form, then you must know that there are many different varieties of them.  Each type of type of presentation form caters to different presentations, but the main purpose of all of them is still the same. And that is to properly look into all the aspects of a presentation that should be judged. So here are a few examples of presentation evaluation form:
Sample Student Evaluation Forms are the kind of of forms that are utilized by instructors who would like to look into the quality of a presentation conducted by students. As schools offer multiple subjects to educate, there will be times wherein the students will be required to discuss about a topic pertaining to a specific subject.
Which is when instructors in charge of educating these subjects make use of these forms so that they can understand the research methods conducted by the students, as well as how they are able to present the topic.
Presentation Skills Evaluations Forms are used by those who would like to determine the amount of skill level a speaker has when providing a presentation. People who are in charge of doing a presentation must have certain qualities in order to express the topic well.
So people in charge of evaluating these presenters make use of these forms so that they are able to determine things such as the presenter's ability to communicate the topic audibly to the audience.
PowerPoint Presentation Evaluation Forms are made use by evaluators in the event that they are required to assess the quality of any PowerPoint presentation. PowerPoint presentations can contain more than the average presentation as it helps the presenters in a way in which they are able to discuss certain topics in a more orderly manner.
So evaluators must check on certain aspects of the presentation such as the number of slides, the amount of images used, how the information was organized and much more.
Group Presentation Form Samples
Group Presentation Peer Evaluation Form
Group Presentation Audience Form
Community Presentation Evaluation Forms
Culminating Project Proposal
Community Health Assessment Group
School Presentation Forms
Faculty Lecture Presentation Evaluation
Business Presentation Forms
Business Plan Evaluation
How to Evaluate an Oral Presentation
To evaluate an oral presentation, one must look into the following:
Determine the level of confidence that the speaker has.
See whether the speaker provided enough details regarding the topic to provide quality information
See if the presenter was able to clarify whatever point he or she is trying to make.
Look into the structure of the presentation and see if the presenter was  able to organize the introduction, body, and conclusion.
So in the event that you make use of forms such as Conference Evaluation Form Samples to evaluate the speaker's oral presentation, then follow the steps above.
How to Evaluate a PowerPoint Presentation
When evaluating a PowerPoint presentation, then the following steps  can aid you:
Look into the information contained in the PowerPoint. As with all presentations, you must be sure that all information presented must be relevant to the topic.
Assess the design of the PowerPoint. Rate how well the presenter was able to effectively utilize the slides, as well as how the slides were designed in terms of color, font, and background.
Make sure that the presenter was able to use text clear enough for the audience to read, as well as being able to properly explain all the information within the slides.
Presentation Skills Evaluation Form
Peers Presentation Skills Evaluation Form
Free Presentation Forms
Powerpoint Presentation Evaluation
Mini Presentation Evaluation
Case Presentation Evaluation Form
Conference Presentation Forms
Sample Conference Presentation Form
Conference Platform Presentation Form
Poster Presentation Evaluation Form
Presentation Self Evaluation Form
Guidelines for Presentation and Evaluation
For the presenters:
Always prepare ahead of time about your topic. Understand more about your topic to control your own nervousness and to help you deliver quality information.
Make good use of visual aids when you can. This can help your audience and evaluator understand more about your topic and keep things interesting
Practice on your delivery. Doing so can help you get your point across faster.
For the evaluators:
Make sure that you announce ahead of time that the presentation will be evaluated.
Present the criteria on how it will be evaluated so that your students may know what to do.
Take proper notes to help you rate the quality of each aspect of the presentation.
Make it clear in your evaluation as to what the problems are, and praise when you can. All in a professional manner of course.
So if you intend to use forms such as Group Evaluation Form Samples or Sample Communication Evaluation Forms which rates how people or a group of people are able to discuss on a particular topic. Or if you would like to be better prepared for the evaluation of your presentation, then follow these guidelines to aid you.