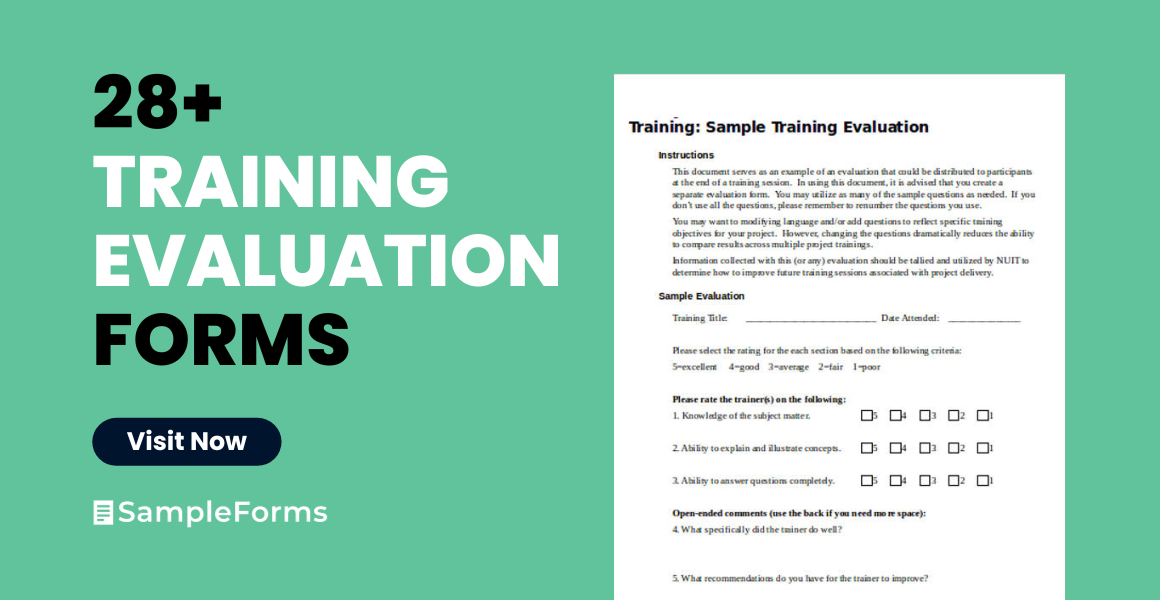 Training courses and sessions are conducted for the development of one's knowledge and skills. Just as training sessions are important to improve one's skills, evaluations are also important to improve the quality and effectiveness of the training sessions provided by a company or institution. Evaluation is the process of assessing the quality of something or someone using set metrics based on what is important to the company or evaluating committee.
There are a lot of Evaluation Forms used by companies and organizations to assess various things, such as the performance of employees, effectiveness of training sessions, quality of products and services provided, and many more. For this article, we are focusing on Training Evaluation Forms. You may also see our samples of other Evaluation Forms for more references.
Training Course Evaluation Forms
Participant Course Training
Web Based Training Course
Post Training Evaluation Forms
Final Post-Training
Pre and Post Training Evaluation
Participant Post-Training Evaluation
Development Training Evaluation Forms
Employee Development Training
Staff Development Course Evaluation
Objectives of a Training Evaluation
Training Evaluations are conducted mainly to evaluate and assess the quality and/or performance of three things in a training session or course: the effectiveness of the training session or course itself, the responsiveness of the students or participants, and the knowledge and performance of the teacher or trainer. Training Evaluation Forms or Training Assessment Forms are used to evaluate either one or all of the following:
The training session or course: Companies and organizations that train their employees are looking to have highly skilled employees that can contribute to the growth and development of the organization. No company wants to train their employees only to find out that the training session or course is not that effective in helping employees reach their full potential. Every training session or course, no matter what it is for, has to cover everything that has to be covered for the specific subject matter. Effectiveness and application are two very important aspects of a good training session or course.
The students or participants: Oftentimes, the students or participants of a training are also evaluated after the training is conducted. Their responsiveness to the teacher or trainer is assessed, along with their retention of the skills and topics provided and taught to them. Not only does the teacher or trainer have responsibilities, but the students or participants as well. They are expected to be cooperative and be like a sponge, which means that they will do their best to learn and retain as much as they can. After all, the training session or course is also conducted for their benefit.
The teacher or trainer: The teacher or trainer's style of teaching and knowledge are two very important factors that could affect the learning of a student or participant. There are teachers that are knowledgeable on the subject matter they are teaching, but their style of teaching makes it hard for students or participants to retain or even comprehend the topic. One example is if the teacher teaches the topic way too fast, making it hard for students or participants to fully grasp the topic. There could also be teachers who know how to pace themselves properly but they are not too knowledgeable on the topic. There could be some misinformation in the mix, and that could be disastrous as well.
The key to effective teaching is mastering the topic and knowing how to properly convey the specifics of the topic to the students or participants in a way that will allow them to fully comprehend most or all of it. In evaluating teachers, Teacher Evaluation Forms also come in handy.
Workshop Training Evaluation Forms
Employee Workshop Training
Teacher Workshop Training
Training Session Evaluation Forms
Personal Training Session Evaluation
Soccer Training Session
Sample Training Session Evaluation
Training Evaluation Forms in PDF
Sample Training Evaluation
Service Training Evaluation
Follow-up Training Evaluation
Training Effectiveness
*** Please write 400 words here.
Importance of Training Evaluation
The resources within a company is limited, which is why every process they start or do must be justified and feasible. Conducting Training Evaluations or gather training feedback make it possible for companies and organizations to make sure that the expenses allotted for training are worth it. A company or organization will know that the training is feasible if the participants actually gained or learned something out of it, and if the training is adding value to their company or organization.
By conducting a training evaluation, companies are able to identify the areas of a training course or session that have to be improved. This is because set metrics and attributes are used during the evaluation. These set metrics and attributes are those that are important to the company, and those that are applicable to the specific topic of the training. These areas of improvement would then have to be worked on after being identified, so that future training sessions can be improved, thereby benefiting the future participants. The proper needs assessment has to be conducted to make sure that all the needs and objectives of the training are met.
Training evaluations are also necessary for reinforcing learning by quantifying the knowledge and skills gained by the students or participants by conducting examinations to test them. This will help measure content retention on the topic, and identify which participants are excelling and which are struggling. This will help the company focus on those who need more attention and help in understanding and retaining the topic at hand. People do not have the same learning curve so it is important to help others adjust and provide them with tools that they can use to further their learning and development.
Knowledge is ever so growing. There are always new and more conventional ways of doing things. This is why it is important to always make sure that the training sessions you hold are actually of use in the present, because what may be useful information in the past may be considered obsolete in the present. A company has to constantly adapt to new ways and methods so as not to get left behind. Conducting training evaluations is one way to ensure that every information imparted to participants are up to date and can be applied in the present. For this, Course Evaluation Forms may be used.
Most importantly, Training Evaluations are a good way to provide feedback to teachers and trainers. Some questions have to be asked to measure the performance and effectiveness of the teacher or trainer. Did the teacher stay on the topic or subject matter being presented? Was he or she knowledgeable enough? Did he incorporate his own analysis and personal experiences with the topic presented? The answers to these questions may then be provided to the teacher or trainer so that he or she can improve.
Safety Training Evaluation Forms
Safety Committee Training
Sample Safety Training
Cycle Training Evaluation Forms
Cycle Skills Training
Adult Cycle Training
Personal Training Evaluation Form
Personal Training Client Evaluation Form
Practical Training Evaluation Form
Practical Training Evaluation Form Example
School Training Evaluation Form
School Bus Driver Training Evaluation Form
Summer Training Evaluation Form
Free Summer Training Evaluation Form
Job Training Evaluation Form
Employee Job Training Evaluation Form
Job Placement Training Evaluation Form
Field Training Evaluation Form in Doc
Tips on Writing a Training Evaluation Form
Keep your evaluation forms brief and concise, primarily having only one page as much as possible. Make your evaluation form so concise that it can be filled out in less than 15 minutes. It is important for assessors, which are usually the participants, to not be overwhelmed with the myriad of questions you will ask so as not to burn them out. You may also see our Instructor Evaluation Forms for other samples and information.
Ask questions that will help you quantify the objectives of the training. Ask questions that will help you measure the student or participants' understanding of the topic or material and how they will apply what they have learned. Student Evaluation Forms may also be used for this.
Ask about things that you can and would want to change or improve. Examples are the venue and the length of the training session. These are things that you can change, but if it is not possible, then it would be pointless to ask the participants or students about these things.
Use mostly close ended questions in your forms since they are the easiest and quickest to answer. They are also helpful in quantifying the metrics you have set for the evaluation. When using close ended questions, provide a minimum of three choices and a maximum of five. Having only two choices, such as a choice of true or false, or yes or no, will lead the participants to have a mindset that one is right and one is wrong. Having more than five or too many choices will just lead to confusion since it would be almost impossible for participants to provide a very fine differentiation. Having the right number of choices will create an evaluative and open mindset for the participants or assessors.
Although it is advisable to use mostly close ended questions, you should also include at least one open ended question. This will allow the assessors to provide their suggestions and in-depth course feedback. This will also provide you with insight on what to change and what to keep.
You can also measure the satisfaction of the participants by asking them of their likelihood to recommend the training to other colleagues, or by asking them of the likelihood of them attending another one of your training sessions or courses.
It is important for every evaluation form to be able to collect honest and accurate information. One way to ensure this is to make sure that the participants who will answer the evaluation form will remain anonymous. That means that their answers will not be tied in with their names so they don't have to worry about providing honest feedback, even if it is negative feedback.