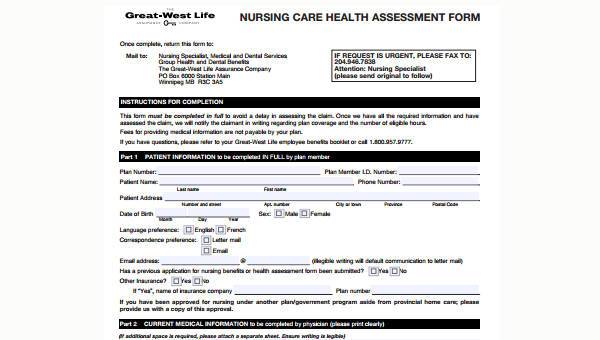 Nurses are sort of like the life blood of any hospital. They make sure that hospitals run as smoothly as possible while taking care of any patient they come across. They also have a direct line of communication with the doctor; one cannot perform well without the other. Nurses are always there to make sure that they know what condition their patients are in and how they're going to treat them.
Hence, they have to evaluate their patients properly and not miss a single important detail that may prove useful to both the doctors and the nurses. They need to make these evaluations in a proper and well-written matter, which is why there are Nursing Assessment Forms just for that purpose.
Nursing Physical Assessment Form
Simple Nursing Assessment Form Example
Nursing Care Health Assessment Form
Nursing Care Assessment Form Example
The Different Kinds of Nursing Assessment Forms
There are various types of Nursing Assessment Forms that nurses can use to conduct proper assessments of their patients. They have to make sure that they don't leave out a single important detail, so these forms can be really important. Here are some examples of these kinds of forms:
Nursing Physical Assessment Forms are forms used by nurses to evaluate the physical condition of a patient. This assessment helps nurses figure out what activities the patient should and should not be doing.
Nursing Initial Assessment Forms are the kinds of forms for nurses have patients or their loved ones fill out the moment they enter the hospital. These are the forms used to check on the patient's condition upon his initial visit to the hospital before a possible stay.
Nursing Assessment Checklist Forms are a list of of what a nurse has to do before any kind of operation or treatment. These forms store the patient's important information which they should reveal before any kind of treatment, and this is very useful for the doctors as well.
Nursing Assessment Form Sample
Nursing Initial Assessment Form
Nursing Assessment Checklist Form
Comprehensive Nursing Assessment Form
Simple Nursing Assessment
The Importance of Nurses Making Proper Assessments of Their Patients
It's really important that these nurses do proper assessments to make sure they know the actual conditions of their patients. This is the reason why there are forms such as Physical Assessment Forms; they make sure to get the accurate information of these patients.
It's very critical that nurses make sure they get the right information as every bit of is useful for both the nurses and doctors. The information could immediately show the problem of that patient, and from there both the doctor's and nurses's job is to make sure that the problem is taken care of.
A proper assessment leads to proper treatment, which in turn makes a happy and healthy patient. Thus, every nurse has to make sure that their assessments are as accurate as possible.