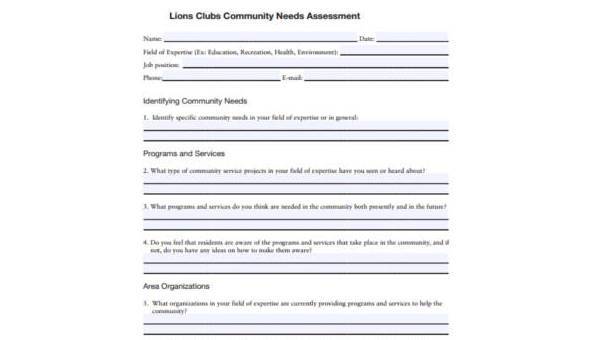 A community is a group of people living in the same place who have a lot of things in common; examples would be norms and values and other characteristics. They are governed by their own people and the growth of the community also depends of those who live in it.
What if they need to asses how well their community is doing? How would they go about that? Community Assessment Forms do just that by evaluating specific parts of the community.
Community Needs Assessment Form
Community Health Assessment Survey Form
Community Care Assessment Form
Community Needs Assessment Form in PDF
Community Nursing Assessment Form
The Different Types of Community Assessment Forms.
There are multiple varieties of forms that help evaluate a community. Here are some examples:
Community Project Assessment Forms – These are for when projects made by the people in the community are assessed by the governing body within.
Community Health Assessment Forms – These forms assess the health of those who reside within the community.
Community Impact Assessment Forms – These forms find out how much of an impact a certain aspect of the community has on visitors or those in the community, such as an event or the buildings within.
Community Care Assessment Forms – These forms are for the people who reside in the community and how they're sheltered in their accommodations.
Community Nursing Assessment Forms – These come into use when a medical situation arises for anyone in the community.
Community officials can keep it simple by using the Free Community Assessment Forms, downloadable in either the Word or PDF format.
Community Mental Health Assessment Form
Community Impact Assessment Form
Community Needs and Assessment Form Example
Community Assessment Form in Word Format
General Community Assessment Form
The Importance of Community Assessment
Conducting research on a community can let those who live in it know how well it is doing. It could be that the community is doing rather well, or there are certain parts that are bringing it down. If done properly, then those in the community can fix what needs to be fixed or improve what needs to be improved.
Improving the community is always a priority for its inhabitants. It's where they reside, so of course they need to make sure that the quality of the services, atmosphere, and other aspects of it are up to par or exceptional.
It's not just for those who live in the community; it's also for those who decide to visit it. Let's say a major company or foodindustry decides to go to a specific community because of a certain event; It's possible that they could feel that the community is perfect to establish another branch.  If that happens, then it means the further development for the community, which is always welcome.