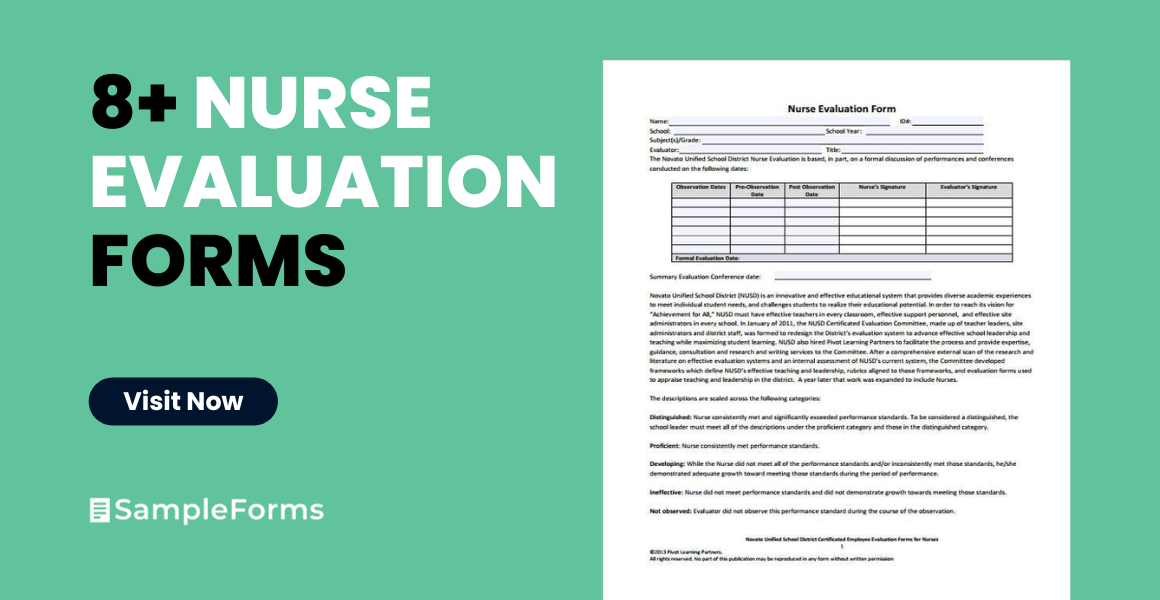 School is a child's second home. Next to the abode they share with their family, school is an environment that is significantly influential to a child. Furthermore, other than their family members, the people they meet and encounter at school play a tremendous role in not only their academic development, but also their personal and overall growth. A child is bound to meet different types of people in school; from those who hold authority (the principal, administrative staff, and their teachers), to their fellow classmates. One integral figure in school who is usually overlooked is the school nurse. It is usually only when a Departmental Evaluation Form is distributed that the importance and role of a school nurse is recognized.
School Nurse Performance Evaluation Form
Nurse Travel Assignment Form
Example Staff Nurse Evaluation Form
Faculty of Nursing Evaluation Form
Responsibilities of a School Nurse
As previously mentioned, probably the only time the role of a school nurse is given recognition is when School Nurse Evaluation Forms are distributed to the key personnel of a school. Just what are the responsibilities of a school nurse? Apart from teachers, school nurses can also be viewed as those who influence the welfare of students greatly.
These are some of the core responsibilities of a school nurse that contribute significantly to the academic and personal growth of a student:
Administers direct care to students. A school nurse is responsible for giving direct medical attention to students; they provide treatment to injuries and minor illnesses. They also conduct screenings and provide referrals to students with health conditions.
Evaluates the system of healthcare the school follows. They are also tasked to ensure that the school's health needs are met and taken care of.
Campaigns for a healthful school environment. It is the duty of a school nurse to keep track of immunizations, and communicable diseases that may pose a threat to students. Moreover, they are responsible for conveying such information to the school community.
Connects students and their families with other healthcare professionals. A school nurse is automatically the case manager to students who have health issues. They are tasked to monitor and relay important information to the students' families and physicians.
Nurse Performance Evaluation Example
Nurse Performance Evaluation Form
Nurse Interview Evaluation Form Sample
Nurse Evaluation Form Example
Nurse Self Evaluation Form
Qualities That Make a Good School Nurse
Like other school staff, school nurses are subject to periodic assessments. Their performance and the impact they have on students are looked into during such assessments. Much like teachers who are assessed through Course Evaluation Forms, school nurses are also rated via assessment forms.
Other than being able to assume their responsibilities efficiently, school nurses are also assessed by the personality traits they possess and display throughout their tenure in a school.
These are some of the qualities or personality traits that signify the effectiveness of a school nurse:
Care and compassion. Being a school nurse entails attending to the needs of children. Thus, genuine care and compassion are traits that a school nurse must have in order to sincerely empathize with and help students.
Involved in school affairs. A school nurse means being a promoter of good health. They should be able to incorporate advocacies into school activities, such as fundraising events and the like.
Detail-oriented. Managing records espousing school clinic visits from students, and the medicines or types of treatment that are given, are just one of a school nurse's daily tasks. Thus, someone who is detail-oriented is needed for such position.
Role model. Like teachers, school nurses must strive to set a good example to students by always putting the well-being of students first.