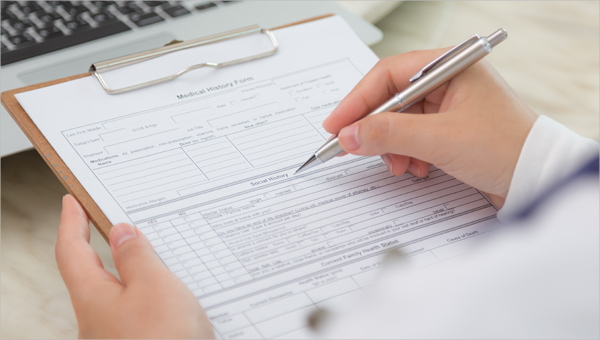 When it comes to the health and wellness of a person, one cannot be too careful. In today's day and age, with the influx of technology and with people living faster-paced lives, daily routines and lifestyles have changed into a near-unhealthy one.
What used to be long walks to the office, as a chance to insert a little bit of exercise, has now become quick 5-minute drives. What used to be gourmet is now replaced with microwaveable and fast food. To keep up with our fast-paced lifestyle, we tend to reciprocate convenience with unhealthiness, which is why we are more prone to sickness and disease.
Mental Health Assessment Forms
Mental Health Assessment Intake Form
Mental Health Triage Assessment Form
Mental Health Capacity Assessment Form
Mental Health Assessment Thought Form
Employee Health Assessment Forms
Blank Employee Health Assessment Form
Employee Health Risk Assessment Form
Annual Employee Health Assessment Form
Employee Work Health Assessment Form
Nursing Health Assessment Forms
Nursing Mental Health Assessment Form
Nursing Care Health Assessment Form
Nursing Initial Health Assessment Form
Student Nursing Health Assessment Form
Health Risk Assessment Forms
Navy Health Risk Assessment Form
Health Surveillance Risk Assessment Form
Health Risk Assessment Survey Form
One way to detect sickness and disease early on is through a health assessment. A health assessment is a plan of care that distinguishes the exact needs of an individual and how to address those needs. A health assessment is commonly performed in a healthcare facility or in a clinic, and is conducted by healthcare workers or clinicians such as licensed and registered nurses and doctors.
A health assessment involves an evaluation of a person's health status through a thorough physical check-up or a physical examination. Prior to conducting the exam, a person's medical history is first taken.
Health assessments are ultimately done for the early conduction of disease, regardless if a person looks or feels well. Through early identification of disease or even the slightest possibility of a disease, doctors can then provide a method for prevention, control, or elimination.
A health assessment usually varies in type and form. The type of assessment being performed on a patient or an individual highly depends on the focus of the assessment. For example, if the patient is coming in for a regular check-up, then a physical examination is conducted. A physical examination usually involves an interview or a recording of a patient's medical history such as previous surgeries, current and previous doctors, medicines that are regularly taken, etc. If the patient needs to be assessed for suicide risk, then a suicide risk assessment or a mental health assessment is done. You can download a wide array of health assessment forms that will cater to your needs. Our options range from Mental Health Assessment Forms, to Navy Heath Risk Assessment Forms, and Family Health History Assessment Form.
Mental Health Assessment
We need to be aware of our mental health as it can affect our overall being. This is where the benefits of taking mental health examination enter. The said examination more known as MSE is one of the clinical evaluations that are commonly done during psychiatric assessment practiced by professionals. If you are unaware of the procedures done during mental health assessment, you can think of a physical exam but done in a manner that the mental condition and state of the individual are measured rather than his/her physical attributes. Professionals can identify the behavior of an individual and the factors that contribute to the behavior through mental health assessment which is a combination of keen observation and the details provided by the patient.
The usage of a mental examination form is very beneficial in this process as clinician needs to be aware of various information before conducting a mental health assessment. The structure of the document is used to perform the assessment. The clauses within the mental examination form are divided into different categories which will be discussed below.
A Mental Health Exam or a Mental Status Examination (MSE) is conducted for a lot of reasons, but it is mainly conducted in order to provide information that is critical for the diagnosis, the assessment, and the treatment of a mental disorder. A clinician or a nurse who mentally assesses a patient needs to consider various components that will help him or her determine if a person is mentally adept or not. The factors to consider are as follows:
Physical appearance. The mental state of an individual can actually sometimes be reflected in his/her appearance. There are indicators on how a person looks like that can help clinicians to identify his/her mental health condition. Some of these factors include the following:

The entire physicality of the patient
The way that the patient grooms himself/herself
The posture of the patient when standing and sitting
The way that the patient dresses-up

Characteristics and Behavior. A mental status exam also greatly considers the way the patient acts and reacts in varying circumstances. It is important for the behavior and character of the patient to be recorded accordingly to ensure that the results of the assessment are accurate. Some of the behaviors that are necessary to be observed are listed below.

The involuntary movements of some of the body parts of the patient
The presence and maintenance of eye contact
The hand gestures of the patient
Abnormal movements present within the entire assessment
Any other behavior and characteristics where incapacity of the patient mentally can be observed

Communication and Speech Skills. Giving focus on the way that a patient speaks and communicate can help clinicians to verify the mental health condition of an individual. More than the content of what the patient is talking about, it is the way that he/she produces the speech that is being evaluated. The structure of the speech is very important which is why patients are commonly asked to identify objects as well as repetitively state short and precise sentences and phrases.The way that a patient speaks can help in terms of listing down his/her para-linguistics.  These features can actually be indications of the presence of medical and mental conditions and disorders.
Mood Changes. The state of emotional being of an individual can be reflected on his/her mood. Sudden mood changes can be translated to the fact that a patient showcases rapid emotional dominance in varying phases. The mood of a patient can either directly or indirectly state the emotions felt by an individual in the moment. A patient's affect, on the other hand, is the emotional state that clinicians observe such as euthymic if the patient is in a normal mood, dysphoric if the patient looks depressed or angry, euphoric if the patient is feeling elevated.
Thought Process. Another aspect of a Mental Status Exam is to observe if the patient has the ability to process information correctly. How a patient perceives and responds to stimuli is important in a psychiatric assessment because the inability to do so may be a sign of psychosis. When assessing a patient's ability to process information, a clinician observes if the patient harbors realistic concerns or if the patient is responding in an exaggerated way to actual events?
Thought Content. Thought Content covers observations on a patient's thoughts such as delusions, overvalued ideas, phobias, hallucinations, and obsessions. Abnormalities of the Thought Content aspect can be determined by exploring an individual's thoughts through open-ended conversations.
Cognition. Cognition determines a patient's level of alertness, orientation, attention span, memory, language, and executive functions. Does the patient have the ability to focus, sustain, and properly shift his mental attention?
Insight or Judgement. Insight is a patient's understanding of the problem and the options for treatment. Judgement, on the other hand, pertains to the patient's capacity to make sound, responsible, and reasonable decisions.
You can download our Mental Health Assessment forms below to help you thoroughly jot down the findings of your evaluation.
Pediatric Health Assessment Forms
Pediatric Initial Health Assessment Form
Pediatric Nursing Assessment Form
Pediatric Sport Health Assessment Form
Pediatric Health Risk Assessment Form
Medicare Health Assessment Forms
Medicare Mental Health Assessment Form
Medicare Health Risk Assessment Form
Medicare Health Assessment Questionnaire Form
Medicare Wellness Health Risk Assessment Form
Occupational Health Assessment Forms
Occupational Health Risk Assessment Form
Occupational Health and Safety Assessment Form
Occupational Health Assessment Report Form
Occupational Health Assessment Consent Form
Oral Health Assessment Forms
Oral Health Risk Assessment Form
Oral Health Assessment Form for Adult
Oral Health Assessment/Waiver Request Form
Physical Assessments
A physical assessment is an important means of preventive medicine for everyone regardless of race, age, sex, or level of activity. Psychical examinations enable people to screen themselves for potential diseases, ailments, or medical conditions that may exhibit future medical risks.
Physical examinations are more popularly dubbed as check-ups and are a process wherein a medical practitioner goes through the body of a patient to look for any signs of disease. Physical Exams usually begin with the documentation of the patient's medical history to aid a healthcare practitioner in determining diseases or giving out accurate diagnosis for a proper plan of treatment.
Going through a physical exam is highly recommended for everyone, especially among individuals above the age of 50. Annual Physical Exams help in identifying issues that may be a cause for concern in the future. It is also a means to update any necessary immunizations and helps to ensure that an individual maintains a healthy diet and proper exercise routine.
A Physical Form or Physical Assessment Forms are usually used by a nurse or a clinician when conducting a Physical Assessment. The initial process of a Physical Exam usually entails interview questions pertaining to a patient's medical history, medications, and supplements taken by the patient, a list of symptoms or pain experienced, results from any recent or relevant tests done, medical and surgical history, names and contact information of previous and current doctors, and any other questions. Physical examinations are usually categorized into types. Each one differs according to the focus of the exam, such as the following:
1. Routine Physical Exams – Routine Physical Examinations are assessments typically performed on asymptomatic patients. Asymptomatic means that the patient does not harbor any symptoms of illness or disease. Routine Exams are usually done for screening purposes and are normally conducted by a pediatrician, a physician, primary care providers, and a certified nurse.
2. Pre-employment Physical Exams – Pre-employment Physical Examinations are typically conducted to screen employees and determine their suitability to work based on the results of the Physical Examination. Pre-employment Physical Exams are usually required by employers to make sure that an employee for hire is physically capable of performing his job and coming to work. These types of exams assure employees that the employee will have fewer absences due to sickness, fewer workplace injuries, and a low rate of occupational disease.
3. Comprehensive Physical Exams – Comprehensive Physical Examinations normally include laboratory tests, chest x-rays, full body CAT scans, EKGs, pulmonary tests, urinalysis, and mammograms or prostate exams.
4. Insurance Physical Exams – Insurance Physical Exams are assessments done when purchasing health or life insurance. The exam consists of the examiner noting the patient's height and weight, taking of blood sample, blood pressure, and urine sample.
5. Sports Physical Exams – Sports Physical Exams are also known as a Pre-participation Physical Exam (PPE). This type of exam helps in determining the safety aspects of a candidate prior to participating in a certain sport. With the use of Sports Physical Forms, clinicians are able to objectively assess an individual's capacity to join a sport based on his medical history and the results of his Physical Exam.
Child Health Assessment Forms
Child and Youth Services Health Assessment Form
Children Mental Health Assessment Form
Child Care Staff Health Assessment Form
Early Childhood Health Assessment Form
Health Needs Assessment Forms
Community Health Needs Assessment Form
Family Health Needs Assessment Form
Community Health Needs Assessment Report Form
Health Care Needs Assessment Form
Health History Assessment Forms
Health History Assessment Form
Nursing Health History Assessment Form
Family Health History Assessment Form
Health History and Physical Assessment Form
Health Assessment Advisory Forms
Health Assessment Advisory Service Form
Initial Health Assessment Advisory Form
Mental Health Assessment Sample
Steps in Performing a Physical Assessment:
1. Make sure your hands are properly clean and sanitized.
2. Take the patient's blood pressure.
3. Take the radial pulse by placing your index and middle fingers on the inside of your wrist, below your thumb.
Use a watch with a second hand and count your pulse for 60 seconds. Write down your pulse rate, the date, time, and which side was used to take the pulse.
4. Check the patient's ears.
5. Conduct a hearing test.
6. Perform an eye exam using the Snellen test.
7. Perform an eye exam by testing their eye reaction with a flashlight.
8. Conduct an exam on eye movement by letting the patient follow the direction of your finger using only his eyes.
9. Check the nose and the throat for any signs of inflammation.
10. Perform a check on the neck and on the lymph nodes by determining if there are any glands that are on the neck or on the thyroid which are palpable.
11. Ask them to raise their eyebrows, frown, close their eyes tightly, show their teeth, smile, and puff out their cheeks to check on their cranial nerves.
12. With the use of a stethoscope, perform a check-up on the lungs. Let the patient breath in deeply and then breathe out while simultaneously doing 3 spot checks on the back of each lung and 1 on the front of each lung.
13. Still with the use of a stethoscope, check on the heart.
14. For the abdominal exam, listen for an aortic bruit by listening for bowel sounds in all 4 quadrants of the abdomen.
15. Palpate the spleen and the liver.
16. Let the patient bend over and touch his toes to assess the function of his spine.
The Advantages of Conducting Physical Assessments
Allows your doctor to check for potential diseases so they can be treated early, eliminated, or controlled.
Helps to update necessary immunizations.
Ensures that you are maintaining a healthy lifestyle with proper exercise and a healthy diet.
Monitors you cholesterol count, blood pressure, and blood sugar levels.
Identifies tissues or bumps that may be a cause for concern in the future.
The Contents of a Patient Assessment Form
Patient's full name
Date today
Date of birth
Age
Sex
Height
Weight
Primary Physician
Referring Physician
Details about the pain that the patient is feeling, such as where the pain started
Other conditions that are causing or triggering the pain to worsen
Activity level of the patient
Tests conducted such as x-rays, CT scans, MRIs, etc.
History of treatments such as therapy, medications, counseling, etc.
History of previous and current medical providers
Past medical histories of the patient such as diabetes, cardiac arrest, anemia, liver disease, etc.
Past surgical histories of the patient
Current medications
Drug allergies
A review of all the systems such as eye coordination, hearing function, neurological functions, etc.
A record of the patient's family history such as medical ailments by the parents, grandparents, etc.
Social history of the patient such as marital status, lifestyle routine, caffeine and nicotine abuse, etc.
Patient's signature
Download our health assessment forms to use in your clinic or in your medical facility. Our health forms are available in Doc format and can be easily tailored to your preferences.