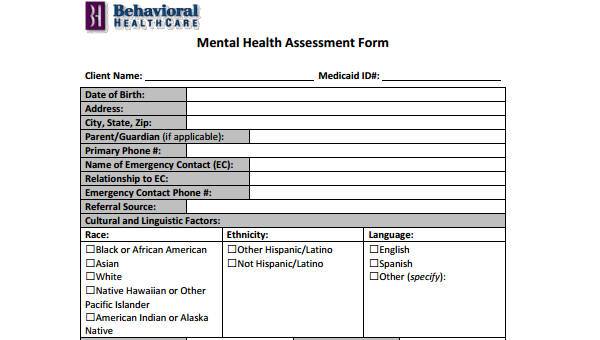 A person needs to make sure he's healthy. He has to make sure that he is living a life wherein he's eating right and doing the right amount of work to guarantee top physical condition. If a person is healthy, then it could ensure a long and happy life.
However, there are those people who feel that they might have certain conditions that could prevent them from engaging in certain activities or services. How would they know if they have these conditions or not?
Our Health Assessment Forms available here can help them with that.
Initial Health Assessment Form
School Health Assessment Form
Health Risk Assessment Form Sample
Health Assessment Form Example
The Different Kinds of Health Assessment Forms
There are various types of Health Assessment Forms that allow individuals to evaluate just how well their health condition is and if the condition needs immediate addressing or not. Here are some examples of these types of forms:
Nursing Assessment Forms are forms used by nurses to assess the health condition of their patients. These are used the to assess the health of the patient from the moment he enters the hospital all through the duration of his stay.
School Health Assessment Forms are the kind of forms for those schools that need to assess the health of their students. There could be a specific student with a condition that requires special attention. It's better that the school find out about these conditions ahead of time.
Health Risk Assessment Forms are used by any establishment to assess anyone's health and the kind of risks that could be harmful to their health.
Mental Health Assessment Forms are used for evaluating a person's mental health. It ensures to properly assess if a person has a serious mental problem or not.
Oral Health Assessment Forms are for determining if a patient has any form of facial pains and the intensity of these. Such pains could be related to issues in their throats or mouths.
Health Assessment Questionnaire Form
Mental Health Assessment Form
Oral Health Assessment Form Sample
Employee Health Assessment Form
Mental Health Assessment Sample
The Importance of Assessing Someone's Health
It's really important to make sure that someone is healthy. There's a reason why there are forms such as Physical Assessment Forms. All of these are to make sure that a specific person is able to and is capable of performing activities that won't endanger his or her life.
It can also help a patient figure out problems ahead of time. Let's say that a person undergoes a routinely checkup. The doctor then finds a strange anomaly within his system and finds out that it could possibly be the early signs of a lethal disease. This will help out the patient big time and let him take small steps to fix the problem rather than allowing it to persist and worsen.
Health checkups can be very important as these may save someone's life, including your own, so always remember to undergo a checkup every now and then.