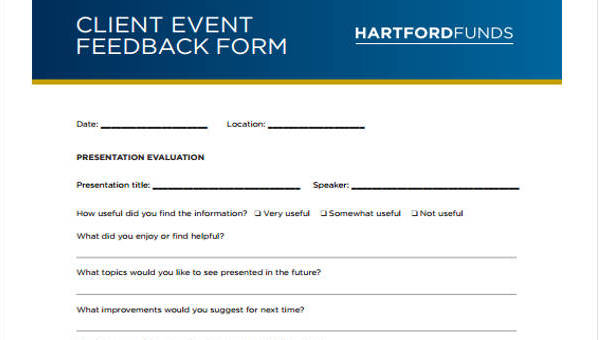 Giving and receiving feedback is very essential. It allows you to determine how others feel about any product or service that you may have provided. For example, you have given your design on a logo for a promotional campaign. Through design feedback forms, you're able to determine whether or not people like your design, or if it could use more improvements.
It's always very important that one fills out feedback forms properly. By doing so, the ratings you give might just give people the opportunity to make changes on certain products and services that will end up satisfying others. Even you may give feedback to others work, but it's best to be sure to remain unbiased and rate them professionally.
Event Feedback Survey Forms
Event Feedback Form
Event Feedback Template
Sample Event Feedback Forms
Post Event Feedback
Event Evaluation and Feedback Template
Event Feedback Evaluation Forms
Event Feedback Evaluation
Event Evaluation Form
What is Event Feedback?
Event feedback lets event organizers understand how their participants felt about every aspect of their event. These gives the participants an opportunity for the organizers to understand as to the kind of problems they should be looking into.
A good example would be through the use of Workshop Feedback Forms where those who take part in them are able to see whether the presenter was able to do a good job in sharing knowledge on the subject of the workshop or not.
Purpose of Event Feedback Forms
The purpose of giving feedback for any event is so that the event organizers may improve future events that they may be willing to hold. Considering that all participants of an event properly rate all aspects of the event, these ratings can help make important decisions on what needs to be changed or removed to make future events successful.
A good example would be through the use of Volunteer Feedback Forms wherein volunteers are able to comment and rate on particular activities that they were required to do, as well as the commodities that they were provided with.
Sample Event Feedback Forms
Blank Event Feedback
Printable Event Feedback
Post-Event Feedback Forms
Post-Event Feedback Form in DOC
Example Post-Event Feedback
Post-Event Evaluation
Different Types of Event Feedback Forms
There are many different feedback forms available for use. A good example would be Customer Feedback Forms  wherein customers of any establishment may rate the level of service that the employees were able to provide them with. And as there are many different types of events, there are also many types of forms that participants can give feedback with. So here are some examples of these forms:
Training Event Feedback Forms are the kind of forms that are utilized by those people who take part in training events. These events help people develop skills that might aid them in certain professions. So when these people take part in these training events, these forms are used to help them rate how effective the training was, as well as other details of the training such as the venue and if the venue was appropriate for the training.
School Event Feedback Forms are those that are made use by students and parents of the students to give proper feedback on any school event. Educational institutions always have events that are for either entertainment or academic purposes. In any case, those who take part in these events are able to use these forms to give feedback that the school may use to improve future school events.
Post Event Feedback Forms are used by those to give feedback after an event has transpired. These look into details on how one feels after taking part in an event. This can easily gauge the level of satisfaction acquired by the participant by looking into important factors of the event such as the food, the presenters, and the whole program itself.
If you need to print out your own feedback form to evaluate a certain event, then there are Feedback Form Templates available here for you to use.
Training Event Feedback Forms
Training Event Feedback
Basic Training Event Feedback
Client Event Feedback Form
Client Event Feedback
Why Use Event Feedback Forms?
As stated before, feedback is essential if one wishes to know the level of satisfaction that others have on a product or service that is provided. Such as when a person uses  Presentation Feedback Forms  to assess what things they were happy and unhappy about a particular presentation.
This is why event organizers use these forms to that they are able to better understand what people would like to change so that future events would be both more enjoyable and more helpful to others.
How to Create Event Feedback Forms
When creating event feedback forms, one must take note of the following information:
Date of where the event took place
Locations of the event
Name of the presenter of the event
Title of any presentation provided
A proper rating system
All the different aspects such as the speaker's communication and level of knowledge on the subject
A section in which the participant can provide comments
These are also useful if one wishes to make Seminar Feedback Forms to look into any type of seminar. Just be sure to follow all of the information above when creating any event feedback form.
Seminar Event Feedback Form
Seminar Event Feedback Example
School Event Feedback Forms
School Post-Event Feedback
School Parent Event Feedback
Event Venue Feedback Forms
Event Venue Organizer Feedback
Event Venue Feedback
Standard Event Feedback Form
Guidelines for Effectively Using in Event Feedback
If you plan on creating any event feedback then be sure to follow these guidelines:
During and possibly after an event, hand out forms in which the participants may be able to rate the entirety of the event immediately. This will help you know how they felt whilst the event is still taking place, and how these people felt after the event has concluded.
Look at the things that went well. Look into all the factors that contributed into everything that lead into the event's success. This boosts the morale of everyone involved and can improve the mood.
State the things that need to be improved. Every event has one or two problems that need to be addressed. This is why these problems have to be clearly stated so that everyone involved in the event may know their weaknesses and change them.
These can also be used if one wishes to use Hotel Feedback Forms to know how their guests feel, or Session Feedback Forms to know how participants felt about any session that they took part in. Just be sure that you follow all those guidelines to help you and others for any feedback that will be acquired.