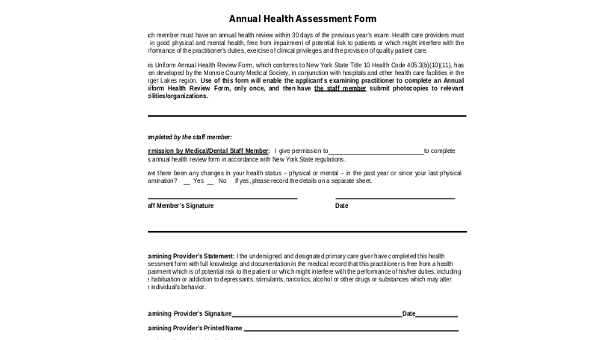 As employers, we all want our employees to be healthy and full of dynamism in their respective work areas. Healthcare personnel in the company / organization or similar institutions must be updated as to the employee's health. A health assessment form is typically required of them.
These Sample Health Assessment Forms cover everything:
mental health
occupational assessment
health needs
health risk
student health assessment
health assessment questionnaire
distinct assessment for women
annual employee's assessment
With these sample templates, you can now update your health assessments at your convenience.
Mental Health Assessment Form
Occupational Health Assessment Form
Health Risk Assessment Form Sample
Health Needs Assessment Form PDF
Health History Assessment Form
A risk-free workplace is what we all want for our employees and customers. A friendly environment will guarantee productivity in the workplace. As the boss or employer, you may ask an engineer to conduct a risk assessment of your building so you may know what impending hazards are there and should be given immediate action.
These Risk Assessment Forms will help you get started with your engineer as he conducts an evaluation of the buildings and structures. You will have some assurance of the safety of your employees whenever acts of nature may occur.
Another type of assessment is the physical assessment. This, however, is completed by a medical practitioner or a certified nurse. This assessment form is primary for individuals who are in a strenuous working environment that needs physical endurance. Also, Students who wish to be part of school athletics need a physical assessment if they wish to perform.
Check these Physical Assessment Forms to upgrade your health assessment form and maintain a high standard of physical assessment with its simplified format that saves you valuable time.
Health Assessment Questionnaire Form
Student Health Assessment Form Example
Volunteer Health Assessment Form
Annual Health Assessment Form
Female Health Assessment Form
Employee Health Assessment Form
General Health Assessment Form
Suppose you want to update your assessment form, want it to be more precise and concrete in the assessment of your personnel or newly hired employee. A helpful tool is what you basically need. This site comes with a collection of health assessment forms made just for you. Despite the different types, all these forms are for the purposes of guaranteeing your fitness in the workplace.
In healthcare institutions, it is of primary concern that your working force is healthy and dynamic. Nurses are the backbone of healthcare institutions. Hiring nurses is vital to maximizing the work force. If you are hiring nurses, this Nursing Assessment Form is sure to help you with your old assessment forms. Having a comprehensive Nursing Assessment Form is important in the whole nursing process.
You may modify and customize this collection of forms that comes with these features:
MS doc and PDF formats
easy and printable
professionally formatted
be modified / customize
You can create your own health assessment form with these printable, easy- and quick-to-download 11+ health assessment application forms all for your convenience.