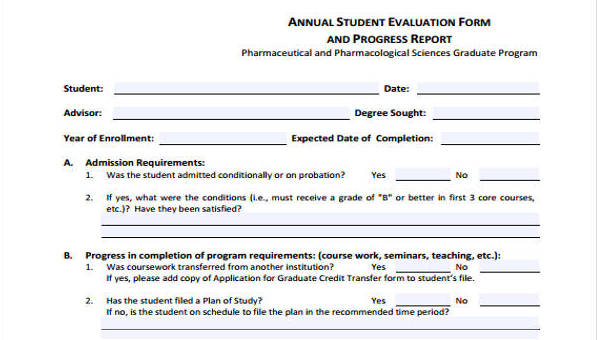 Every school has to make sure that their students are performing in a way that meets the school's standards. It's even better when these students exceed expectations and become people that excel in their academics. And to know if these students are doing either really well or really badly, then schools have to properly evaluate all of their students.
The evaluation process is fairly simple. Those in charge of performing the evaluations have to know the name of the student, along with his or her student ID number, year level, and age. Once that's all done, the evaluation can take place wherein the student's grades and behavior are assessed, along with other information that could affect his or her performance.
However, these assessments cannot be done unless they're the right documentation has been properly authorized. One of the things that can help with that is the use of the right kind of Student Evaluation Forms.
Student Performance Evaluation Forms
Student Employee Performance Evaluation Form
Sample Student Performance Evaluation Form
Student Fieldwork Performance Evaluation Form
Student Teaching Evaluation Forms
Supervisor Student Teaching Evaluation Form
Sample Faculty Student Evaluation Form
Student Teaching Observation/Evaluation Form
Student Teaching Cultural Evaluation Form
Genuine Student Evaluation Forms
Genuine Student Temporary Entrant Evaluation Form
Sample Genuine Student Evaluation Form
Evaluations are often considered whenever a school needs to understand the strengths and weaknesses of their students. These are also beneficial for the students as it allows the opportunity to see what they can improve for further growth.
Why Are Student Evaluations Essential?
Despite how negatively students react to evaluations, these actually elicit more positive results than disadvantages. Although the process can prove to be tedious and hassling, the outcome eventually reaps better and more useful results. Below are the reasons why you should think about conducting periodic and unbiased evaluations in school:
Student evaluations promote communication.
Lets the student provide the necessary feedback.
Enables teachers to gauge a student's level of understanding.
Allows the teachers to see the basis of the student's current performance.
Allows the identification of a student's needs in class.
Gives educators an opportunity to create an objective lesson plan.
Helps educators set up a rubric.
Helps educators perform in a way that knowledge, understanding, and mastery is being imparted.
To keep track of the progress of the evaluation.
Enables educators to be continuously updated of a student's progress.
Gives the teachers an idea on the best kind of teaching method for the student.
Allows teachers to distinguish changes or modifications to a lesson as needed.
Relates to a student's progress.
Allows a demonstration of a student's stored knowledge.
To be able to see the student's level of skill.
To motivate the student to improve his or her performance and provide better results.
The Types of Student Assessment
There are lots of different types of Student Assessments that just about any kind of educational institution can use in the event that they need to properly assess all of their students. Each of these assessments comes with their own purpose.
In the early days of studying and assessing learning, it was trusted that complex and higher-range thinking skills were procured in small bits and pieces that are broken down into a progression of prerequisite skills and then eventually retained into complex understanding and insight as soon as we are able to memorize them. The logic was more of like solving a jigsaw puzzle and then memorizing the whole process and pieces of each puzzle until you finally are able to memorize it and retain it into your mind. That was how learning used to be described. Fast forward to today, we now understand how leaning is acquired through effective and critical thinking rather than by mere memorization.
1. Standardized Assessment – Practically every school area now directs state-ordered government-sanctioned tests. Each student at a specific grade level is required to take a similar test. Everything about the test is standard: from the questions to the time frame given for students to finish it, albeit a few special cases might be made for students with learning or physical disabilities. All throughout the United States, and with the passage of the Elementary and Secondary Education Act, usually known as the No Child Left Behind Act, a student's performance on these tests is used as a basis in order to promote a student from one grade level to the next and to compensate educators and administrators.
Student Work Evaluation Forms
Student Group Skill Self Evaluation Form
Work Study Student Employee Evaluation Form
Student Work Experience Evaluation Form
Service Student Evaluation Forms
Student Support Services Exit Evaluation Form
Service User Service Evaluation Form
Service Learning Student Evaluation Form
Student Community Service Activity and Evaluation Form
Medical Student Evaluation Forms
Medical Student Professionalism Evaluation Form
Medical Student Shift Evaluation Form
Premedical Student Evaluation Form
Co-Operative Student Evaluation Forms
Co-Operative Education Engineering  Evaluation Form
Co-Operative Education Work Performance Evaluation Form
Co-Operative Student Performance Evaluation Form Example
Annual Student Evaluation Forms
Annual Student Evaluation Progress Report
Annual Graduate Student Evaluation Form
Semi-Annual Student-Adviser Evaluation Form
School Student Evaluation Forms
High School Student Counselor Evaluation Form
School Common Student Evaluation Form
2. Alternative Assessment – Alternative assessments are tests that are made by the teachers so that they can properly assess the level of performance that their students bring. Unlike standardized assessments, these kind of assessments are made with questions by the teachers. Examples of which are oral tests or presentations and projects that bring about the results of each student, thus allowing the teacher to gauge the competency level of each.
Student evaluations always need some sort of feedback right after. This is so that the student can understand his or her flaws and work harder to improve them. There are alternative assessments that allow teachers to produce better methods in making sure that the student gains the education that he or she deserves.
Alternative assessment is often found and conducted in class and usually comes in the following forms:
Through discussions in the classroom
By assessing his or her participation in class discussions
Through Observation
By allowing the student to write simple or complex essays
Through interviewing the student about certain topics
Tasks that levels the student's level of performance
Through multiple tests
Exhibitions and demonstrations
By profiling the student
By letting the student write up Journals
Teacher-created tests
Rubrics
Self- and peer-evaluation
What Is a Student Self-Assessment?
Student Self-Assessments are a great way for a student to understand just how well he or she is doing in terms of academics. These allow the students to go into great detail as to what they can improve to perform better within the classroom. There are many different types of Student Self-Assessment Forms for you to download on the internet; however, not all of them are able to cover the most crucial aspects that need to be included in a student self-evaluation form. With our Student Self-Assessment Forms, you'll be able to properly assess everything that makes up the student's performance by creating a clear and accurate assessment that will provide you with the information that you need.
What Are the Advantages of a Student's Self-Evaluation?
Students tend to identify their strengths and weaknesses even more if they have been up for evaluation, even if it is by themselves. The advantages of a student's self-evaluation are as follows:
It helps a student know if he/she has learned something in class
It provides necessary feedback that are relevant to the academic life of the student
It can provide a positive impact to the student especially at times when he/she doubts his/her capabilities
It can showcase a timely assessment of the current academic condition of the student
It can help teachers identify the loopholes of the student's performance not only through observations but also through the information specified by the student himself/herself
It helps students determine the level and pace of understanding that they can incorporate in the learning process
It can help a student monitor himself/herself
It ensures that students will be motivated to develop their knowledge areas and skills
It makes students more competitive as they are becoming more aware of where they are good at
It can serve as the platform where comparison between the evaluation of the teacher and what the student thinks of himself/herself can be made
Student Employee Evaluation Forms
Student Employment Employee Evaluation Form
Student Employee Evaluation Form
Child Care Center Student Employee Evaluation Form
College Student Evaluation Forms
College Student Supervisor Evaluation Form
College Experiential Student Evaluation Form
College Teacher and Course Evaluation Form
Graduate Student Evaluation Forms
Graduate Transfer Credit Evaluation form
End of Year Graduate Student Evaluation Form
Laboratory Graduate Student Evaluation Form
Clinical Student Evaluation Forms
Final Student Clinical Evaluation Form
Student Clinical Competency Evaluation Form
Daily Hospital Clinical Evaluation Form
Student Workshop Evaluation Forms
Example of Student Workshop Evaluation Form
Teacher Training Student Workshop Evaluation Form
Seminar Student Evaluation Forms
Transfer Seminar Student Evaluation Form
Seminar/Research Presentation Evaluation Form
Training Student Evaluation Forms
Language Training Student Evaluation Form
Training Program Student Evaluation Form
Prospective Student Evaluation Forms
Prospective Preschool Student Evaluation Form
Practicum Student Evaluation Forms
Internship Practicum Supervisor Evaluation Form
External Practicum and Internship Student Evaluation Form
Student Presentation Evaluation Forms
Student Presentation Evaluation Form Example
Master of Arts Student Presentation Evaluation Form
Student Self-Evaluation Forms
Student Product Self-Evaluation Form
Student Intern Self Evaluation Form
Experiential Learning Student Self-Evaluation Form
Student Pre-Internship Self-Evaluation Form
Why Incorporate Student Self-Assessments in the Learning Place?
It checks on the different tasks that a student must do, which should be the foundation of student assessment.
It establishes the standards that the student must live up to.
It lets students know and understand what is expected of them.
It helps the students get the motivation that they need so they can achieve tasks and other academic requirements accordingly
It allows students to be responsible of how they will rate themselves based on the given criteria
It becomes a way for students to explain their side regarding the kind of performance that they are showing in the classroom
It lets students assess their behavior as an individual and as a member of a group
It makes students aware of their strengths as well as their weaknesses which can lead in the creation of call to actions for development and improvement
When creating a student self-assessment, you need to make sure that the items presented in the document are objectively and are strategically asked to help improve the way students think of themselves in consideration to their actual performance. If you need references on how you can enhance the methods that you use in making student self-assessments, the list below will help you just with that.
Organizing Conferences that are Student-Led – There are different things that should be talked about and settled within a learning environment. The views of the students must be aligned with the views of their teachers so they can help each other to create a more dynamic team. Student-led conferences helps students to voice out their comments, reflections, suggestions and recommendations.
Formulating a Rubric – A rubric is a set of scoring criteria that is used in order to provide objectiveness and consistency when assessing a student's work or performance. Rubrics are essentially useful for teachers to provide unbiased grading and scoring systems to students.
Rubrics are generally created by teachers to mesure a student's comprehension of material. Cases of these estimations are open-finished inquiries, composed arrangements, oral introductions, tasks, investigations, and an arrangement of a student's work. Elective evaluations are composed so that the substance of the appraisal is equal to the substance of the direction.
Rubrics are also very useful to the student as these allow them to gauge their level of performance and let them know the type of goals they should achieve. It gives them the opportunity to aim higher and increase their performance. These rubrics will also allow these students to carefully monitor their performance so that they won't under-perform.
So all in all, there are many different methods for assessing a student. If done well, the education skills and knowledge of the students should improve. If not, then it's the responsibility of the school to find another method to ensure improvement.
If you plan on using any of our forms to properly assess the student, then do so with knowing which one to use and knowing the purpose of each.