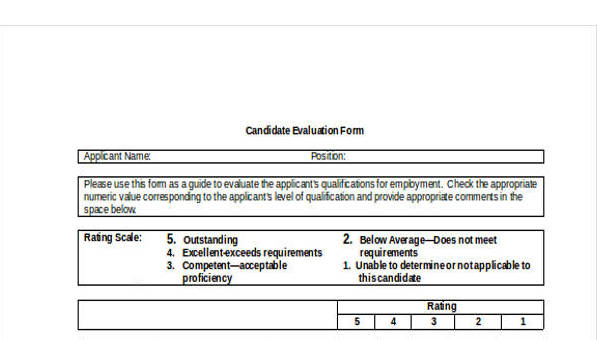 Interviews are great for knowing everything there is to know about a person. It can be used to assess the person's defining features, along with his or her level of skill and education. There are a lot of interview assessment forms to help you determine how well  these interviews went.
There are many different kinds of interview assessment forms. A good example would be an employee interview assessment form that properly evaluates how well a person's interview went when applying for employment.
Each of these forms can be used in their own way and it's up to just about anyone on how and when they want to use them.
Candidate Interview Assessment Forms
Overall Candidate Evaluation
Candidate Interview Assessment
Interview Self-Assessment Forms
Peer Self-Assessment Interview
Facility Self-Assessment in PDF
Example of Prior Learning Self-Assessment
Student Self-Assessment for Interview
What is the Purpose of an Interview Assessment?
The purpose of doing an interview assessment is to determine how well an interview went, depending on the kind of information the interviewer was able to obtain. As mentioned before, interviews are a great way in knowing the value of a person and what he or she is able to bring. However, an interview assessment can help determine whether or not the interview of an applicant went perfectly well, or if it went rather poorly for both ends.
Why are Interview Assessment Forms Important?
Interview assessment forms are very important to every business, because these can help determine on who gets the job and who doesn't. All companies and organizations have positions that need to be filled in, and they need the right person for the job to do that. These forms go into great depth such as evaluating the responses of the interviewee and checking out the interviewee's background such as previous work experiences.
If you need to know more about these forms, then there are interview assessment form samples here that can give you all the information that you need.
Employment Interview Assessment Form
Employment Job Interview Assessment
Individual Interview Assessment
Functional Behavioral Assessment Interview
Internship Interview Evaluation
Selection Panel Interview Assessment
Public Health Surveillance Assessment
The Importance of Doing a Proper Interview Assessment
Every company or organization has to conduct various stages of interviews for those that want to apply for a position. Interviews can even be conducted to current employees who want to move up by attaining a higher position than the ones they currently have.
To properly evaluate the results of these interviewers, there are forms such as candidate interview assessment forms that can guarantee that every interview detail about an interview is taken into serious account.
Those in charge of conducting reviews have to report the results to their superiors. They'll have to make sure that they do these assessments well because it can be the deciding factor on whether or not these interviewee gets to be hired for the job or not. Companies and organizations only want the right person to fill in those empty slots.
In order for one to do a proper interview assessment, one must consider all factors about the interview. The interviewer must assess the responses of the applicant, along with the information that he or she has given. They must also do checks if the information they provided was accurate. Falsified information can easily terminate the applicants chances of being hired, saving the business from accepting someone who isn't worth their time.
These interview assessment forms can also be used to assess how well the interviewer performed. There are some forms that focuses more on how these interviewers managed to ask the necessary questions to the applicant, and how they made the applicant feel. Whatever feedback these interviewers get is an opportunity for them to grow.
So whether it's job assessment forms or interview assessment forms, all businesses can benefit from these assessments.
Interview Assessment for Managerial Position
Interview Assessment for Senior Positions
Applicant Interview Assessment
Technical Interview Assessment
Student Interview Assessment
Post-Interview Assessment Form
How to Fill an Interview Assessment Form
When filling out an interview assessment form, one must consider the following information that should be placed in it:
The name of the person being interviewed
The interviewee's personal details such his or her address, contact number, and e-mail
The applicant's educational background
The applicant's previous work experiences
The position that's being applied for
The name and title of the interviewer
So even if it's something like sample student assessment forms for employment, all of these information must be taken into account.
What is an Interview Assessment Form?
An interview assessment form is used by every company or organization when they need to thoroughly assess how well an interview had gone.
Interviews are conducted so that the managerial department can obtain what they need to know about the interviewee. An interview assessment form assesses the value of an applicant, and checks on what he or she can bring to the company based on his or her level of skill and experience.
Forms such as job assessment form samples and interview assessment forms must be taken very seriously by just about every business because these forms can determine the quality level of employees a business can have.
Marketing Interview Assessment in PDF
Group Interview Assessment Template
Interview Presentation Assessment Form
HR Interview Assessment
Intern Interview Assessment
The Importance of a Job Assessment
A job assessment is very useful for companies to determine whether or not the your professional skills and experiences match what they are looking for, especially if the vacant position entails a higher level of responsibility.
Here are some of the things that must be looked into when doing a job assessment:
Knowing the kind of position available
The services one is required to do when obtaining the job
The qualifications necessary before getting the position such as educational and work experience
The name of the company and its operations
All the work you'll have to provide and who you're going to work for is very important if you're going to take on a job. Even you wouldn't want to be hired unless you know all the details that entail the job such as the amount of compensation you'll get and the working hours you'll need to comply with, which is why these forms are here to help you out in doing just that.
There are lots of job assessment forms or sample work assessment forms for you to use that are available on our website. All of our forms, for whatever purpose they may serve, are easily downloadable and come in Word and PDF format.