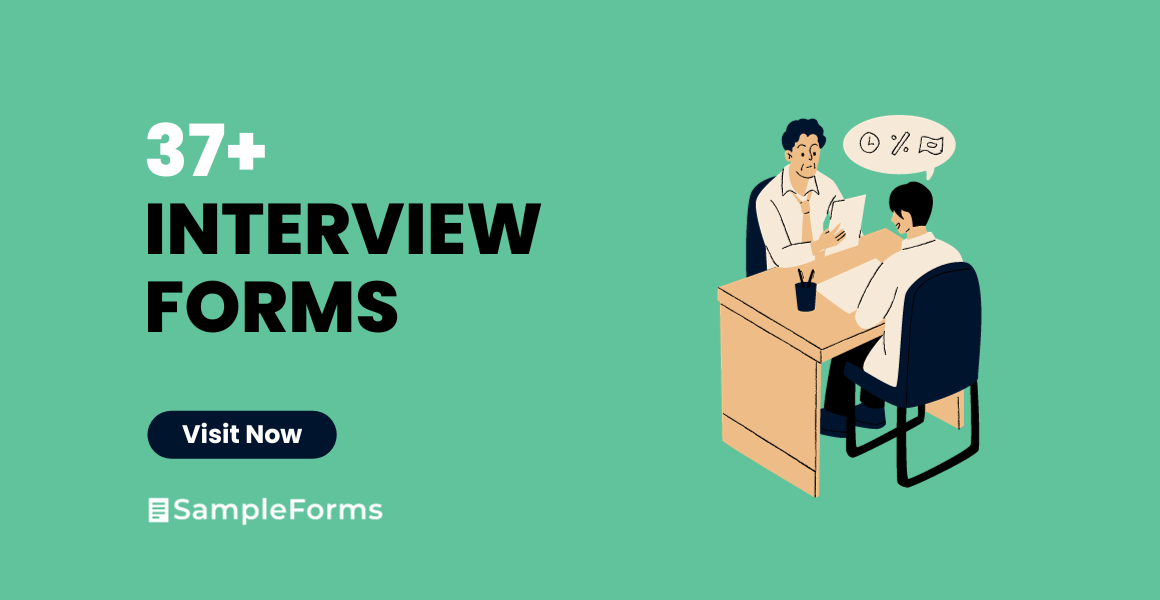 Interviews are conducted on a daily business by every company and organization. An interview can help inquire about an applicant's information regarding their requirements for a certain position. Businesses may even decide to create and use interview feedback forms in which the applicant give feedback on the interviewer's performance.
By making use of something such as a interview review form, employers are able to assess the results of an applicant's interview in which these people will judge and weigh whether an applicant might be an asset or liability towards the business. So long  as one knows how to conduct a proper interview, then there should be no problems.
Student Interview Form Samples
Student Interview Evaluation Form
Student Interview Form in PDF
New Student Interview Form
Employee Interview Form Samples
Employee Project Interview Form
New Employee Interview Evaluation Form
Free Employee Exit Interview Form
Interview Application Form Samples
Candidate Application Form for Interview
Oral Interview Application
What Is an Interview Form?
An interview form is, as its name states, used in the event that employers are needed to acquire the results of interviews. These forms can also be used to assess the information gathered after an interview such as through the use of Interview Assessment Forms.
Any information given by an applicant given during an interview must be properly placed in these forms, especially if it is in line with the requirements needed to undertake said position. The employer may also decide to use interview forms to provide feedback regarding how the applicant's interview went. So whether it went well or poorly, an applicant receiving feedback can always benefit from it.
How to Fill an Exit Interview Form
When filling an exit interview form, one must place in the following information:
Name of the employee
Employee's I.D number
Date of the exit interview
Employee's  job position and department of origin
Name of the employee's supervisor
Reason as to why the employee wishes to leave the company or organization
Signatures of the employee and those who may authorize the release
The information above may also be used to fill out Interview Assessment Forms in PDF that focuses on an employee leaving the business.
Job Interview Form Samples
Employee Noise Exposure Job Interview
HR Interview Form Samples
Sample HR Services Interview
HR Behavioral Form
Parent Interview Form Samples
Parent Teacher Interview
Sample Parent Interview
Interview Release Form Samples
Interview Release Consent
Oral History Interview Release Form Example
Video Documentary Interview Release
Interview and Property Release
Interview Feedback Form Examples
Introductory Interview Feedback
Mock Interview Feedback Form
Caseworker Interview Evaluation Feedback
Why Is it Important to Use Standardized Interview Form?
By making use of standardized interview forms, employers will have a much easier time in comparing the results of every interview that they conduct. The reason being that these forms already have a set of predetermined questions that the employers ask each and every applicant.
All questions are exactly the same, and all of them follow an exact same order. These can easily help employers in comparing the results of the different applicants, as well as helping them set a single standard based on all the questions that these applicants were given.
A standardized interview form is also a great way for people to gather collective data in an information. It is very similar to when using Interview Questionnaire Forms where the set of questions are directed towards a particular audience to gather much needed information. Considering that all of the questions within the form are similar, this makes it much simpler and more efficient in gathering data.
When hiring people for a job through the use of standardized interview forms, it is guaranteed that the applicants are all treated in an equal manner. Each candidate for a position is treated objectively for the reason being that the questions are all based on job requirements.
Not only that, but also because the questions already have a set sequence. So if an employee were to use these forms, then making employers making use of Interview Assessment Forms to look into and judge the results of these interviews should have little to no difficulty.
So if you would like to use a form to gather data at a consistent rate, as well as helping you see set questions that can help you easily determine who you need for your business, then allow yourself to utilize standardized interview forms.
Interview Assessment Form Samples
Candidate Interview Assessment
Example of Job Interview Assessment
Short Listing Interview Assessment
Interview Exit Form Samples
Employee Exit Interview Form
Exit Interview Questionnaire
Exit Interview for Graduating Students
Volunteer Exit Interview
Interview Consent Form Samples
Family Interview Consent
Home Interview Consent
Adult Consent Form
What Is the Purpose of an Exit Interview Form?
The purpose of these forms is to gather information regarding why an employee would like to leave the company or organization. As there are a multiple number of reasons as to why an employee would like to leave, employers must know the specifics regarding the reason.
A good example would be providing information regarding low salary, which is why the employee has decided to quit and take on other ventures. This can help employers make important decisions regarding their business in the event that more than one employee's exit interview result comprises of the same reason.
It is also important through an exit interview that that the employer discusses the terms wherein the employee must not reveal any important business information regarding the company, much like through the use of Interview Release Form.
This way, the company is protected, as well as being able to lay claim to charges should the employee decide to disclose information to other competitors.
How to Answer an Exit Interview Form
When asked to answer certain questions in Exit Interview Forms you will have to provide the company you plan to leave with the information they would like to hear. So if asked on the purpose as to why you are leaving, answer in a professional regarding the truth of the matter such as being underpaid or having found a better opportunity.
You may even state problems regarding management when answering an exit interview form, just remember that you must still state these problems in a professional manner.
Interview Application Form Samples
Candidate Interview Application
Mock Interview Application
Sample Interview Application
Sample Interview Form Samples
PhD Student Final Interview Form
Teacher Interview
Return to Work Interview
Interview Data Form
Basic Interview Form
Tips for Writing Good Interview Questions
Prepare your questions ahead of time, this way you will already know as to what you information you would like to acquire from an interview.
When preparing for your interview, make sure that you understand the tone of your own questions. Whether you are going for funny or serious, be sure that the questions match your tone.
Make sure that your questions are open-ended to ensure that the interviewee can provide you with a lot of information.
Take a good look at the applicant's resume before the interview, this can help you do background checks as well as help you develop questions based on what more you need to know from the applicant.
While these tips are important in helping you create great interview questions, you must also learn how to judge the responses to those questions. So in the event that you would like to know how to do so, then there are Interview Evaluation Forms that can provide you with information regarding how one can  properly look into the the results of any interview.