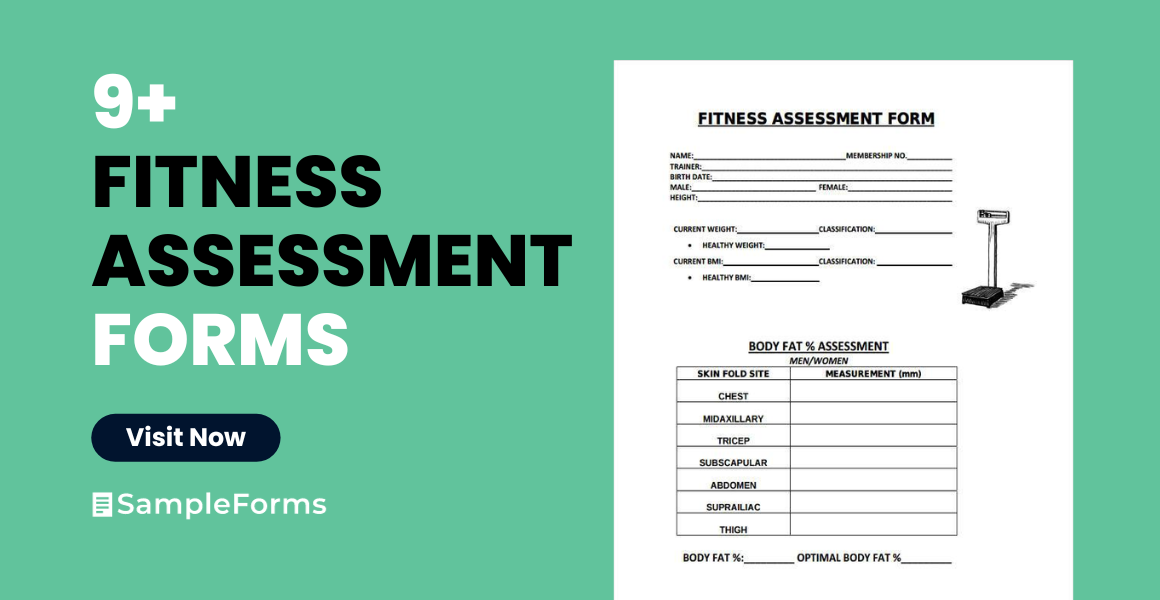 Being both physically and mentally fit is important for any person. It lets others know the state of your health and if you're able to accomplish astounding physical feats. It's also a great way to know if you're fit in both physically and mentally healthy, just to ensure a long-lasting and happy life.
However, there are those people who feel that they're not exactly at a point where they can call themselves fit. These people need to be properly evaluated just to be sure. How would they go about this?
There are professionals who can properly assess them, and there are Fitness Assessment Forms that the individual can go over to get his bearings on the status of his health.
Printable Fitness Assessment Form Example
Personal Training Fitness Assessment Form
Health and Fitness Assessment Form
Fitness Assessment Form Sample
Physical Fitness Assessment Waiver Form
The Different Kinds of Fitness Assessment Forms
There are various types of forms that people can use to make sure that they're indeed both physically and mentally able. Here are some examples of these types of forms:
Physical Fitness Assessment Forms are used by those people who need to assess just how well their physical fitness is. Such an assessment is usually done by professionals to properly check if this person is physically fit or not.
Personal Training Fitness Assessment Forms are forms for those people who wish to assess how well they're doing in their personal training sessions. This is especially for those who have enrolled themselves in personal training programs and want to keep track of their progress.
Mechanical Fitness Assessment Forms are for checking on the status of mechanical equipment. Fitness isn't just to determine how well a person operates; it also checks on how well a machine performs.
Occupational Fitness Assessment Forms are used to assess an employee if he or she is fit enough to work or if that person is fit enough to perform certain tasks for the company he is employed in.
Mechanical Fitness Assessment Form
Occupational Fitness Assessment Form
Sample Initial Fitness Assessment Form
Fitness Assessment Form Example
Fitness Assessment Test Form
The Importance of Assessing Someone's Fitness
Everyone should know just how fit they are. They should know how well their body operates because it might just help them out. For example, let's say an employee is made to do a certain laborious task within his work place, but he feels that he isn't physically fit to do so. That employee then takes a look at the Risk Assessment Forms to ensure he or she is physically capable of doing the said task or not. This could very well prevent a huge problem from occurring in the workplace.
It's also really important because if an employee knows just how fit he or she is, then they can do what they can to improve themselves. If a person was assessed by a professional and it was found out that his eating habits are affecting his condition and could lead to other possible problems, then it's best that that person know ahead of time so he may do what he can to work out the problem.
Being fit is very important, so always make sure to be in tip-top shape.