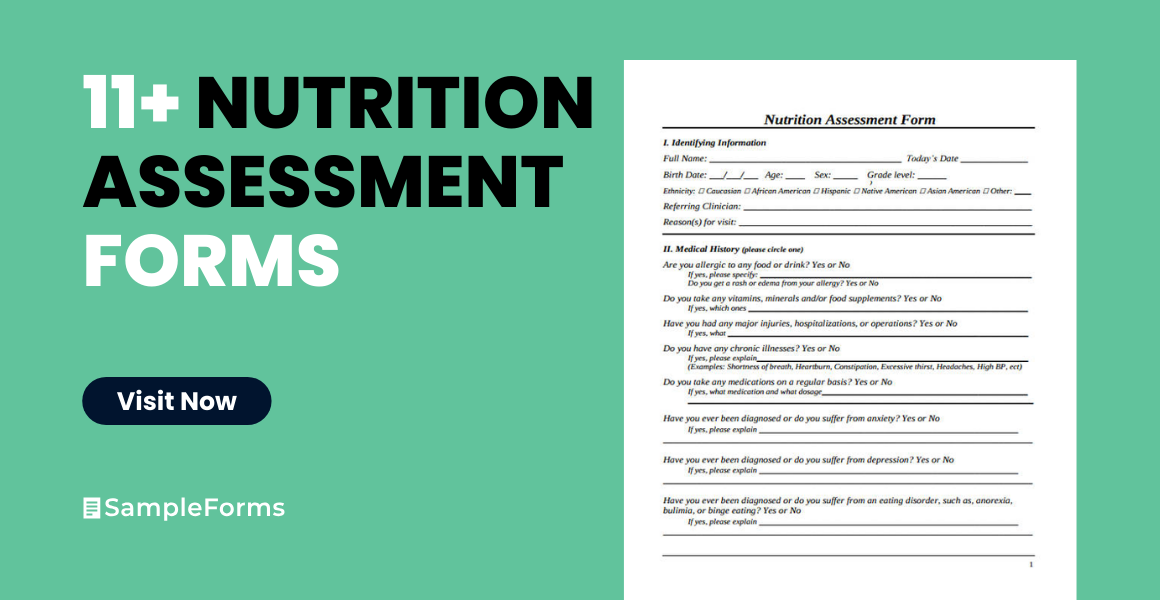 Whether you are working or just staying at home, it is important that you monitor your health. Make sure that you are receiving proper nutrition in whatever you eat. It is better to always keep yourself away from any sickness by eating nutritious or healthy food.
Proper balance of diet is what keeps you going in your everyday life. This balance gives your body the nutrients that are needed in order for your body to function properly. Without a balanced diet, your body will more likely be prone to diseases, infections, bad performances, etc. In order to know how you are doing with regards to your health, perform a self assessment with a health assessment form.
New Patient Nutrition
Mini Nutritional
Health Nutrition Client
Initial Nutrition
Sample Nutrition
Nutrition Consulting
What is a Nutrition Assessment?
A nutrition assessment is a way knowing the overall view of a person's general lifestyle and health habits. This is also used to know the health and wellness concerns of a person regarding his or her health. For physicians, this form can help them identify the reasons behind a person's health conditions, such as what causes their current situation. Nutrition assessment is conducted with a form which makes it easier for any medical personnel to evaluate their patients' behavior or condition, and their nutritional status.
Nutrition assessments are commonly conducted in schools. In order to assess students,  student assessment forms are used. Since these students' health and well-being are influenced by many things, such as lifestyle, family history, emotional health, and nutrition or eating habits, it is important that they go through a nutrition assessment.
How to Write a Nutrition Assessment Report
In writing a nutrition assessment report, the following are to be filled up first:
the name, birth date, age, gender, contact details, and address
physician's name and contact details
reason/s for visit
physical examination (height, weight, vital signs, etc.)
medical history (allergies, vitamins, medications, major injuries, sickness, diagnostics, etc)
Other nutrition assessments would allow the person to rate on a scale his or her own health. And often asked about his or her eating behaviors and daily food choice. Once all these information are collected, it is then documented and finalized into a report. Just like any other assessments, training assessment forms are used to evaluate training programs.
Sports Nutrition
Pediatric Nutrition
Nutrition Counseling
Free Nutrition Assessment
General Nutrition Assessment
Nutrition Assessment Data Collection Form
How to Conduct a Nutrition Assessment
A nutrition assessment is conducted in an organized way to collect and interpret health related information gathered from patients. This is in order to take action and make decisions in resolving the health issues and identify the nature and the cause of it. A quality nutritional assessment is carried out by the healthcare professionals in a structured way.
This is used to identify employees or staff who need nutritional intervention, and also to improve clinical decision making with a person centered approach. physical assessment forms are also used to document the physical examination results of anybody.
Guidelines for Nutrition Assessment
Nutrition assessment should be done regularly to ensure that everybody in the workplace, school or any organization is safe from any diseases, infections or sicknesses that might be transmitted through air.
This should also be done in order to make sure that each one's performances will not be affected. Another way of measuring or ensuring the health of everybody in the workplace or in whatever environment, is through health risk assessment forms. This is used t identify and measure the risk of how the hazards are likely to affect people in the surrounding area.