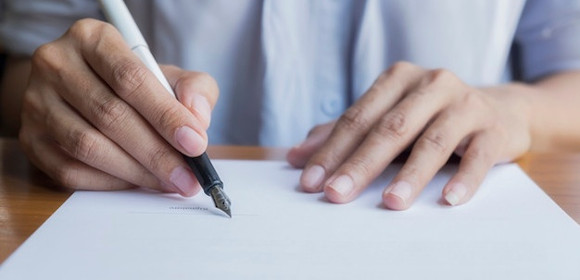 Imagine yourself in a crowd jumping and singing along to your favorite band's song. Or in a plane, cozy and comfortable while traveling to your dream travel destination. Think about how you can access all those exclusive services without any tickets? It doesn't sound really good, right? Ordering tickets are one of the important things you should do first before going to events or flight. To get to learn more about ticket orders, read further in this article and see how relevant ordering tickets are for every occasion.
FREE 31+ Ticket Order Forms in PDF | MS Word | Excel
There are different formats and designs you can choose from when creating ticket order forms. As an organizer, you should know which type suits your ticket purpose well, so you can prepare a practical ticket layout. To guide you, here are a few sample ticket order templates you can freely download and customize according to your preferences.
1. Ticket Order Form Sample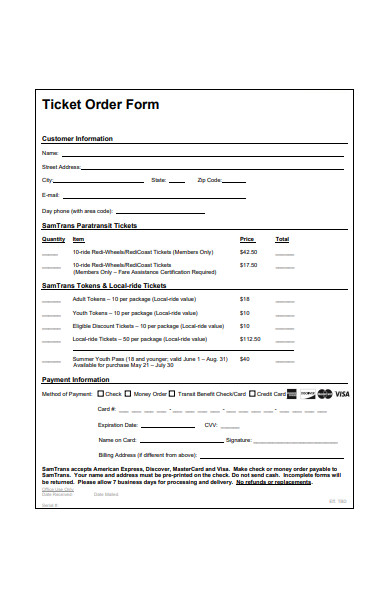 2. Pass and Ticket Order Form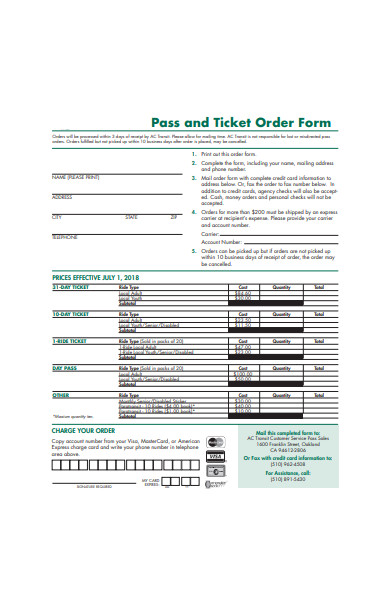 3. Ticket Order Form Template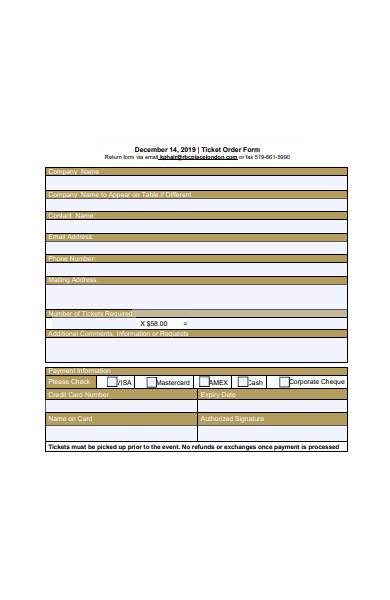 4. Ticket Order Form in PDF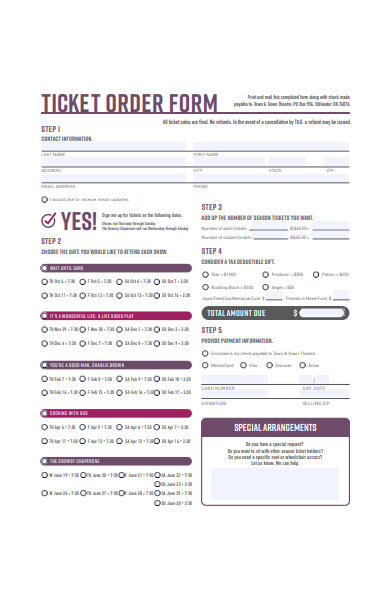 5. Order Ticket Online Form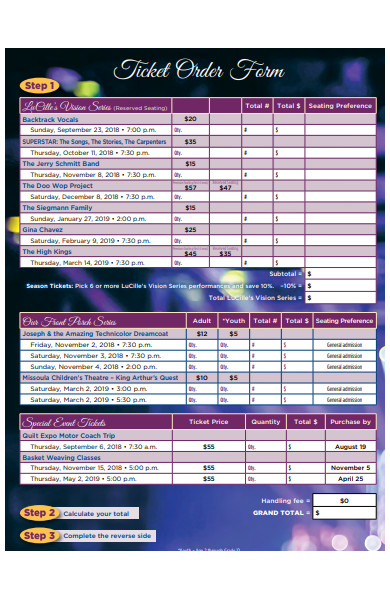 6. Simple Ticket Order Form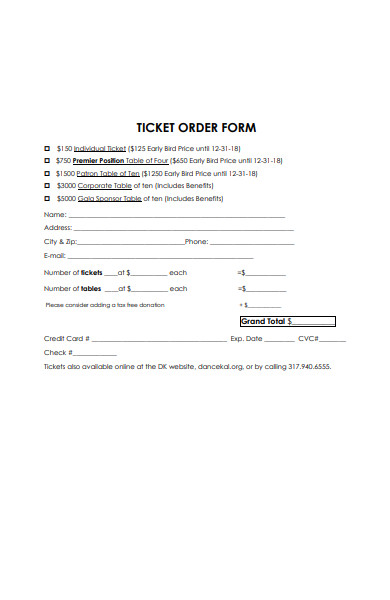 7. Generic Ticket Order Form
8. Event Ticket Order Form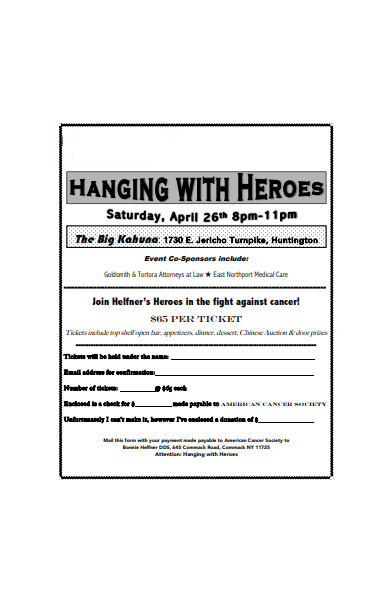 9. Single Ticket Order Form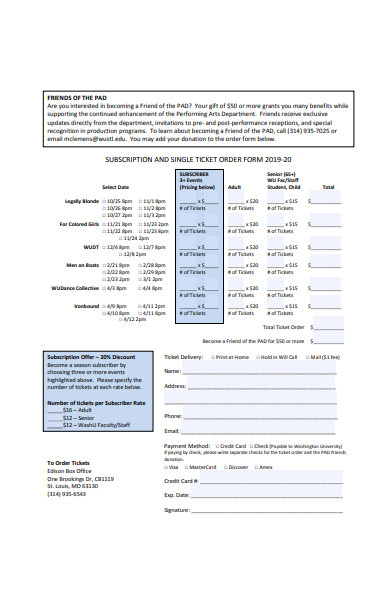 10. Group Ticket Sale Order Form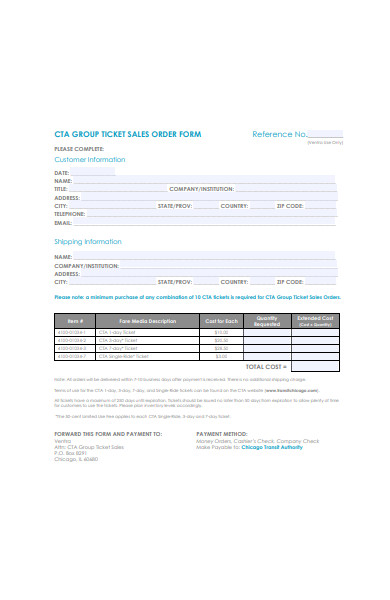 11. Advance Ticket Order Form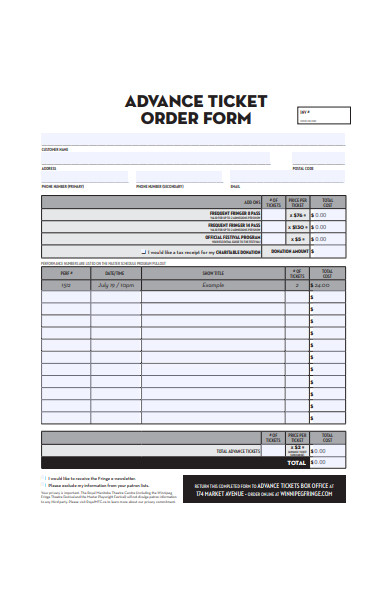 12. Subscription Ticket Order Form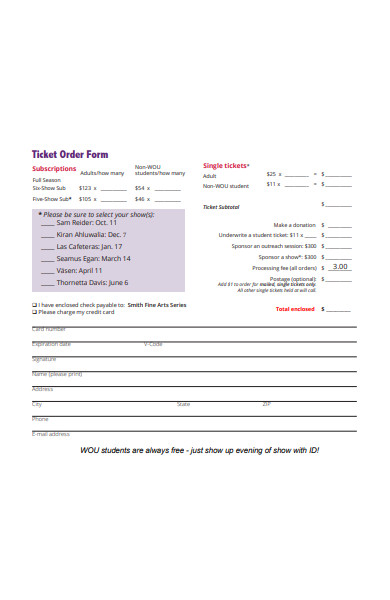 13. Performance Ticket Order Form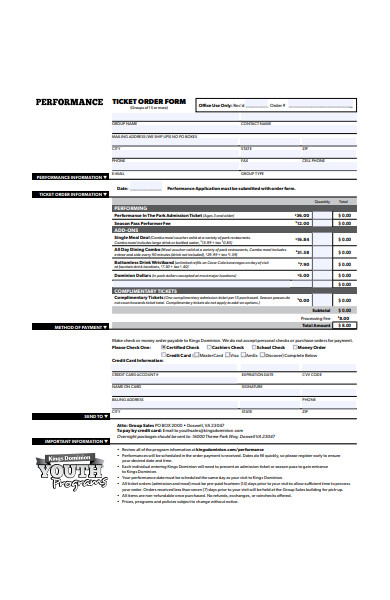 14. Youth Specific Day Order Form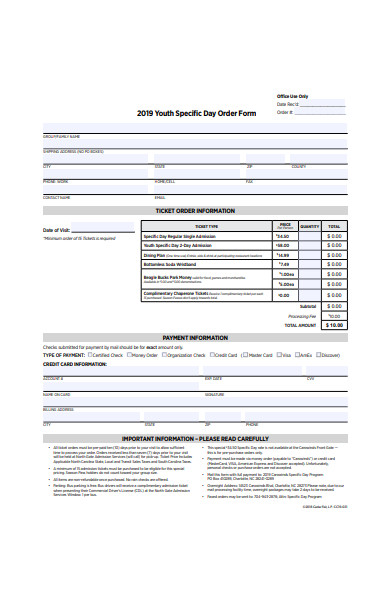 15. Festival Ticket Order Form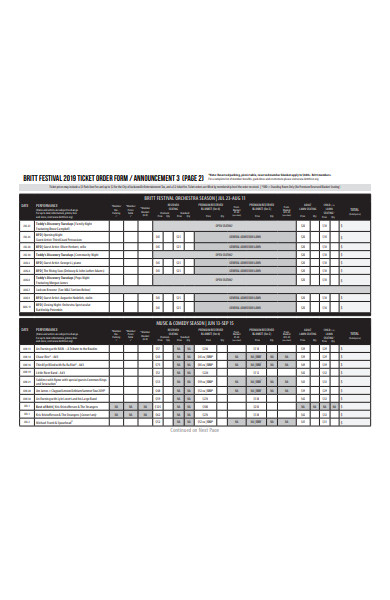 16. Sport Groups Ticket Order Form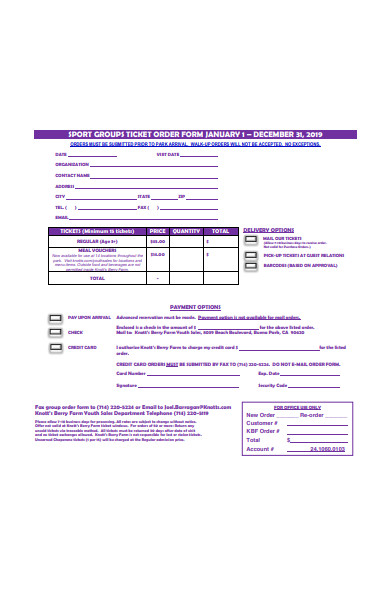 17. Ticket Order Form Format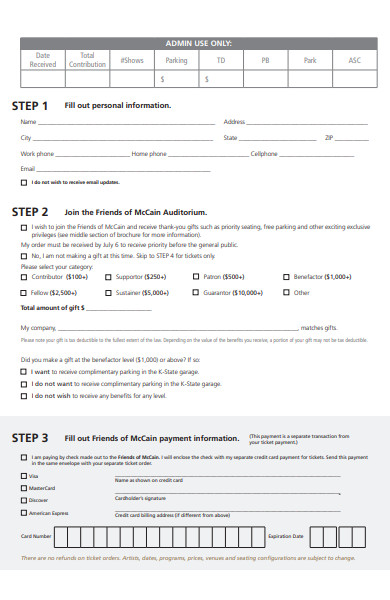 18. Formal Ticket Order Form
19. Simple Ticket Order Form Template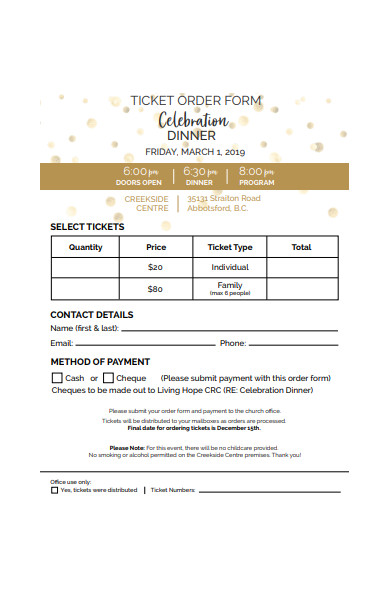 20. Advance Ticket Order Form in PDF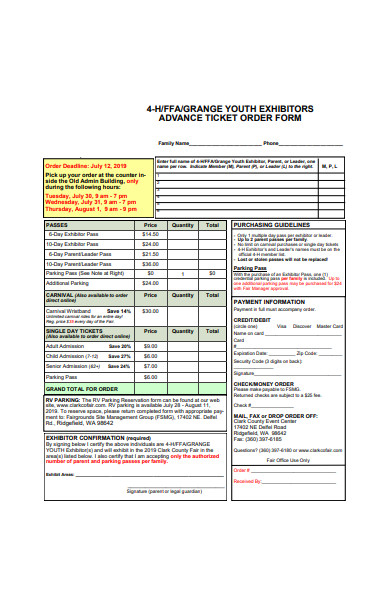 21. Basic Ticket Order Form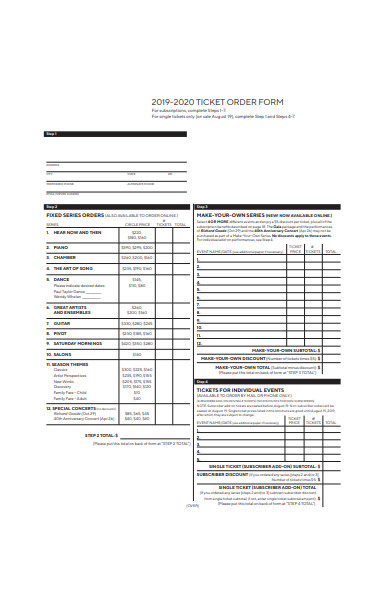 22. Group Ticket Order Form Template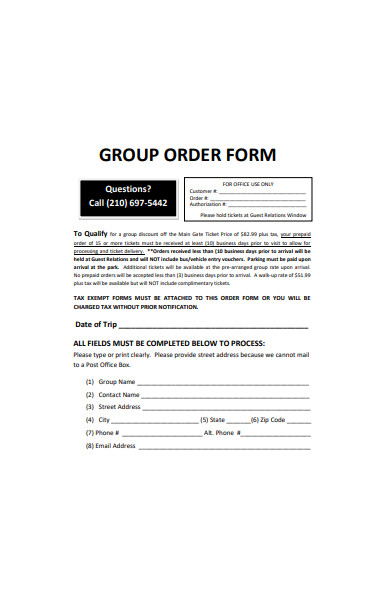 23. General Ticket Order Form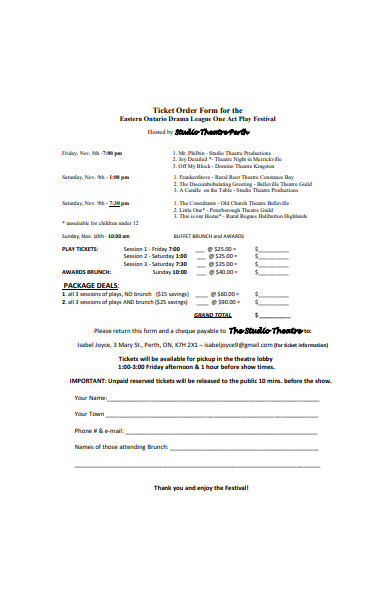 24. Mail Ticket Order Form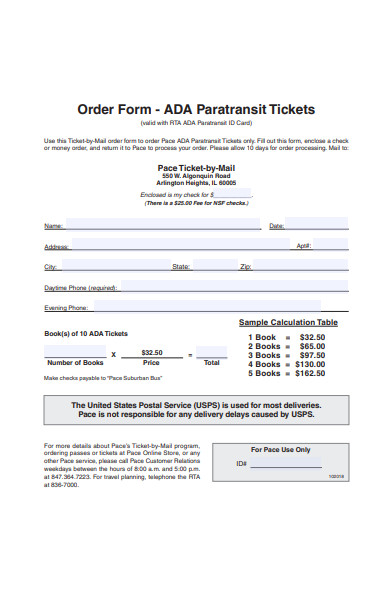 25. Sample Ticket Order Form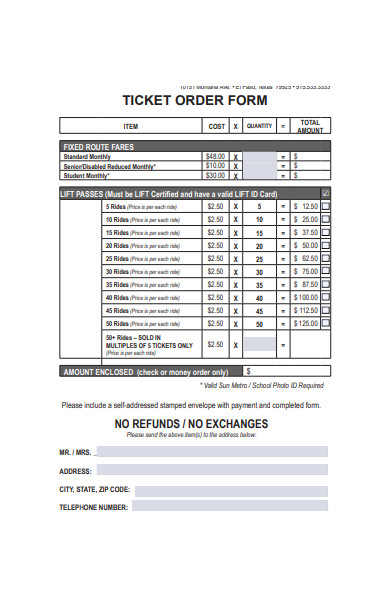 26. Formal Ticket Order Form Sample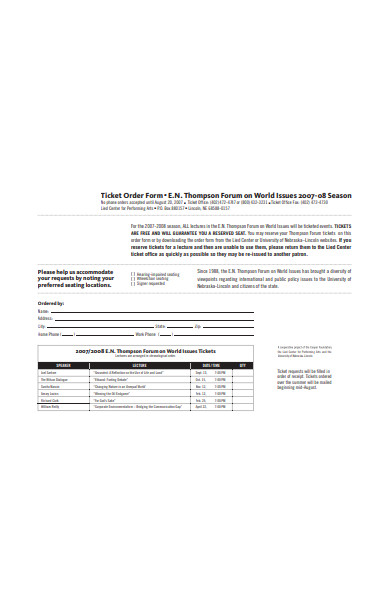 27. Meal Ticket Order Form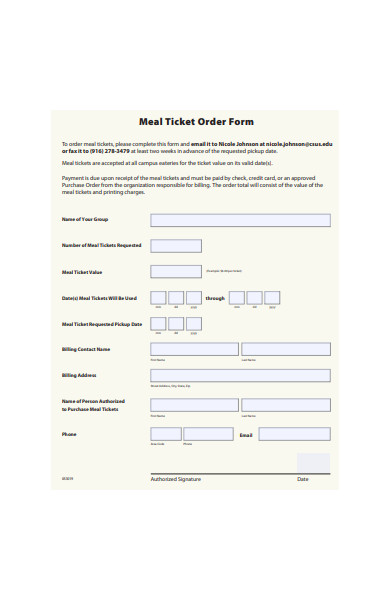 28. Event Ticket Order Form in PDF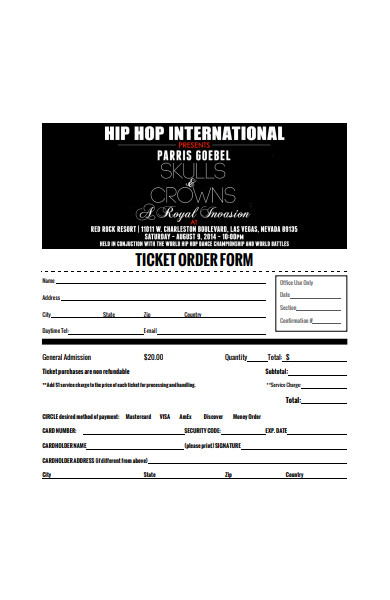 29. Event Ticket Order Form in Ms Word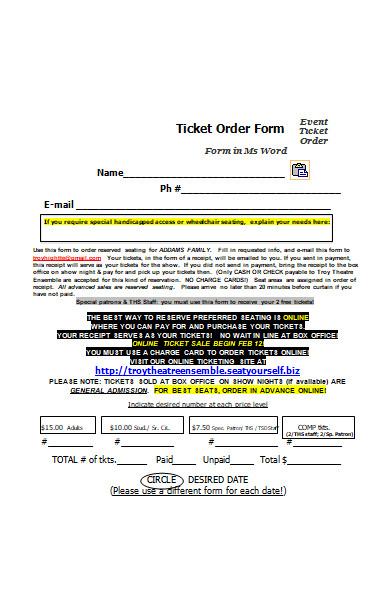 30. Season Ticket Order Form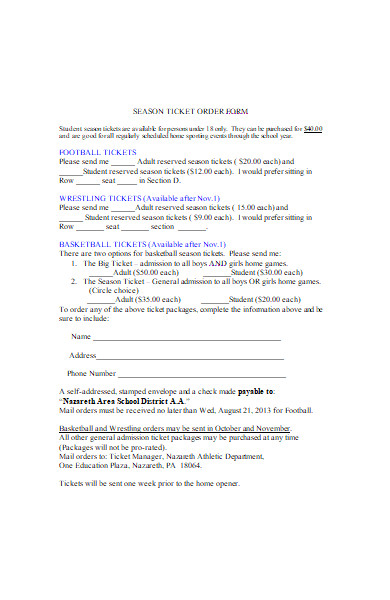 [/ns_row]
Why Are Ticket Orders Necessary?
Wherever you are, you would always need tickets to access some things. Tickets are little stubs or receipts that allow a person to have an admission. Organizers also use it as another tool to have a reliable security system in events like concerts, cinemas, sports, travel flights, and many more. Event facilitators will also recognize the event participants easier with tickets as well. Because of how essential tickets are, they are a lot of people who buy it in advance to secure their spot in the venue or their respective travel modes.
Ticket purchasing is even more efficient if consumers have a tool that allows them to book tickets without any hassle. Luckily, ticket order forms are there to keep the consumers at bay in getting tickets for their particular errands. With order forms, consumers no longer have to wait on a long line to get their hands on their desired tickets. Customers can always order and book their travel or event tickets in advance online or sign-up on their official websites.
Elements of a Ticket Order Form
Tickets are useful in various fields in the industry. Though they come in different types and formats, they still have one objective—grant someone access to their event. It is the organizer's responsibility to provide their audiences with certain ticket forms to prepare them for the upcoming event. As an organizer, they should understand and be familiar with the content of a ticket order form. To enlighten you, here are the standard components you will see in a ticket order:
Dates and Purpose of Transaction: Tickets are fluid materials, adjusting to any purpose you will use it for. The ticket order forms must contain a section stating the purpose of buying the ticket. Is it for concerts, sports, or raffles? Ticket order forms should also have the date it was filed for organizers to track the orders efficiently.
Personal Information: Just like other order forms, the ticket order form must reflect the payee's personal information. This section may contain the customer's full name, gender, age, address, and contact information. With the personal information, the organizers will have an efficient process of identifying which orders belong to every client.
Type of Ticket Admission: Every ticket has its very own kind of ranking. Most events actually offer different types of tickets to provide their audiences a choice on where they would be located during the event. For instance, concert tickets have VIP tickets or general admission tickets that customers can choose from. There are more ticket types in an event, and it depends on the organizers and the venue.
Ticket Prices: The ticket order forms should reflect the total amount the customers should pay for the tickets. Ticket prices depend on what type of ticket the clients have chosen. For instance, VIP tickets are known to be the most expensive ticket an event has to offer. Make sure to clearly state the respective prices of each ticket type to avoid any conflicts with the client.
Payment Method: There are different procedures a ticket order can be performed. Usually, a ticket order provides their consumer with a set of payment methods that the company allows to process. The payment information should be accurately stated, so there won't be any problem once the transaction is processed.
Order Number: This part is the most crucial detail for the order form. Order numbers are forms of security features that organizers should place on their order forms. It can be used as a tracking number that consumers use in monitoring their ticket orders.
Ticket order forms' content may vary depending on its purpose. The elements stated above are one of the essential components that order forms should have. As you go on and encounter more types of tickets, you will understand how crucial information stated on the ticket orders is.
How Essential Are Order Forms in Ticket Selling?
Tickets are one of the essential things for someone to gain access to something or somewhere. This small slip has the power to control and monitor all the participants of a specific event, making it an excellent tool for managing large crowds. That is why organizations or companies would provide their consumers with event tickets to experience their exclusive services. So how would consumers purchase their tickets? That is when order forms come in handy.
Organizers and other service providers must ensure that their ticket selling is well-managed and organized. Ticket order forms will give that convenience to their operations. Order forms are like registration forms that allow consumers to input personal information for them to access a service from the business—hence, the tickets. Organizers will have an easy process of managing the ticket selling since they have an order form to keep them guided.
Order forms help keep everything accordingly. An event would also have higher chances of gaining a large crowd with an effective and efficient process of getting tickets. It serves as a marketing strategy that would drive even more interested clients, whatever field you belong to.
Ticket Pre-orders in the Travel Industry
Ordering travel tickets in advance is one of the first things that a traveler should be concerned about. When one travels—whether by trains, ships, or planes—they should prepare their transportation tickets in advance for efficient travel from one place to another. Most travelers have their tickets booked earlier to have the ticket rates cheaper than tickets sold on the day.
In 2019, Statista's report recorded that there are more than 830 billion revenues garnered by commercial airlines globally. With this number, it is hard to imagine a transportation hub managing their services without a proper document to help them. Hence the travel ticket order forms.
Since most travelers find ticket rates cheaper when booked earlier, airlines should be prepared with all the early bookings that they possibly encounter. Companies should have a well-written order form to have an easy operation when they are taking care of flight schedules. This way, all the tickets are delivered rightfully.
Advantages of Online Ticketing
With today's technology, people find it more convenient to place their ticket orders online. Though printable ticket booking is still useful, more customers now prefer electronic tickets. It saves them time than going to ticket hubs to buy tickets. Ticket ordering is also convenient when it is processed through online or a system.
Online ticketing saves customers time from going to travel hubs and ables to place their ticket orders on their own. Another advantage of booking a ticket online is that online ticketing hubs are open at any time you need to order a ticket. Whether you need a ticket slip for movies, concerts, or flights, you can always book a ticket through an online system. That is why people are more convinced to do online ticket ordering.
How Can You Book Tickets?
Booking tickets sound challenging when you are not familiar with its processes. There are different ways on how to place your ticket order. It is kind of tricky. But when you are guided accordingly, you will surely find order forms easy and convenient. Here are a few things to remember if you are going to order a ticket:
Step 1. Know the Type of Ticket You are Purchasing
There are various types of tickets you can order in advance. When you are ordering a ticket, you must know the purpose of your tickets. Are you looking for a concert or sports tickets? Do want your tickets for flights and trains. Getting tickets can be because of anything. Think about the type of event tickets you are getting, and you will know what processes you have to follow.
Step 2. Fill in the Provided Order Forms
Companies would always provide their clients either a printed or online ticket order form. The document will serve as an official request form to get a ticket from their services. Customers will fill out these forms to provide the service providers the information they need to complete the transaction. Makes sure you provided accurate details to prevent any conflict once the tickets arrive.
Step 3. Follow All the Transaction Process
Order forms will always reflect the total amount a client should pay for all the tickets purchased. Service providers will provide their consumers with a set of instructions on how to complete the order transaction. This process also includes the payment request method that the company and the clients have agreed on. Both parties should be aware of the transaction details so that there will be no misunderstandings.
Step 4. Call for Updates
Once the transaction is successfully placed, the consumers should always do follow up procedures. This process means that the clients are allowed to reach out to service providers about the status of their ticket orders. Companies can also call clients for clarification about the information in the ticket orders. Just follow all the procedures of the service providers, and you will book your tickets without any problem.
Getting tickets may be hard, especially if there are a lot of people getting the same ticket card as yours. But with ticket order forms, it will be more efficient since the document is fillable and just one click away in completing a ticket transaction. Being familiar with the material will always help in managing and getting ticket orders. Always remember the essential information about ticket ordering and placing orders, then you are good to go.