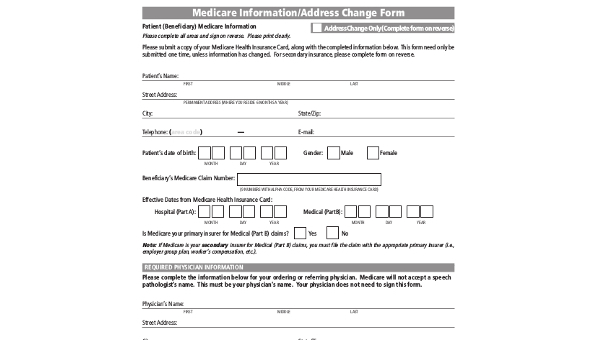 A change of address form or letter – whether to a bank, to personal acquaintances, business associates, or other institutions where you hold an account – is to officially notify people of a shift in your address.
This is an important step to remember and must be done as soon as possible, perhaps even before moving day.
To help you know where to get started, check out the following free templates available for free download in PDF and Word document formats. Most of these are examples for personal account details.
(If you are working and have recently gotten married, congratulations – you will have to change your employee status as well. Check out these Employee Status Change Form templates and samples)
Change of Address Social Security Form
Change of Address Driving Licence Form
Change of Address Medicare Form
Printable Change of Address Form
DMV Change of Address Form Sample
Why and When to Use Change of Address Forms
If you are running a small company or have just gotten started, this is the perfect time to gather the templates of forms you will likely need. If you see change and growth in your future, whether personally or business-wise, you need to be prepared to make the transition cleanly and efficiently. This naturally includes having your paperwork in order and notifying the appropriate contacts of a significant long-term change as an adjustment in location.
This is especially true for businesses who wish to resume operations as soon as possible and need to get all partners, associates, suppliers, and others on the same page.
This is also important for legal matters, in case of identity theft or any other opportunities for fraud that might arise from a change in address. Timeliness in this regard will save you a lot of trouble down the road.
Personal Accounts
Many establishments may have their own forms for updating personal information linked with your account. Make sure to ask for the latest version and whether you can send download the form from the company website and send it digitally.
For accounts in institutions as health insurance agencies, you can also find some samples in this list of information change forms. Check whether the current version is the latest one. Otherwise, it would be a simple matter of transferring your details to another form.
(HR personnel: You might be interested in checking out our Sample Payroll Change Forms as well for more templates dealing with sensitive information.)
Mail Change of Address Form Example
Change of Address Request Form
Student Change of Address Form PDF
Employee Change of Address Form
Notice of Change of Address Form
Vendor Change of Address Form
Change Order Request Forms
While this list mainly deals with changes for personal accounts and addresses, business owners may have a lot more work to do if shifting the stage of operations.
For business owners facing change, they may make use of our Change Order Request Forms, examples of which are readily available for download here.