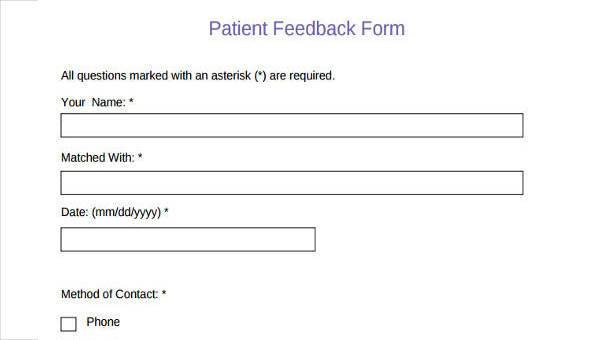 Whether you're a doctor, a dentist, or even a therapist, you're always going to have loads of patients every single day. There are people who have problems, and those people need all the help that they can get.
A patient will need to assess how well he's being treated. He'll want to assess if he's getting the treatment that he needs and if the person who's giving the treatment is doing a good job or not.
That's why there are Patient Feedback Forms that allow patients to evaluate and show those companies how their treatment went and if they were fully satisfied with how they received it.
Physiotherapy Patient Feedback Form
Patient Satisfaction Feedback Form
Dental Patient Feedback Form
New Patient Feedback Form
The Different Kinds of Patient Feedback Forms
Patients need to make sure that the professionals in charge of their treatment have had the proper training. There are usually Training Feedback Forms that allow patients to evaluate these people. Then there are the forms which allow the patients to assess how well these professionals did their job. Here are some examples of these forms:
Physiotherapy Patient Feedback Forms are for those patients who have been affected by serious injury, illness, or disabilities, and need help through  movement and exercise, manual therapy, education, and advice. These allow patients of physiotherapy to make orderly feedback for these kinds of services.
Patient Satisfaction Feedback Forms are used by patients of all manner to assess how satisfied they were with the kind of treatment they received.
Dental Patient Feedback Forms are forms that are used by those who need dental treatment. These are for them to give the dentist proper feedback on how well they operated and if they were treated fairly and orderly at all times.
New Patient Feedback Forms are forms that are used for those people who are new patients to certain facilities and especially used by companies when they want to find out how well they performed on a new patient.
Patient Feedback Form Example
Generic Patient Feedback Form
Patient Feedback Sample Form
Free Patient Feedback Form
Client Patient Feedback in Doc
The Importance of Patient Feedback
It's importance for those providing these services to listen to the feedback of their patients. There are a number of ways to find out if they're doing their job right or not. One way would be the use of Service Feedback Forms to help patients show just how well those services were performed and if they were satisfied with it or not.
These different kinds of feedback can help professionals determine how they can improve their services to make sure that the patients get the treatment they deserve. Listening to patients and actively seeking their feedback is gradually becoming ingrained in every healthcare company. This is a good thing, considering that they need all the information they can get to produce top quality service to those patients that need them.