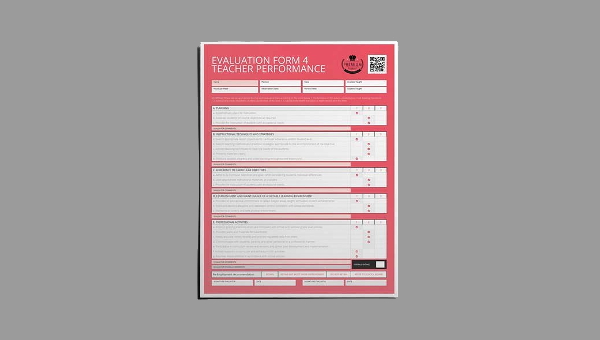 An Evaluation is the process of assessing an individual or an organization to see if the same is able to perform according to the standards that have been set. Evaluations are constructive tools meant for growth and development and are typically conducted in schools or offices where a periodic calibration of performance is needed.
From time to time, companies and organizations need to evaluate their level of performance in order to provide quality and efficient products or services to their clients. A company that fails to periodically check on the way they execute their merchandise will more or less be doomed to fail.
Training Evaluation Form
Post-Training Evaluation Form
Sample Training Evaluation Form
Training Effectiveness Evaluation Form
Course Evaluation Form
Course Evaluation Form Sample
Course Evaluation Form for Student
Learner Evaluation Form
Employee Evaluation Form
Employee Performance Evaluation Form
30-Day Probationary Employee Evaluation
Professional Employee's Evaluation Report
Workshop Evaluation Form
Coaching Workshop Evaluation Form
Sample Workshop Evaluation Form
Financial Workshop Evaluation Form
Interview Evaluation Form
Candidate Interview Evaluation Form
Sample Interview Evaluation Form
Standard Job Interview Evaluation Form
Peer Evaluation Form
Peer Review Evaluation Form
Peer Review Essay Evaluation Form
Quick Peer Evaluation Form
Conference Evaluation Form
Sample Conference Evaluation Form
Free Conference Evaluation Form
Post-Conference Evaluation Form
Self-Evaluation Form
Annual Self-Evaluation Form
Employee Self-Evaluation Questionnaire Form
Early Years Self-Evaluation Form
When an evaluation is conducted, the capacity, capability, achievements, skills, strengths, and weaknesses of an individual, a staff worker, a production team member, a CEO, and many other things are being assessed and identified. By conducting a thorough, objective, and unbiased evaluation, managers and administrators can determine a person's performance and figure out ways to improve weaknesses and retain strengths.
The Advantages of Conducting an Evaluation
Points out Strengths and Weaknesses
Periodic Evaluations give managers and administrators a chance to properly and critically assess a person's strengths and weaknesses. Through this process, they can help them work on ways to improve on the skills they are not so good at through proper career developmental training.
By determining a person's strong and weak points, managers and administrators will also be able to properly profile or assign them into departments or work responsibilities that allow them to optimize their potential to make them more productive in work or in school.
A Basis for Promotions and Salary Increase
In a workplace setting, an evaluation is severely important because it serves as a basis for an employee's promotion or salary increase. Most managers document the results of an evaluation to serve as supporting details or references for when the employee is being profiled for bigger responsibilities or an increase in wages.
Provides Options to Help a Person Improve
After determining an individual's strengths and weaknesses, a method of training and development can then be conducted in order to address an individual's weak points. In a workplace setting, a Career Development Training is an example of a developmental program that an employer can provide to improve employee performance.
An Evaluation is a broad type of assessment. Evaluations can be done at work, in school, at a charity organization, and on any type of person or institution that wishes to calibrate the way it performs in order to provide better service and to succeed. Below are some examples of the common types of evaluations:
Job Performance Evaluation
A Job Performance Evaluation is an evaluation conducted by supervisors in the workplace. This method of assessment is usually done during an employee's anniversary to help the management determine whether the employee deserves to be promoted or to receive a high increase in compensation.
Employee Performance Evaluations can also be a channel of communication between an employee and a manager. Evaluations promote feedback, praise, and constructive criticism in the workplace. By performing performance evaluations periodically, managers and employers can recognize and reward good employees and will help employers stay in tune with the needs and concerns of its staff.
Conducting an effective Job Performance Evaluation takes careful observation and proper documentation. Below is a step-by-step process on how to conduct an effective and constructive Job Performance Evaluation in the workplace.
Set Standards and Goals
Before you can accurately evaluate an employee's performance level, you must first accomplish a set of standards and goals that the employee has to meet in order to pass. Your standards have to be the type of performance you want an employee to accomplish while your goals should be tailored to what each employee is capable of.
Document an Employee's Work Performance
Keep track of an employee's work performance, such as his achievements and any disciplinary action that was given to the employee for misconduct. Documenting these instances will help you properly evaluate an employee's character and abilities.
Provide Feedback
A manager or a supervisor needs to set aside time to organize results of the evaluations he has conducted and discuss the results to his employees one by one. During the discussion, point out his strengths – let your employee know that you appreciate him for the good contributions he has brought to the company; afterward, point out his weaknesses and ask him on ways to help him improve in a particular area. Finally, a manager can then offer suggestions and give out target goals to help the employee improve on his weak spots.
Teacher Evaluation Form
Student Teacher Evaluation Form
Teacher Evaluation Form
Teacher Performance Evaluation Form
Course Evaluation Form
Free Course Evaluation Form
Sample Course Evaluation Form
Printable Course Evaluation Form
Student Evaluation Form
Student Course Evaluation Form
Student Peer Evaluation Form
Student Evaluation Form of Teachers
Event Evaluation Form
Special Event Evaluation Form
End-of-event Participant Evaluation Form
Event Planning Evaluation Form
Marketing Evaluation Form
Associate Marketing Evaluation Form
Marketing Agency Evaluation Form
Administrative Assistant Evaluation Form
Supplier Evaluation Form
Basic Supplier Evaluation Form
Supplier Quality Evaluation Form
Supplier Evaluation Checklist Form
Job Evaluation Form
Job Evaluation Application Form
Job Evaluation Review Request Form
Post Job Evaluation Form
Presentation Evaluation Form
Business Plan Presentation Evaluation Form
Group Presentation Evaluation Form
Oral Presentation Evaluation Form
Leadership Evaluations
In today's day and age, the definition of a real leader is one who can effectively inspire his members to aspire for a goal and to motivate and manage his members to accomplish that goal together.
Becoming a leader – such as a manager, a supervisor, or a director – entails more than just a set of rubrics. True leaders are skilled in the art of leadership, and leadership is the art of being able to manage people and inspire them to perform a vision not out of force but because they want to do it.
Since leadership requires skill and art toward attaining a goal, not everyone has the capacity to be a good leader, which is why Leadership Evaluations should be periodically conducted to determine if a manager, a supervisor, or a head of a department still has the ability to act or perform as an effective leader. Below is a list of some of the characteristics of a good leader:
Is Self-Aware. A good leader has a familiar knowledge of his strengths and weaknesses. A person who is in tune with his inner emotional state will more or less be able to determine his own capabilities and limitations. This will allow the person to push himself to his maximum potential.
Has a Vision. A leader should be able to work toward a vision and turn that vision into an inspiration for himself and the success of his team.
Motivates His Members. An effective leader is one who is able to motivate his team members into wanting to finish a task instead of telling them what to do or forcing them to finish it.
Is Socially Aware. A good and effective leader is one who is able to identify his team members' strengths and weaknesses. He is able to identify which among his team has more influence and which ones need more training or aid in the group.
Has Self-Direction. Ultimately, a good leader needs to be able to direct himself effectively. He should be organized, does not procrastinate, finishes tasks accurately and efficiently, knows how to calm himself when angered, can make decisions quickly when needed, but can also be slow to consider all the options.
Is Pro-active. A leader should be skilled at problem solving, looking ahead, and is not satisfied with mediocrity or settling for things as they were.
The Advantages of a Leadership Evaluation
Guides In Career Goals. Good and effective leadership assessments help an individual define where exactly they want to go as an executive and how to get there. Leadership allows a person to measure his capability to handle various roles and responsibilities and conducting a leadership assessment helps them assess their performance in different areas, helps them determine their strengths and their weaknesses, and helps them to figure out what they need to do to improve themselves and tackle new challenges.
Promotes Self-Awareness. Through an effective and objective method of leadership evaluation, an individual is able to determine what kind of person he is, the qualities and strengths that he has, the method he incorporates to lead a team or an organization, and the way he conducts business with clients and with others.
Performance Evaluation Form
Sample Performance Evaluation Form
Student Performance Evaluation Form
General Performance Evalution Form
Appraisal Evaluation Form
Self-Appraisal Evaluation Form
Performance Appraisal Evaluation Form
Teacher Performance Appraisal Form
Program Evaluation Form
Learning Abroad Program Evaluation Form
Student Activities Program Evaluation Form
Evaluation Form for Child Nutrition Program
Financial Evaluation Form
Financial Capacity Evaluation Form
Financial Planning Services Evaluation Form
Application For Financial Evaluation Form
Consultant Performance Evaluation Form
Teacher Evaluation
A Teacher Evaluation refers to the formal process wherein a school rates and reviews the performance and effectiveness of a teacher in the classroom. The general purpose of a Teacher Evaluation is to ultimately provide feedback to teachers and help them work through their professional growth and development.
The factors used to evaluate a teacher vary according to details and requirements. Traditionally, Teacher Evaluations were conducted through classroom observations conducted by the principal or school administrators; in some instances, student's work, teacher's records, lesson plans, and other significant factors were also used to assess a teacher.
Everyone seems to think that teachers have to be evaluated, but establishing the exact reasons why they should be can be quite unclear sometimes. Below are some reasons why Teacher Evaluations are necessary in school:
Allows Educational Boards to Grant Tenure to Teachers
Board or Department of Education typically grants tenure to teachers who have surpassed and completed their probationary period. Most of the time, tenure is granted based on recommendations written by superintendents or principals. These written recommendations are primarily based upon the results and findings of a Teacher's Evaluation and other significant accomplishments.
Provides Constructive Feedback
Teacher Evaluations allow supervisors or administrators to provide feedback relating to the success or the demise of a teacher's teaching method in light of their lesson plans. Lesson plans are important tools used by a teacher. It details methods that a teacher uses to instruct students in accordance with the mapped outline that follows the specified curricula. Through Teacher Evaluations, teachers and administrators will be able to determine if they were able to meet the written objectives stated in the lesson plan.
Aids in Better Classroom Management
Through Teacher Evaluations, teachers are able to improve and develop their teaching skills to help students learn and understand more in class. Highly effective teachers are able to provide enriching and lifelong educational and career aspirations among students.
Employee Self-Evaluation
An Employee Self Evaluation enables employees to objectively and accurately gauge their level of performance. A Self- Evaluation Form will serve as their guide and basis for the set criteria that has been established by the management.
The results of an employee's evaluation allow workers to reflect on their skills and abilities and to determine their strengths and weaknesses. Administrators and supervisors will also be able to properly profile employees and provide proper training procedures if they undergo Employee Self-Assessments.
The results of an employee's self-assessment are one of the key basis for determining an employee's success or demise within a company. It is therefore imperative that an employee takes ample time to reflect on what to put into his self-evaluation.