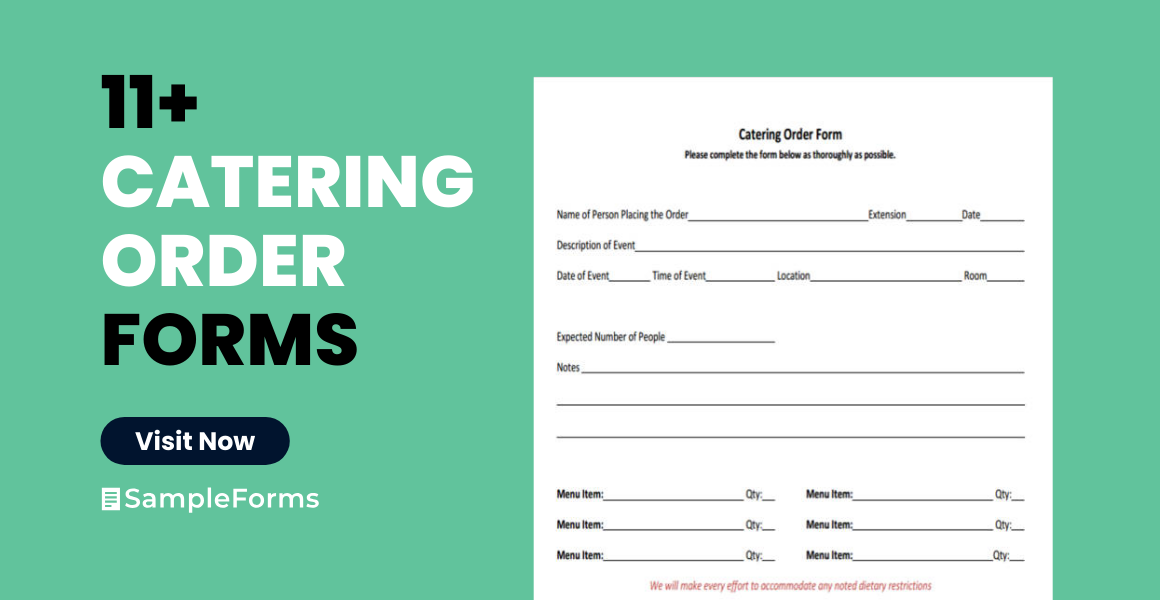 Order forms are what are used by people who wish to acquire goods from certain companies. Those who provide these goods must learn how to properly design an order form to ensure that their customers can easily place in what they would like.
There are multiple order forms that cater to different types of companies and these businesses must learn to create the right order form that their customers can use. To help customers, we have information regarding how they can better utilize these forms to acquire what they need. All one has to do is look up the right order form that he or she wishes to know about.
Catering Event Order Form
Catering Menu Order
Catering Purchase
Catering Services
Catering Job Order Form
What Is a Catering Order Form?
A catering order forms is what one uses during situations wherein that person would like to hire a certain food service to cater to a specific event. Think of these in a similar way to food order forms wherein not only do you request for specific type of food to be delivered, but you also provide other information such as the type of event the food is for and more details regarding when and where everything needs to be brought. So be sure to fill these out completely to ensure that you get all the food that you need for when and where it should be.
How to Create a Catering Order Form
You may opt to make use of software that allows you to use templates for forms such as catering proposal forms for your catering order purposes. You must then customize the template with the following information:
Date of catering
Contact details
Contact phone number
Delivery location
Delivery drop off time
Delivery retrieval
On-site phone number
Client's complete name
List of food and beverages available
Cost for each
Quantity that the customer would like them in
Catering Food Order
Restaurant Catering Order
Target Catering Order
Catering Order Form in Excel
Catering Email Order Form
Exhibitor Catering Order Form
Creative Ways to Handle Last Minute Catering Orders
If you are having a very busy day, you may rely on your relatives to help you out during your catering service. You can even plan ahead and train them.
Train a courier service to take on your orders. Doing so can help you find a quick partner that will help you with your needs.
Always analyze your order. Knowing what is needed and when it is needed can help you prepare and call ahead for anything that you might need.
These can also be used when handling any orders made using product order forms.
Great Advantages of Selecting Catering for Business Meetings
Ordering and delivery is made much easier. Considering that most catering services have their menu's on a website, all you have to do is instruct about the date, time, and place.
It helps save you ample time and costs. Considering that the caterer will handle everything regarding the food, you can use the time to handle other things concerning the event.
It makes food preparation hassle free. All you have to do is instruct and provide payment and the catering service will handle the rest.
So make sure to take all of that in mind when making use of sample order forms for catering any of your events.