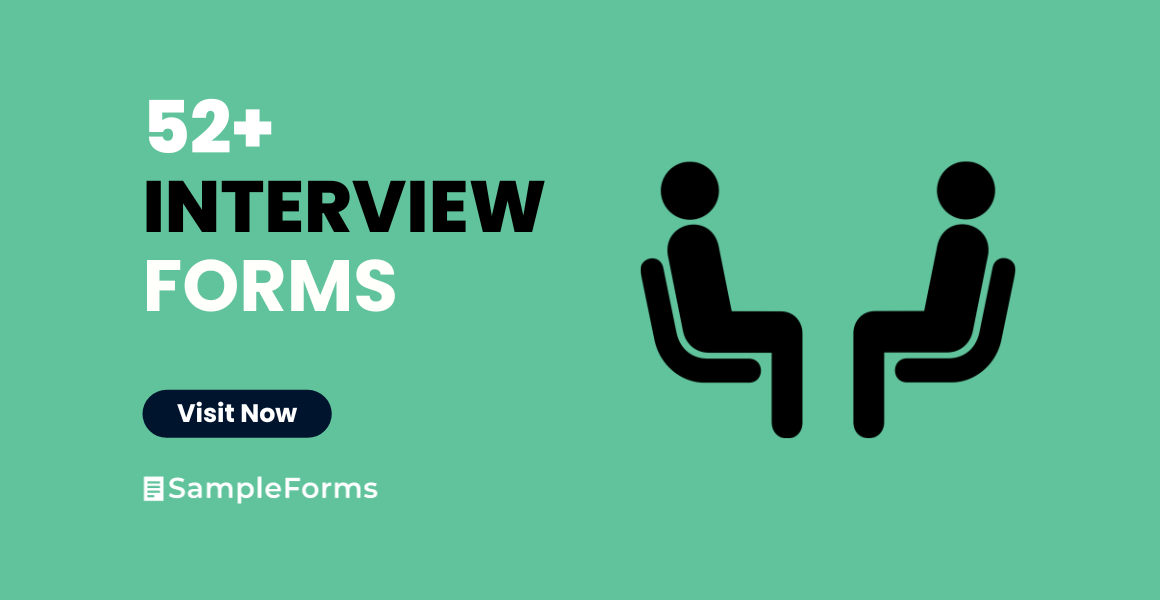 Humans are, by nature, curious beings. To satisfy the need to acquire knowledge, we conduct various modes of data gathering methods, such as using interview forms. In the business world, the need for data gathering is evident and crucial. Interviews help companies gain leverage in the business competition. Whenever applicants submit their registration forms, the company heads become curious about the applicant, wanting to know much about them. An interview form, usually handled by managers, follow assessment. The file provides managers with an idea if the applicant is fit for the job that the company offers. However, this is not the only use for interview forms.
52+ Interview Forms in PDF | MS Word | XLS
1. Interview Report Form
2. Supervisor Interview Form
3. Interview Consent Form
4. Selection Interview Form
5. Interview Scoring Form
6. Exit Interview Form
7. Citizen Mock Interview Form
8. Interview Evaluation Form
9. Interview Form Sample
10. Interview Feedback Form
11. Interview Position Form
12. Walk In Interview Form
13. Interview Assessment Form
14. Interview Application Form
15. Interview Question Form
16. Teacher Interview Form
17. Interview Release Form
18. Initial Interview Form
19. Interview Signature Form
20. Food Employee Interview Form
21. Interview Leave Application Form
22. Interview Expense Form
23. Interview Rating Form
24. Wage Interview Form
25. Interview Feedback Form
26. Volunteer Interview Form
27. Interview Expenses Claim Form
28. Interview Services Form
30. Social Information Interview Form
31. Prenatal Interview Form
32. Applicant Interview Form
33. Interview Details Form
34. Admission Interview Form
35. Annual Interview Form
36. Patient Interview Form
37. Candidate's Interview Form
38. Corporate Interview Form
39. Complaint Interview Form
40. History Interview Form
41. Interview Approval Form
42. Interview Release Form
43. Interview Data Form
44. Interview Intake Form
46. Pre Consultation Interview Form
47. Interview Teacher Form
48. Community Interview Form
49. Campus Interview Form
50. Farm Interview Form
51. Separation Interview Form
52. Interview Result Form
53. Employee Interview Form
Why Do We Need Interview Forms?
The need for assurance is crucial for business owners. Company heads need to know the background of their employees and their incoming job applicants. Thus, the company employs the use of interview forms as well as other documents containing personal information of the applicant. Interview forms are legal business documents that fall under the category of files that gather data.
The use of such materials is a standard procedure to ensure the company that they will get professionals. Interview forms, and the like, help provide the managers and the hiring committee the needed information about the applicant. A sample assessment follows after the applicant submits his formal resume, mostly containing his contact information and employment history.
What Are the Uses of Interview Forms?
Job interview forms are relevant in gaining the right kind of professionals to help the company be competent in the realm of business. Companies receive a lot of application forms from potential employees, but they need to assess the applicants first. This situation is where interview forms come in handy. An interview form can be useful to a company in many ways if you only know how to utilize its potential. Know further other uses of interview forms by reading the article further below.
Hiring – In all essence, interview forms serve to further the hiring of competent workers. Recruitment is a highly prioritized by a company since operations cannot function well without as much as many hands as possible doing the work. In this scenario, the company needs to have numerous competent workers, and thus comes the instances where companies do "Urgent Hiring!" This method is a company's desperate attempt to keep up with other businesses and still find recognition as a "competitive" entity. However, this situation may also happen when many workers simultaneously resign from work.
Assessment – The first use of interview forms is to assess the applicant's qualifications through sets of questions. Assessment is a highly crucial phase in the hiring. Despite some companies posting "Urgent Hiring," hiring anybody may be the most disastrous decision that a company does. Keeping quality and competitive status means acquiring competent and qualified workers. An assessment helps the company sort out the good workers from the bad ones, and eventually hiring the great ones. Only through interview forms can companies know which applicant observes excellent work ethics and produces quality services. Without the assessment phase, companies may eventually hire more workers, but only learning that quantity does not instantly mean quality.
Safety Means – This type of use is an expansion of the assessment section. Along with knowing who are better applicants, companies need to be mindful of who they let in the facility. There are situations where a qualified applicant may have criminal tendencies. Sure they might have a police clearance, but who is to say that those documents are not fake? Interview forms help companies see their credentials and get to know the applicants by talking to them.
Data Gathering – Companies need information from employees and future applicants. Also, how do they obtain personal information? They use the interview forms. Interview forms are one way of data gathering. Each of the sections in the document exists to serve the purpose of acquiring essential data that the company needs to assess if the applicant is right for the position. For the company to progress with its status, it needs workers. Only through acquiring data can the company know what kind of workers it needs. The data may find the presentation through its employee qualifications that the company direly needs.
What Are the Elements in an Interview Form?
An interview form needs individual sections. Without these sections, interview forms may not pose such positive and productive results in terms of gathering enough data for the company to use. There are specific data that the company wants. Gathering applicant data is similar to collecting customer data. The only difference is that applicant data are useful for hiring purposes and the client data for marketing means. Know more about the elements that help interview forms gather the needed data.
Applicant Background – Companies would want to know who the applicant is, such as what his hobbies are. The applicant's background information is essential for paper and social security purposes. A company cannot hope to hire an applicant if the person is not willing to trade his personal information. It is still a business, after all. As they say, "An eye for an eye and a tooth for a tooth." The company will consider a person's application if they truthfully write their background. The company will not squander the information anyway, and the data is only for paperwork.
Employment History – An interviewer will always ask an applicant about their employment history. An employment history tells about an applicant's experience and work ethics. Some companies prefer employees that still have not to experience any work. They need the loyalty and innocence radiating from fresh graduates. In this case, the company has an assurance that the employee will not leave them since they are starting and do not want to taint their record. For the ones who have job experiences, some companies look for such people since these people have the experience, the knowledge, and the dedication to keep their record clean.
Education History – For companies to know that your qualifications fit the role, despite not having any work experience, they look at your sample education history. Some companies are particular about where the applicant went to school before applying. Some companies prefer a specific kind of school, usually a private school, and they base their judgments if an applicant comes from that school. A school defines how an applicant works. At least this is what some companies think. Therefore, a vast number of companies prioritize where an applicant went to school.
Skills and Abilities – And the last element is the applicant's other skills. Aside from the company's qualifications, they also want to look for other useful skills, and so some interviewers check out this portion of the document. Some new capabilities that the company might use for the overall benefit of the business and its workers. Who knows? Perhaps there are some skills that the interviewer may find useful.
How to Create an Interview Form
Interview forms are not as difficult as people might think. You need only place numerous relevant sections that will help in the data gathering of the applicant. Assessment is always the top priority, and an interview form must be able to do this purpose well. The steps below are some examples of how one creates an interview form, the whole process.
Step 1: Ask the HR
You can't expect to create the interview output without sufficient existing sample general information. Interview forms base off its sections from the applicant's data. Start the data gathering by heading to the HR and asking them politely to give you previous applicant forms. Make sure you have enough files that you need before you start outlining.
Step 2: Organize the Data
Once you gathered all of the necessary documents, you can start taking notes of the patterns that you find among the applicants. Age range. Interests. Skills. School History. Work Experience. Goals.
You need to consider these data when making a set of qualifications for the ideal worker. However, these qualifications may be the standards, but you should not stop at them. One must take into consideration the countless workers with varying personalities and work ethics. When organizing the data, make sure to be lenient.
Step 3: Keep it Clean
As much as possible, you need to watch out for the cleanliness and the organization of the section. If you merely put everything that comes into mind on the document, the output will be messy and cluttered. Keep it simple, and keep it clean.
Step 4: Review the Output
Review the output before you print it. There might be residual mistakes in there. Be mindful that you are human and thus are prone to errors. Mistakes do not define you, so be observant of the errors that you find when reviewing the document again. Keep these things in mind when you create another interview form.
When a company is in a desperate state, great applicants will be its comfort food. There will be countless "Urgent Hiring!" and interviews. And also, numerous interview forms are surely there to help facilitate the process of natural selection. Without such documents, what will become of the company? Who knows how the company will gather enough information to wisely select from the pool filled with applicants of all sorts and sizes.