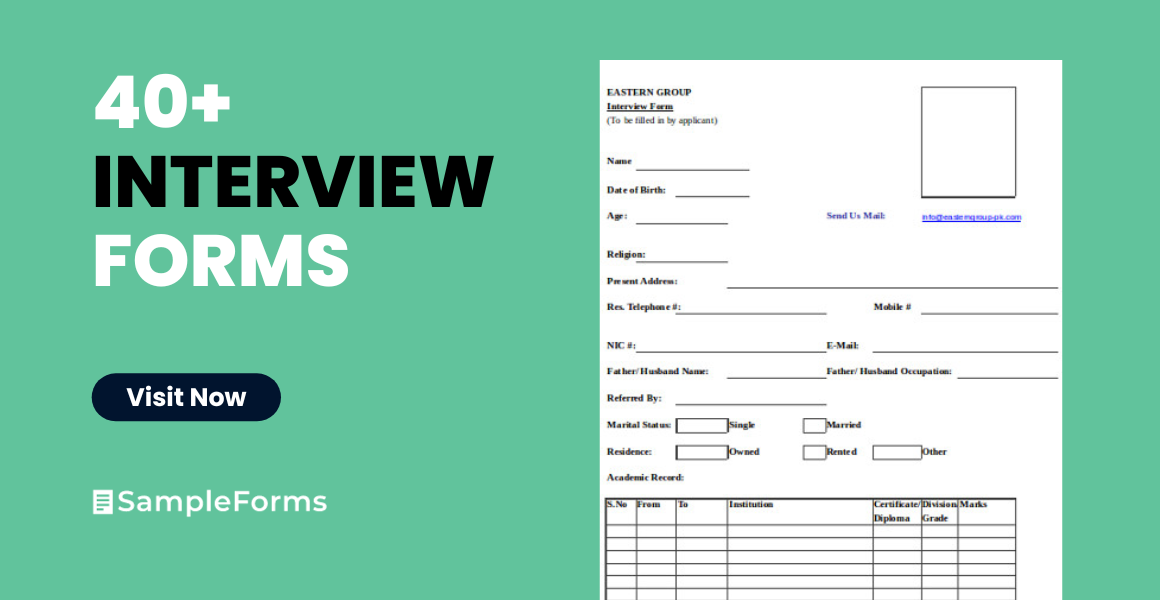 The results of every interview that is conducted must always be properly looked into. This is why creating interview feedback forms are always a top priority for every company and organization, so that they are able to properly assess the process of how their employers are able to find applicants suitable for certain positions.
These blank forms even allow the employers to properly assess an applicant's qualities. A good example would be through the use of Interview Evaluation Forms wherein the employer properly evaluates the results of the interview of specific applicants. All one has to do is to know how to properly evaluate all information contained in an interview evaluation form.
What is Interview Form ?
An Interview Form is a structured document used by interviewers during job interviews to record and assess a candidate's responses, qualifications, skills, and suitability for a position. It typically includes sections for noting personal information, answers to specific questions, skills assessments, and overall impressions, aiding in a consistent and comprehensive evaluation process. This form serves as a valuable tool for comparing candidates and making informed hiring decisions. You may also be interested in our Interview Release Forms.
What is the best Sample Interview Form?
The best sample interview form efficiently captures key candidate information, responses, and interviewer assessments, facilitating a thorough and fair evaluation process.
This fillable form can be customized based on the specific requirements of the role and the organization's hiring criteria.
40+ Interview Forms in MS Word | PDF | Excel
Interview Evaluation Form Samples
Job Interview Evaluation Form
Interview Presentation Evaluation in word Format
Standard Interview Sheet Evaluation
Interview Evaluation Report Checklist
Interview Questionnaire Form Samples
Pre-Interview Questionnaire
School Exit Interviews Questionnaire
What to Write in an Exit Interview Form
In the event that you would like to draft an Exit Interview Form, you will have to know who you are writing to. This is similar to using Interview Feedback Forms. After stating the name of the person in charge of handling the exit interview, as well as that persons' department and position, you will then need to provide ample reason in the form as to why you are exiting the company or organization. Properly and clearly state the purpose such as receiving inadequate compensation or finding better opportunity elsewhere.
How to Fill Exit Interview Forms
If one were to fill out exit interview forms, then it is best that you know the following information to place in:
Complete name of the employee.
Employee's job title and department.
Name of the person conducting the exit interview.
The date of when the interview is conducted.
The amount of service provided by the employee.
The reason as to why the employee is exiting the company.
These information are also useful in the event that you would use Interview Assessment Forms to properly.
Job Interview Form samples
Job Interview Evaluation
Job Shadow Interview
Candidate Job Interview
Interview Assessment Forms
Individual Interview Assessment
Interview Self Assessment
Functional Assessment Interview
Interview Candidate Assessment
Exit Interview Form Samples
Sample Exit Interview
Employee Exit Interview
Volunteer Exit Interview
Interview Application Forms
Interview Job Application
Candidate Interview Application
Application Form for Pre-Interview
Why Is it Important to Use a Standardized Interview Form?
Making use of a Standardized Interview Form Format can help many employers in their search for finding those people who may be considered valuable. The point of conducting an interview is to help someone see if certain people are able to meet specific qualifications. Interviews can help sort out those who pass or even exceed expectations, and those who are better off at finding something else that is more suited to their level of skill.
Using standardized forms allows the employer to ask a series of questions that can be used repeatedly on other applicants. By doing so, the employer will have a much easier time in evaluating each answer given, as well as seeing all the applicant's responses to each question. Each employer may have a personal preference when choosing an applicant, but so long as they make proper use of the right interview forms, then they can be guaranteed that they will be able to hire the right person.
This does not just help employers hire applicants into the business, but it also gives them to opportunity to promote employees who have been nothing short of outstanding. Some superiors may notice employees who could be prime candidates for a promotion. These superiors must then conduct an interview with the candidates and make use of Interview Evaluation Forms, to help them understand whether or not one of the candidates has the skill and degree of responsibility that may suits the position.
So in the event that you would like to make use of any interview forms, such as Exit Interview Forms in which an employer interviews an employee that wishes to exit the company, then be sure to know when and where to use each. This will help you obtain the information you need, as well as help you choose what's best for your business. In addition, you should review our printable forms.
Interview Release Forms
Interview Release Consent
Oral History Interview Release
Sample Interview Release
Video Interview Release
Interview Feedback Forms
Mock Interview Feedback
Sample Interview Feedback Form
Consultation Interview Form
Initial Client Consultation Interview
Participant Interview Form
Agreement to Participate Interview
Interview Verification Forms
Training Interview Verification Form
Sample Interview Verification
Interview Consent Form Samples
Photo Interview Consent
Sample Informed Consent
Student Interview Forms
Student Assisted Interview
Classroom Student Interview
Blank Teacher Interview
Interview Expenses Form
Return to Work Interview
Interview Rating Form
Interview Informed Consent Form
Free Employee Interview
Candidate Interview Evaluation Form
Basic Interview Form
What is Interview Form in Research?
In research, an interview form is a structured tool used to conduct and record responses during interviews with participants. It typically includes a series of predetermined questions designed to gather qualitative data relevant to the research study. These forms help ensure consistency and comprehensiveness in data collection, allowing researchers to systematically capture insights, opinions, and experiences from various individuals. The format can vary from open-ended questions to more specific, guided inquiries, depending on the research objectives. This tool is essential in qualitative research methodologies where in-depth understanding and detailed information are sought from participants. You also browse our Interview Questionnaire Forms.
Tips for Preparing a College Interview and What to Expect
Prepare to describe yourself. College interviews almost always start with the questions "Can you tell me about yourself?". It's always best to have an accurate description of who you are and what sets you aside from other applicants. Just be sure that you aren't answering in a cliche manner, such as stating that you are very responsible.
Talk about why you are interested in their college. This helps the interviewer know that you are very interested and have given it much thought. So talk about the program you wanted to get into, as well as other activities within the school that have caught your attention.
When asked on what your strengths are, carefully define what they are, and how you utilize them. Do not just give a short answer, show how you are able to put your academic strengths to good use.
When talking about your weaknesses, talk about how you overcome them. If you remain at a negative standpoint, then it's most likely that you there is little to no chance of you being accepted. So be sure to properly state your weaknesses and show solutions on solving them. You should also take a look at our Interview Request Forms.
So in the event that you would like to download a Sample Interview Forms which will help you evaluate any student's interview, then make use of all the free interview forms available here.
What is the Interview Evaluation Form?
An Interview Evaluation Form is a tool used by interviewers to systematically assess and record the performance of a job candidate during an interview. This form typically includes criteria such as communication skills, technical expertise, experience, problem-solving ability, and cultural fit. It allows for a structured and objective evaluation, helping interviewers to compare candidates based on consistent parameters. The form often includes a rating system for each criterion and space for additional comments, ensuring a comprehensive review of the candidate's suitability for the position. This process aids in making fair and informed hiring decisions.