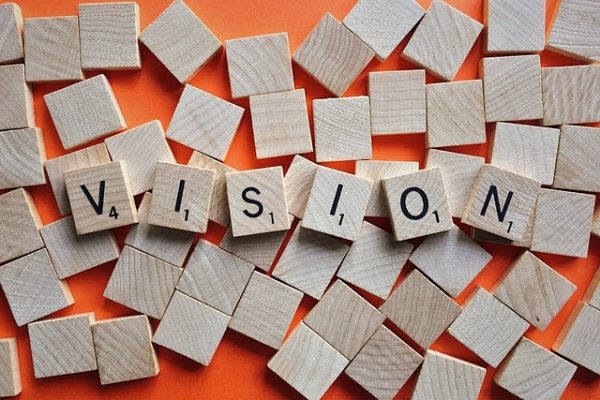 According to a statistical survey form, fifty percent of new businesses face drop downs in their very first year. The reasons why these businesses have failed include the lack of market research and financing problems which all rounds up to ineffective business proposal plans laid out by the entrepreneurs. To omit varieties of difficulties that tend to be lined in a domino's path, businesses must have a realistic goal and a clear vision of where they will be heading and who the target audience or consumers will be.
What Is a Small Business Vision Statement?
A business owner's vision can either be big-time or aimed for longevity. However, regardless if a business is categorized as a corporation or a small business, the vision must always be practical and must coordinate with the business's mission. In the event that a business's vision is not clear enough or can perceive a vague meaning, the people who are involved in the business may operate based on their skill and not on how the business must communicate with the consumers. A well-planned business vision statement is similar to a complete business agreement which contains everything that the involved parties agreed but rather in a single-page document and in a more summarized way.
How to Write a Vision Statement
Anyone can immediately have a piece of paper and a pen, or a laptop, and post his or her personal statement online. However, the difference with a personal statement from a business vision statement is the range of people involved as well as the numerous risks associated with an unplanned business plan. Nonetheless, with these steps, any entrepreneur, you, will be able to write down the appropriate vision statement to start a small business:
Step 1: Determine your finished products.
As you hold your pen and paper, consider the materials as your draft to avoid the feeling of frustration if you begin listing things down and erasing them due to an undecided mind. With this, you must think of the products that you aim to provide to your consumer complaint or a product which can boost your business company to the trendy lines of entrepreneurship.
Step 2: Add something unique.
Every individual living in the globe can sell cakes, but not everyone can create the similar taste of a single cake from a varying person. Keeping uniqueness in mind will require you to think of an aspect why your consumers will head to your store and why you will be signing more investment agreements compared to your opponents.
Step 3: Quantify and specify your targets.
This step will demand you to calculate, as well as to dream with regards to the number of people that you can serve every single day in your office. You can include that you aim for a million or every teenager in your residence to become your soon-to-be consumers for your unique products.
Step 4: State the effects.
The effects refer to how you want your consumers to feel and be into a relationship with your products and community services such as whether it will make their lives easier, or it will make their families happier with a single bite from your cakes. Stating the effects will allow you to step into the shoes of the consumers and considering their options.
Step 5: Compile the aforementioned steps.
Compile and summarize your draft to construct the vision which will aid your business's success. After which, you can then print the vision statement form along with your mission statement as a finalization procedure.
Step 6: Proofread.
Before you can add these statements into your company bylaws and to any business form where your vision and mission are vital sections, you must allow another party to proofread in order to omit erroneous or a poorly constructed statement.
Tips for an Effective Business Vision Statement
Keep it Short
There are a lot of spaces available in a sheet or paper, but you must only limit yourself in constructing a line of the vision statement of Information and not a paragraph of it. The minimum number of words will be up to you. However, stick to a sentence or two to avoid running around the bush with what you aim to do with your business.
Deal with the Basics
You must have a basic structure and a common dream with your co-business partners, since every basic idea will soon rise into something intricate and unique. Nonetheless, as you collect the ideas of your colleagues, assure that you are writing everything down to allow your business group in conducting a meeting evaluation right after. Additionally, the evaluation will also aid your group in determining what the glitches and useful ideas are.
Have a Time-Frame
Five or ten years from now, you must see and be with your business in a high-rated success. Though this type of mindset may land you a good vision, specifying your annual review goals will promote excitement with your team as well as permitting ways in solving problems to assure that you will be meeting your next year's vision.
Consider Significance
You aim to have happy and satisfied customers, well-paid staff, a business which will be known to the world, and your identity to be included in the Time Magazine's latest issue for the title "Businessman of the Year". These dreams will surely not come immediately as there is a lot of work needed to do in order to be acknowledged, to be known, to keep customers, and to secure the well-being of your staff which are reasons why you must know your priority on an annual basis. By this, you must inline your vision with what you can handle within the year and update it every time you have achieved and stabilized your vision.
Marry your Vision
When you make your vision statement, you are likely signing a marriage contract with it since you need to commit to your vision. Committing will not be a hard task for your business as long as you stick to the values and to a realistic, achievable vision, and not on something which you know will pull your business straight to rock bottom.
Additionally, a businessman or entrepreneur must assure that his or her vision is stated in a direct manner and will not open up chances to the readers to have varying interpretations and opinions. Even though it is a small business form which will be opened, there are no limitations as to how far a business vision will go, as long as everything will be kept on track for the long run.