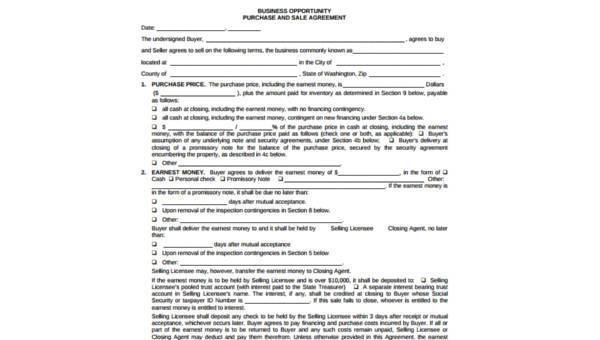 What usually happens when a business goes bankrupt or is not even breaking even with the expenses? They usually disappear and are never heard from again. However, some owners decide to sell them instead of gaining one final profit from a failed business.
Business Sale Forms help them with that process. These are used to sell or buy certain businesses that they feel are no longer relevant and are possibly even dropping out of the market.
Free Business Sale Form
Small Business Sale Permit
Contract Business Sale Form
Business Asset Sale Form
Sample Business Sale Form in PDF
The Different Types of Business Sale Forms
There are various Business Application Forms that help people sell or buy failed businesses. An example is Business Agreement Forms, where the owner properly assesses the business and will base his decision on whether or not he agrees to the conditions of purchase. Here are some other examples of forms to help with business sales:
Business Purchase and Sale Agreement Forms are used for both the buyer and the seller to come into agreement on the sale.
Business Sale Disclosure Forms are for those who wish to let the information of their sale be known.
Restaurant Business Sale Forms are used when restaurant owners decide to sell their restaurant, possibly due to very low revenue or some other unfortunate circumstance.
Small Business Sale Permits are used to sell small businesses like bakeshops or food stalls.
Contract Business Sale Forms are used to form contracts before conducting a business sale.
Business Tax Sale Registration Forms are forms that allow the person who purchases the business to learn about the necessary tax payments for his purchase.
When selling a business, the owners can use the Free Business Sale Forms, available in PDF format, to keep things simple for the buyer.
Business Purchase and Sale Agreement Form
Business Sales Disclosure Form
Restaurant Business Sale Form Example
Business Sale Tax Registration Form
The Importance of Business Sale Forms
There are those people who can no longer live with their businesses. Some businesses even cost their owners more money to keep them up. This is why there are some who decide to sell their businesses to potential buyers. Hence, business sales are conducted; they're used to buy or sell businesses in a formal and proper process.
However, there can be cases where one owner sells his business to a potential buyer, only for that potential buyer to change the business and become successful. One must always be careful before conducting a business sale. He or she needs to know why he's selling the business. He or she also needs to know the possible potential of a business.
A failing business does not mean a bad business. It could just mean bad management and innovation. So before selling your business, make sure that you've considered every option to try and improve it. If all fails, then by all means sell it.