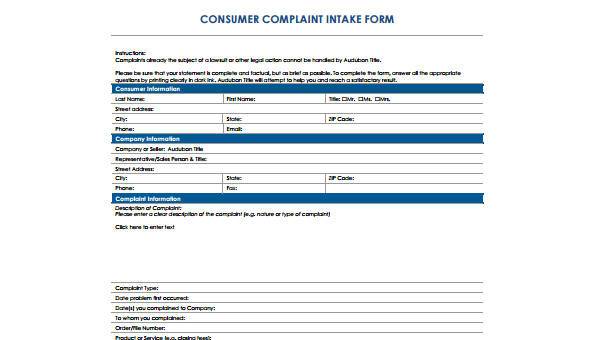 As consumers, we never run out of things to complain about, whether it's about how the chicken cordon bleu tasted absolutely nothing like chicken cordon bleu, or how that person on the bus did not even ask for an apology after stepping on your Doc Martens. A complaint is not always bad, though, especially if it is an admissible one; in fact, some complaints are even greatly encouraged. You should be glad Complaint Forms already exist and are up for viewing here so you can have a clear idea of how they look like and work.
Printable Consumer Complaint Form
General Consumer Complaint Form
Consumer Protection Complaint Form
Consumer Commission Complaint Form
Consumer Complaint Form in PDF
Consumer Affairs Complaint Form
It is vital to take note of customer's grievances and opinions, and here is where the Customer Complaint Forms come in. If you wish to know the category of a complainant you fall into, then you can check the information below:
The First-timer
This is the type that should not be taken lightly because they are still important, and any concerns should be fixed as soon as possible if the establishment does not want them to end up as "first-time-last-time" customers.
The Brat
This one is the kind of customer with various social media accounts and is always ready for any so-called reviews via the opinions of their friends and followers. Nevertheless, this bunch is still important for the business, especially on the promotional end.
The Parasite
This is the type of customer that groundlessly and endlessly whines about something. Cases of these need to be looked into, for there is a possibility that this is just some individual looking to take advantage of things they cannot afford to enjoy.
The Sheep
Even regular patrons themselves always have something to say. A complaint like this should warrant a remedy and a quick reply, lest the establishment lose them forever.
Consumer Complaint Application Form
Consumer Complaint Inquiry Form
Consumer Complaint Registration Form
Consumer Complaint Intake Form
Consumer Complaint Form Example
General Consumer Complaint Form
Filling out Official Complaint Forms is never fun, honestly, since you need to remember all the bad things you would rather wish to just erase. Moreover, it needs to be specific.
In order for Official Complaint Forms to pack a wallop, you must ensure it has these following attributes:
First and foremost, your handwriting should be legible, to make the establishment or business you are complaining against is interested, but it does not mean you need to have someone with a good hand to write things for you.
You should be strong when pointing out your concern. This does not mean that you need to use any foul language.  All you need to do is to be firm with the facts and the basis of your complaint. People listen more when complaints are stated in an authoritative yet objective manner.
Just cut to the chase. Beating around the bush does not always help.
Maintain formality and professionalism when writing your complaint form. Do not burn any bridges when expressing your concern as there are high chances that you will still be needing the service and/or product offers of the establishment in the future. And even if this is not case, a harmonious, or even civil, relationship with businesses will allow you to have a good history as a customer.
If you noticed the shop is running out of forms, please inform them. Yes, it is kind of a hassle to fill the forms out, but in the long run, they will help.