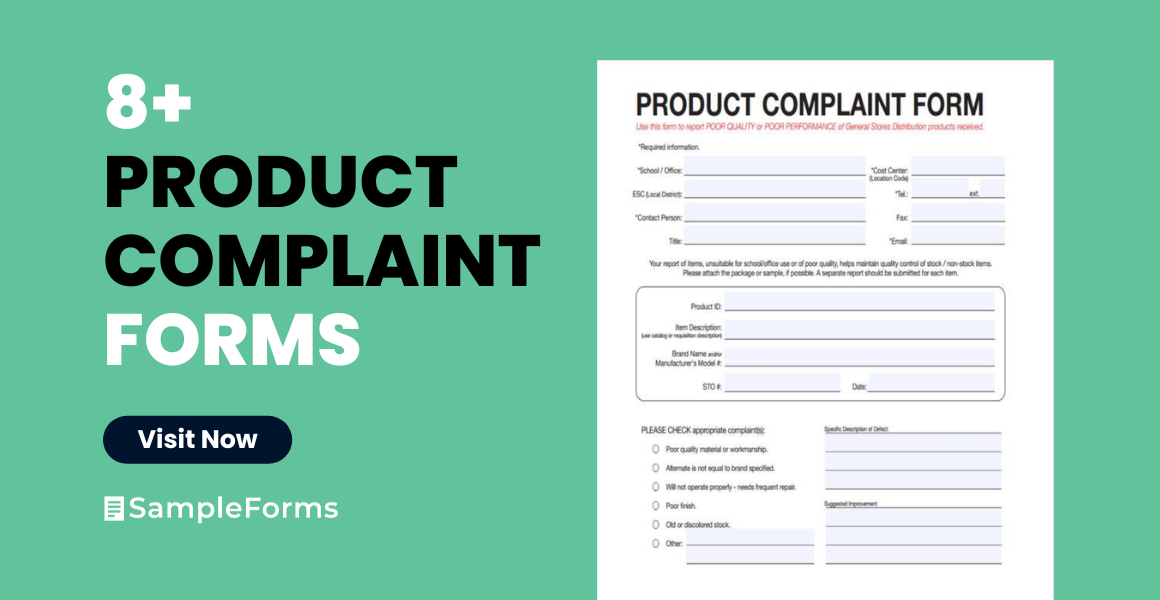 Every business needs some sort of product. Without a product, there is no business. Products are the reason that businesses stay alive. If a product is successful with the masses, then that means the product will be bought and give the business owners income. A good product means good business.
However, how about products that don't meet customer satisfaction? What if a customer bought a product and feels that he didn't get his money's worth?
Then they can use Product Complaint Forms that allow them to formally raise their concerns about a business's products.
Health Product Complaint Form
Customer Product Complaint Form
Product Complaint Form in PDF
Food Product Complaint Form
Product Quality Complaint Form
The Different Kinds of Product Complaint Forms
These kinds of forms are related to Customer Complaint Forms in a sense that if a customer isn't happy with a product, then it's the customer who has a complaint as to what the product offers or should have offered. Here are some examples of forms that customers can use to raise their concern about certain products:
Health Product Complaint Forms are used by customers who have recently bought health products and feel as if they aren't getting the nutrition or benefits that the health product was supposed to provide.
Food Product Complaint Forms are used by customers, especially those in restaurants, to complain about the type of food they received. These are even used by companies that have food suppliers and feel as if the food they received was not up to standard.
Product Quality Complaint Forms are used by those customers who feel as if the quality of a product that they purchased is below average or so bad that such a product can't even be used.
Product Complaint Investigation Forms are used when a customer has a complaint about a product to the point that a proper investigation needs to be conducted as to why the product isn't up to standards.
Product Complaint Form Example
Product Complaint Investigation Form
Product Complaint Form in Doc
Free Product Complaint Form
The Importance of Making Sure That a Customer Is Satisfied
Businesses need to make sure that the products they deliver to their customers are of the highest quality. If a customer feels that the product is indeed really good, then they'll tell their friends about it, and those friends will tell other friends. That means that the reputation of the business is improving, thus making the business more successful.
However, if a product is not to a customer's satisfaction, then surely he or she will spread the information to others while filing Official Complaint Forms to the company the product came from.
If a business hands out amazing products, then more and more customers will pile in. Hearing out complaints of products is just as important. They let the business know as to why customers aren't satisfied, and it allows them to change or improve the product.
Businesses should always listen to their customers and make sure that they're happy with their purchase.