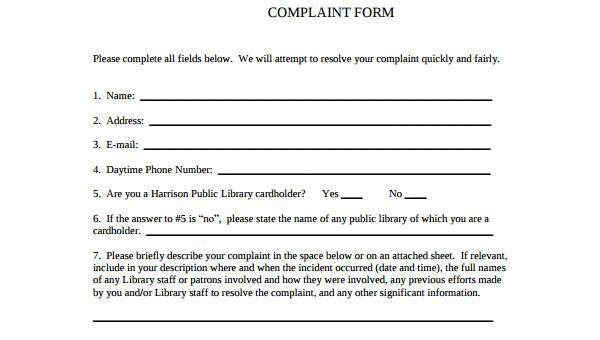 I could not forget what I experienced when I had my first job. I was jeered for looking "unusual" and overheard some distasteful comments. I kept losing my cool, but I chose not to go down the path of revenge. Hence, I tendered my resignation.
In a workplace, discrimination of any kind against a staff member is never admirable. Lucky for you, we now have Complaint Forms – something I never had the chance to take advantage of – available here for easy and quick download.
Professional Staff Complaint Form
Staff Informal Complaint Form
Staff Complaint Form in PDF
Generic Staff Complaint Form
Official Complaint Forms, likewise, would not only serve to address issues of workplace discrimination against an employee's ethnicity or race, but it also can tackle discrimination with regard to:
Religious beliefs – When you are in a company dominated by a members of a certain religion who exhibit tendencies for self-righteousness, you may expect some hostilities. Some folks just do not fully grasp the very simple concept of loving one another.
Political beliefs – New bureaucrats expel the ones employed during the opposition's erstwhile management.
Sexual preference – Homosexuals often experience the worst kinds of discrimination, and in our day and age, such discrimination is uncalled for.
Gender – Women do not get much attention for the promotion that some of them truly deserve.
Disability – People With Disabilities can be taunted at times by some of the more unsympathetic employees.
and
Corporate position – You are shoved into silence, and you do not get much recognition, especially if you are the "new kid."
All these can and must be reported via our forms as soon as possible for immediate addressing by the appropriate officers.
Staff Complaint Form Example
Staff Complaint Sample Form
Staff Complaint Form in Doc
Free Staff Complaint Form
Not all complaint forms are tailored for your corporate colleagues. There are also these forms called Customer Complaint Forms, which you can fill out if you are a customer who wants to report on, for example, a restaurant staff member's way of handling you.
Below are types of complaints a customer like you can get an idea about:
Good – Even the frequenters can fill out the complaint forms for something they believe is awry, and their complaints must be taken into serious consideration, lest you run the risk of losing the very reason your business is still running.
Public – The one consumers bring out to the public, and in the modern era, via some social media platforms. Along with the first two types of complaints, this should be, of course, remedied as soon as possible.
First-time – This type of complaint is from, well, a new customer, and any statement against a service that he or she deems poor should be rectified immediately.
Serial – A recurring grumble made by the same customer, though this needs to be kept in check regularly, since this might be a possible abuse from self-seekers disguised as customers.