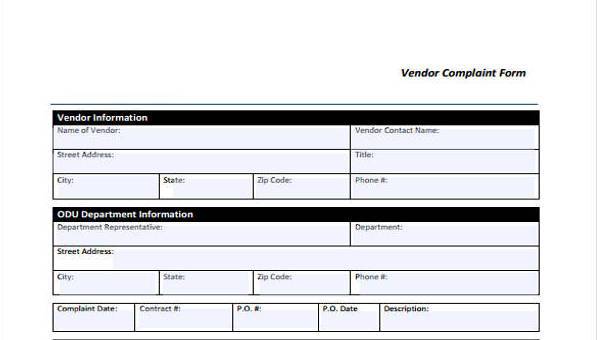 A complaint is an expression of an individual's grievance or resentment of an inaction or a behavior done that caused dissatisfaction. Generally, nobody wants to hear a person complain. Other than the fact that a complaint can sound annoying and tedious to hear, complaints can also cause our egos to be ripped apart.
Handling a complaint is never an easy thing to do, especially when it is given by a frustrated and irate customer. However, instead of viewing a complaint as a negative thing, business owners or management should think otherwise and should focus on the fact that a complaint is a way to help a business improve. Complaint Forms are used for clients to express their grievances.
Vendor/Product Complaint Form
Vendor Complaint Review Process Form
Vendor Complaint Form in PDF
Vendor Complaint Review Form
Helps to Make Important Decisions
Feedback from clients, whether positive or negative, is considered to be valuable information. A lot of top-performing companies use the feedback method as a way for them to continuously improve and to highlight their strengths and weaknesses so that they can continually do what they do best and eliminate processes that are causing them not to excel.
Makes Clients Feel Valued
Allowing clients to provide feedback makes them feel that they are valued. Feedback is a form of effective listening and has to stay true to its definition. Feedback is useless if actions are not made to improve the weak spots that are mentioned through the feedback.
Promotes Better Performance
By providing clients with a tool to express their experience, employees will be motivated to perform better and ensure quality service. This also helps build better working relations with clients, suppliers, and vendors. You can use our Customer Complaint Forms for easy downloading of forms.
Vendor Complaint Form Example
Vendor Discrimination Complaint Form
Notice of Vendor Complaint Form
Free Vendor Complaint Form
Simple Vendor Complaint Form
Enhances Company Morale
Feedback allows companies to boost their morale by ensuring that clients are able to express their grievances. Apart from the fact that this makes clients feel valued, these also show that you care and respect them enough to know about their thoughts and to help alleviate their dissatisfaction by making sure that the mistake does not happen again.
A Tool for Continuous Learning
Providing a venue for sharing experiences allows you to learn how others think and feel about your company. and helps companies gauge if they are able to remain aligned to their goals, improve product and services, and improve relationships. You can download our Official Complaint Forms for your quick feedback form needs.