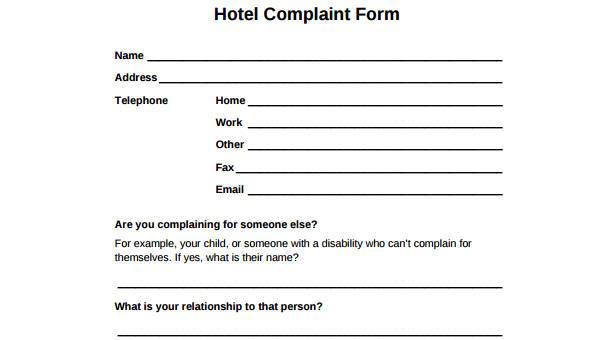 In every business, there are things that may not go as planned, or you may encounter unruly employees along the way. To comfort your customers whenever they experience something detrimental, you need to lend an ear to their comments and suggestions in order to keep their loyalty and trust. These will also give you a great preview of how your business or services are going with these simplified and accurate Complaint Forms samples. These can also be used by employees to express their grievances when they encounter certain instances in the office that offend or concern them.
Customer Hotel Complaint Form Sample
Hotel Transaction Dispute Form
Hotel Tax Complaint Form Example
Hotel Complaint Form Sample
The business relies on the performance of the employees and how much they give out when they are working under you. If they happen to feel cornered or offended, these Employee Complaint Form samples will give you detailed information about their grievances and experiences while working under your company. These will also provide you ideas on how to improve your services and inspire your employees to work harder and become better at their jobs. There are nine formats you can use and modify according to what your company needs. These provide a simplified and more understandable category for different kinds of employees in your company. Through these, you will be able to gauge the attitude of the employees reprimanded by their co-workers and decide upon a more suitable action for this occurrence. This will also serve as proof whenever drastic actions need to be done on the employee involved in the matter.
Aside from taking necessary actions, these forms also serve as an evaluation of certain employees involved in the matter. These forms will also help you avoid offenses that could involve criminality. Make your company a safe workplace for your employees and clients.
General Consumer Hotel Complaint Form
Hotel/Shuttle Bus Complaint Form
Hotel Complaint Form in Doc
Complaint Form Example
As an employee, it is important to work with your colleagues to create important projects or finish tasks. But if one of your workmates decides to be rowdy and unruly, it will cause problems in the workplace and damage the fairness of the company. These Employee Complaint Forms will help you create your own format, or you may use these to cover necessary topics that need tackling. Achieving greater goals together is ideal to make your company stable and innovative in every aspect. Managing a big company with an army of unique and hardworking employees can be challenging, and sometimes working together might end up disastrous. These seven formats for complaints are available for use for your company, and are ready for print in PDF format and are readable in different devices. If you want to make your own format to cover unique questions, then feel free to do so.
If ever drastic measures are needed to be done, this will justify your decision or action against the employee if ever they choose to ignore your warnings before or simply don't want to change their attitude in the office.