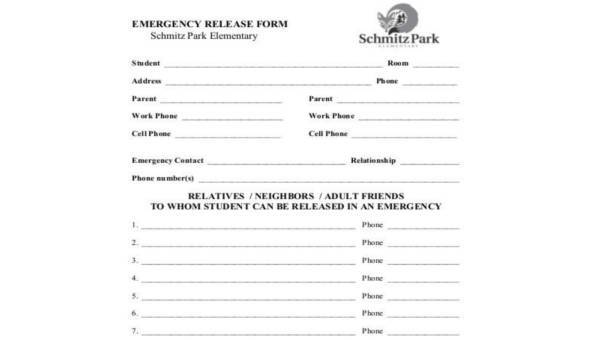 Emergency Release Forms are used to give consent to treatment for minors in the event of a medical emergency. If there are any medical emergencies, the school or childcare facility, or anyone else taking care of your child, will contact the parents or guardian. If they cannot contact the parent, what will they do then? Where an Emergency Release Form was signed previously, they can take the child to a medical facility for treatment and make healthcare decisions on the parent's behalf.
Emergency Medical Release Form
Daycare Emergency Release Form
School Emergency Release Form
Emergency Release Form in PDF
Emergency Room Release Form
What are the purposes of Emergency Release Forms?
Medical Release Forms are used by daycare facilities or schools to ask for consent from a parent or guardian to give treatment to a child if they cannot be contacted during a medical emergency. This also includes any preferences the parent may have, like a preferred physician or medical facility, or if the child has allergies and medications.
They are also used by parents to give consent to an appointed guardian so that the child can receive treatment while they are away.
They are also used when you take a patient to the emergency room or if he needs to be admitted.
In the event of a calamity or other serious emergencies, a school may need to facilitate a controlled release of their students. This is why they need to have other appointed guardians to pick up the student if the parents or guardian cannot be contacted.
In hospitals, if there is a medical emergency that calls for a blood transfusion and the patient has not been tested for compatibility yet, they would need an Emergency Blood Release Form so that the blood bank can release blood for use. This states that the physician understands the risks of blood transfusion despite the lack of compatibility tests.
If there are any changes to any information on an Emergency Release Form, it is important to have those updated. Examples are the following:
Updated emergency contact details
Updated medical concerns, like if one had a surgery performed or was diagnosed with a new illness
Emergency Release for Treatment Form
Emergency Release Form Example
Parent Contact-Emergency Release Form
Emergency Blood Release Form
Emergency Treatment Release Form in DOC
A good Emergency Release Form should have the complete details for the patient to receive proper treatment and medication. Here are the basic details that should be in an Emergency Release Form:
Personal information
Medical history, including any allergies, illnesses, hospitalizations, and surgeries
Preferred physician or medical facility
Health insurance information
Consent form signed by the parent or guardian
Emergency contact information
No matter where you are, you'd always want to make sure that your child is safe, especially if you are not with them. Leaving them in the hands of a guardian or daycare facility means that you trust they will be taken care of. Signing an Emergency Release Form just makes that official. You may also check General Release Forms for other types of release forms.