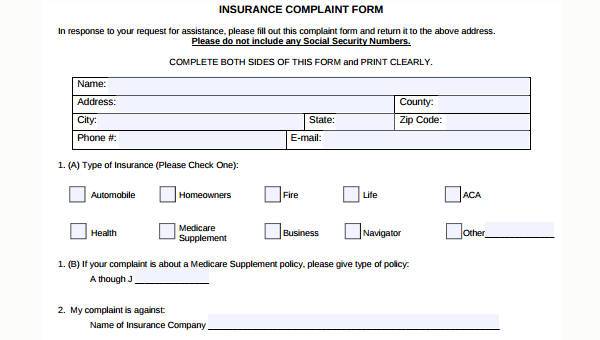 As a well-functioning human being, it would be almost impossible to pick out the things that tick us off on an almost daily basis: from the 7-Eleven attendant who, besides having a hard time paying attention, cannot simply give the exact change even with the help of a cash register, or some insurance company representative who cannot maintain a cheery air. A complaint is not completely bad, though; in fact, it is oftentimes encouraged. I am pleased to let you guys know that Complaint Forms are readily available ere for free perusal and download.
Insurance Business Activity Complaint Form
Free Insurance Complaint Form
Insurance Division Consumer Complaint Form
Insurance Complaint Form Example
Filing Official Complaint Forms is never really interesting, to be honest, since you would need to recollect all the unpleasant incidents you would rather just delete from memory. And these details have to be as definite as possible, to boot. But then again, if you want to be heard, then you have to understand what they are all about. I would not think twice before filing a Complaint Form.
For an Official Complaint Form to be as compelling as can be, you need to make sure it has these following elements:
First and foremost, your penmanship should be readable, but this does not mean you need to have jaw-dropping handwriting skills.
Your message's tone should be be authoritative, though not forceful nor desperate.
Cut to the chase. "Beating around the bush," as stale as that expression sounds, does not always help you out.
Lastly, make sure it still sounds cordial and buoyant, even if you are already in the mood to go medieval on that guy who crossed you.
Printable Insurance Complaint Form in PDF
Insurance Complaint Form
Insurance Complaint Form Sample
Insurance Complaint Form in Doc
The grumbles sent out by customers can actually be instrumental in the betterment of a business or establishment. Without complaints, nothing will be accomplished, except if the entity that is being protested against intentionally turns a deaf ear or blind eye to them.
Same thing goes if you happen to be a medical patient. You have to make sure the services are speedy and appropriate. Medicare Complaint Forms, for example, should help you out in whatever it is you have in mind against any personnel in a dispensary or infirmary. Below is a list of some of the complaints a medical establishment usually receives:
The doctor or nurse's treatment inefficiency
The insufficiency of discharge orders
Imprecise diagnosis
Cursory medication
Delays
The Medicare Complaint Forms should always be available; if not, well, you can download them here at our website. They are for free, so you don't have to worry about shelling out anything. I suggest you use these forms to your advantage. You can browse through our website for more information regarding Medicare Complaint Forms and all other forms that you think you might need in the near future or are just curious about.