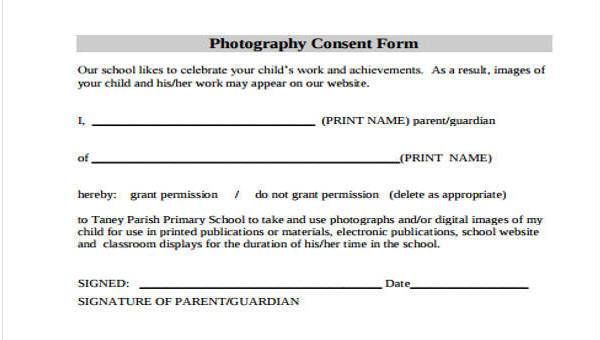 Photography is the art of capturing the likeness of something on film or through pixels. A photographer makes sure to capture the beauty of something in its fullest form, or can help enhance the beauty of an otherwise mundane object. Most photographers make it their dream to capture the perfect picture that will evoke as much passion and emotion as when they took the shot.
However, sometimes these photographers need special permission before they can start taking pictures, especially when that subject is a live human being.
In order for them to get these permissions, they can use Photography Consent Forms which will allow them to take pictures of any subject, assuming they're given the proper consent.
General Photography Consent Form
Child Photography Consent Form
Photography Release Consent Form
Photography Consent Form Example
Photography Parental Consent Form
The Various Types of Photography Consent Forms
There are lots of different types of Photo Consent Forms that a photographer can hand out to make sure they they're granted permission in capturing the likeness of a subject in a series of shots. Here are some examples of these kinds of forms:
Child Photography Consent Forms are the kinds of forms that are used when photographers want to use a child as the subject of their photo shoot. They'll need proper consent from both the child and especially the parents before any picture-taking takes place.
Patient Photography Consent Forms are forms for those photographers who wish to capture the images of patients. They'll need special permission from those in charge of the hospital and the patients themselves if they want to use the location and the person as the subject of their shoot.
Photography Release Consent Forms are used by those people who are the subjects of a photo shoot. It gives a photographer or a photo company full consent in using this subject's pictures in whatever way they please. Some subjects expect compensation from these photographers for publicly displaying them as the subject of their shoot.
Patient Photography Consent Form
Photography Consent Form Sample
Printable Photography Consent Form
Photography Consent Form in PDF
The Importance of Having Photography Consent Forms
Photography Consent Forms and Video Consent Forms are the same in the sense that they seek the permission of their subjects prior to production. These consent forms help the subjects of the photo shoot find out as to how their pictures are going to be used and the possibilities of other purposes of their pictures. Basically, it gives them a choice if they want to do it or not.
These also help out the photographers. These make sure that the photographers have full consent and are able to do the shoot in whatever way they want. So long as these don't go beyond the boundaries of human decency, whatever the photographer tells the subject to do, the subject will have to comply given that he or she has given full consent.