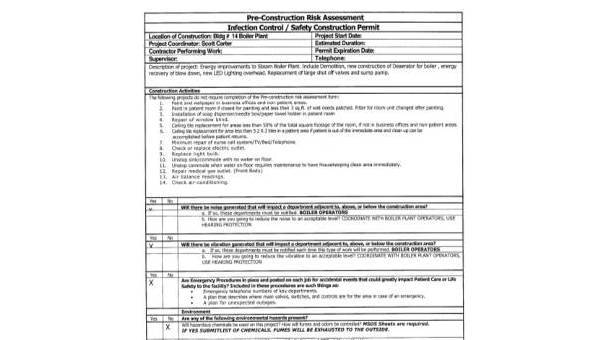 Risk Assessment is the process of identifying factors that could potentially cause a negative impact toward an organization's ability to conduct business. Risk Assessments are usually conducted by Chief Risk Officers and can be measured qualitatively or quantitatively. Qualitative assessments of risk factors are simply used to rank the degree of risk and how much threat of danger it poses. Quantitative assessment, on the other hand, is the process of converting the risk factor levels into numerical values, which will then be mapped out into dollar amounts.
Conducting a Risk Assessment is important because it enables employers to foresee potential dangers found in the workplace, and to establish methods of control or prevention to alleviate the risks or eliminate any factors that may be detrimental to employees, clients, guests, or even passers-by.
Pre-Construction Risk Assessment Form
Construction Risk Assessment Form
Fire Construction Risk Assessment Form
Construction Site Risk Assessment Form
Generic Construction Risk Assessment Form
Hazards and dangers are inevitable in every workplace. In the field of construction, tons of risk factors can also be identified. Risks in Construction projects can be categorized into three different types:
Pure and Particular Risks
These types of risk include physical damages to people and property such as fire, storms, water, vibrations, collapsing objects, and subsidence. Contractors need to provide necessary terms and conditions in their contracts to take out insurance coverage against these types of risks.
Fundamental Risks
A Fundamental Risk is a risk that is impersonal both in origin and in consequence. Fundamental Risks are generally caused by external factors such as a phenomena, bad economy, inflation unemployment, war, political instability, flood, drought, changing customs, typhoon, tidal waves, etc.
The losses that are a result of a fundamental risk are usually not caused by a particular individual and the impact of their effects falls generally on a wide range of people. Fundamental Risks are born from the nature of the society we live in, or from some natural occurrences which are beyond the control of man.
Speculative Risks
Speculative Risks are situations which cannot be apportioned in advance as decided by the parties involved in the contract. These risks may include losses in time and money due to adverse weather conditions, payment delays, unforeseen shortages of labor and materials, or unexpected ground conditions that are beyond the contractor's control.
Construction Risk Assessment Form in PDF
Construction Risk Assessment Form Example
Construction Impact Risk Assessment Form
Construction Risk Assessment Form in Word Format
Pre Construction Risk Assessment Form
Dealing with Risks Involved in Construction
A Chief Risk Officer must first identify the type of hazard there is in a workplace and then determine the degree of risk that it poses in order to provide clients with a clear set of priorities for a project. Once this is established, explicit decisions must then be imposed in order to prevent the risk, eliminate it, or control it.
Some risk factors may not be fully eliminated at all, despite the amount of control and preventive measure done. However, employers should do something about the risk to alleviate the degree of danger it will provide.
Risks have to be properly assessed before signing Construction Contract Forms or sealing the deal. It is important that Construction Forms are carefully and thoroughly evaluated before signing. Download our Construction Change Order Forms to save your from the hassle of having to whip up an order form from scratch.